The Shady Side Of Tory Lanez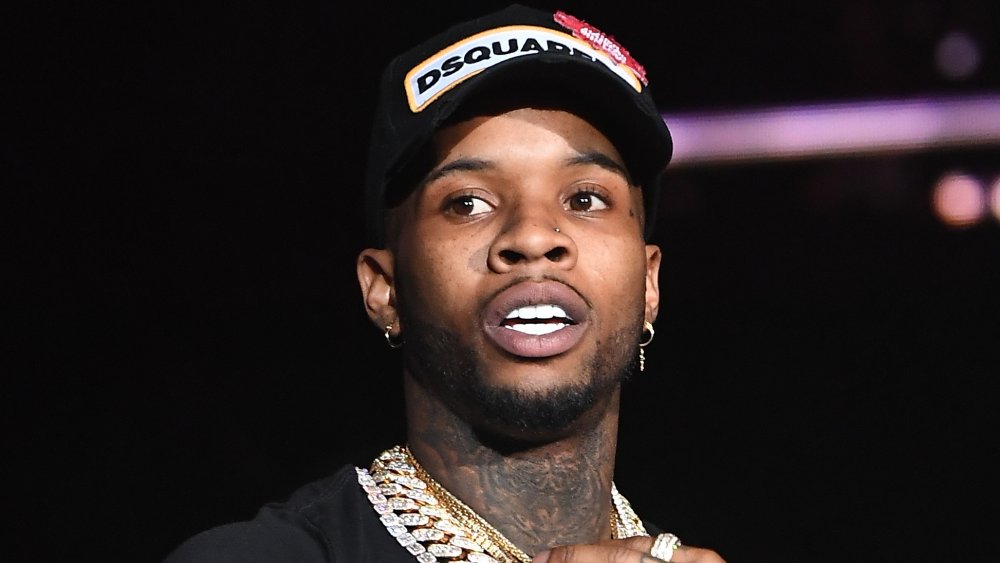 Paras Griffin/Getty Images
In July 2020, news broke that rapper Megan Thee Stallion was involved in a violent shooting, per TMZ. Initially, the details were confusing and unclear, but one thing was certain: the rapper was shot in both feet while in a car alongside her close friend and singer Tory Lanez. In the days following the incident, the internet mocked and poked fun at the "Savage" rapper's suffering. This prompted her to write a detailed post about the night in question on Instagram, go on Instagram Live to remind people that she "didn't deserve to get shot," and post "proof" of her stitched and bandaged injuries. (All of said post have since been deleted.)
The court of public opinion ruled that Lanez had something to do with the attack, but Megan did not confirm these rumors until August 2020, weeks after the incident occurred. According to Vulture, the rapper accused the singer by name during an Instagram Live. "You shot me," she said. "And you got your publicist and your people going to these blogs lying and s**t. Stop lying. Why lie? I don't understand."
Despite Megan's since-deleted Instagram Live broadcast, Lanez remained completely quiet on all social media platforms and had not appeared at any celebrity events. However, he finally broke his social media silence in September 2020. Keep scrolling to see what he said and how the internet reacted.
Tory Lanez' surprise album was 'a spectacle of male ego'
Erik Voake/Getty Images
On Sept. 24, 2020, Tory Lanez broke his months-long silence on Twitter. "To my fans ... I'm sorry for my silence ....," he tweeted, "but respectfully .. I got time today ...... 9 PM PST ." As expected, thousands flocked to the implied Instagram Live, where the singer unexpectedly (and unnecessarily) dropped his surprise album Daystar. According to Complex's Andre Gee, the 17-track temper tantrum is a "plunge further into surreality," with Lanez repeatedly denying Megan Thee Stallion's previous accusations. 
"Tory says he still has feelings for Megan, but if he truly cared about her, he wouldn't have released an entire project attempting to make money off of her trauma," Gee wrote. "First, he questioned if she was really shot, asking, 'How the f**k you get shot in your foot, don't hit no bones or tendons?' He later contradicted himself by asking, 'If you got shot from behind how can you identify me?' Tory had two months to 'get his story straight,' but instead of expressing accountability, regret, or empathy, it's far and away hip-hop's grandest exhibition of victimhood." All in all, Gee (and much of the internet) considered the project, "a spectacle of male ego."
Did Tory Lanez' management launch a smear campaign against Megan Thee Stallion?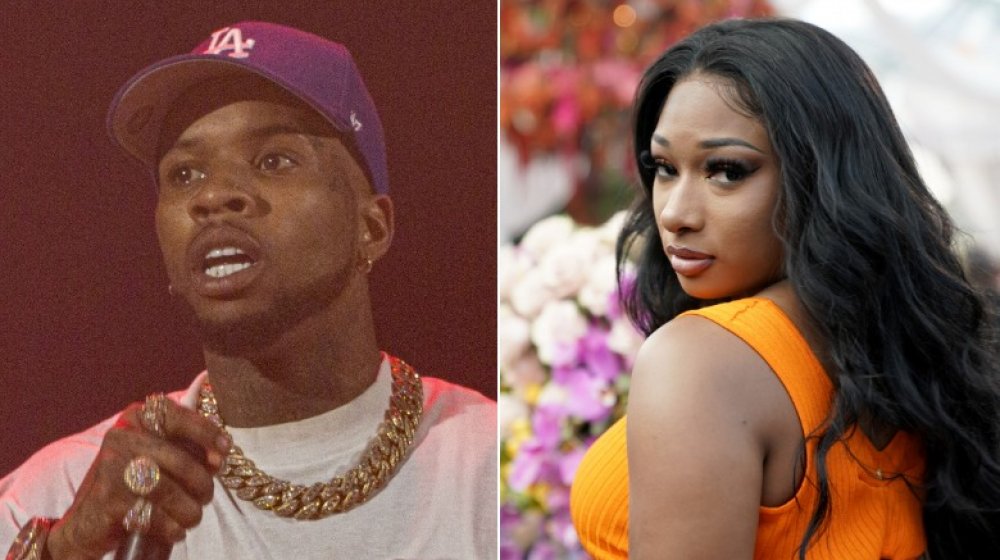 Daniel Knighton, Erik Voake/Getty Images
But wait! There's more. Megan Thee Stallion's team has since accused Tory Lanez' management of "launching a smear campaign" against the rapper alongside the surprise album. In a statement to TMZ on Sept. 25, 2020, the Houston native's attorney Alex Spiro said, "We have been made aware of manipulated text messages and invented email accounts that have been disseminated to the media in a calculated attempt to peddle a false narrative about the events that occurred on July the 12th." 
A representative for Lanez told TMZ they "strongly deny sending emails or otherwise creating a false narrative." The rep added, "The only commentary which has been made on this topic was the creative output on the album. We are investigating who could be sending these false emails and intend to take action against them." As of publication, Megan has not commented publicly on the album or alleged smear campaign.
However, Complex's latest report indicated that, according to an inside source, Lanez was most definitely at fault. "When she gets out of the car and says, 'I'm just going to walk home,' he pulls out a gun and says, 'Dance, b***h,' and he starts shooting her," the source said, adding that Lanez offered to pay for Megan's surgery to "keep her quiet."