The Meaning Behind Joe Biden's Pre-Debate Tweet Explained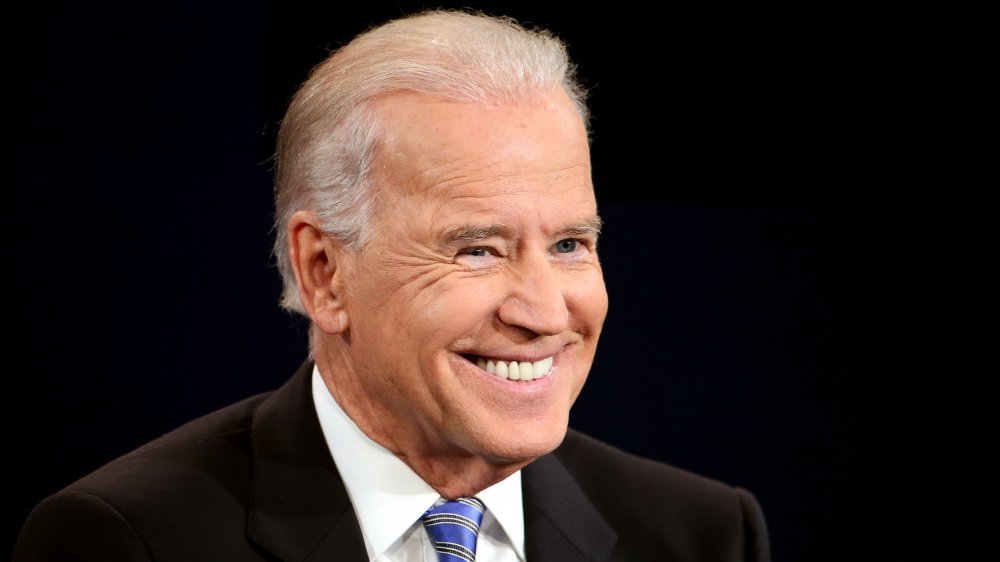 Chip Somodevilla/Getty Images
It's not a secret President Donald Trump is a big fan of Twitter, sending out tweet after tweet, whether he's attacking his adversaries or declaring, "Fake news!" But on Sept. 29, 2020, ahead of the first presidential debate, it was Democratic presidential candidate Joe Biden who took to Twitter to issue a jab.
But first, let's rewind. About two hours before the debate began, Biden urged his followers to watch the highly-anticipated showdown, writing alongside a video of himself wearing a mask, "Folks, the big night is finally here. Tune in at 9 PM ET for the first presidential debate." What came next, though, had some people laughing at their phone screens. Shortly after the tweet, Biden shared a photo of headphones and a pint of salted peanut butter ice cream and said, "It's debate night, so I've got my earpiece and performance enhancers ready."
Of course, this is not your average "it's debate night" tweet, and it may not have made complete sense to everyone. So, in case it tripped you up, here is the real meaning behind Joe Biden's pre-debate tweet.
Joe Biden poked fun at Donald Trump's claims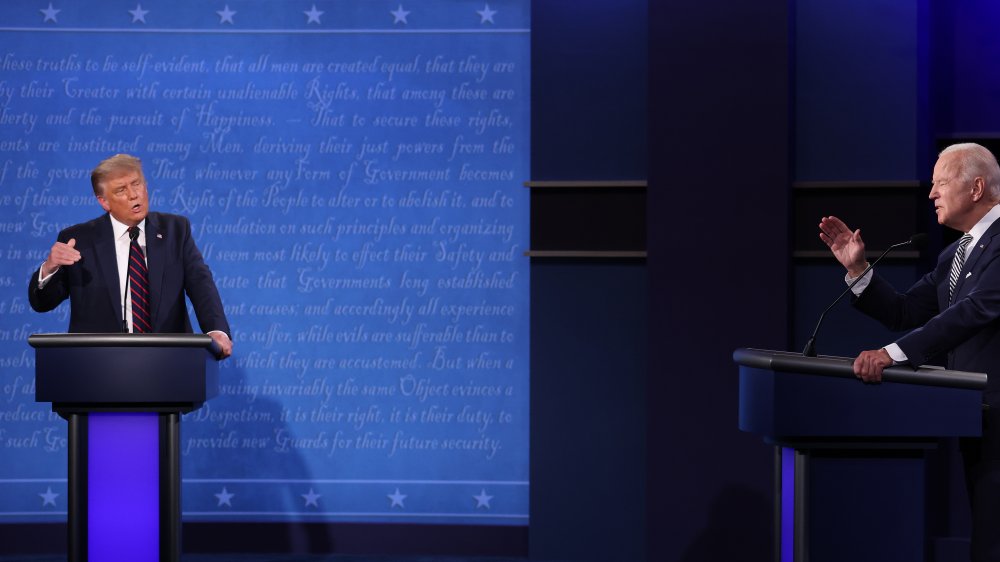 Win Mcnamee/Getty Images
In the weeks leading up to the first presidential debate, President Donald Trump accused Biden of taking performance-enhancing drugs during the primary debates. "I think there's probably – possibly – drugs involved. That's what I hear," he stated during an interview with Fox News' Judge Jeanine Pirro. "I mean, there's possibly drugs. I don't know how you can go from being so bad where you can't even get out a sentence."
This is not the first time Trump accused Biden of using drugs, and he argued during an interview with the Washington Examiner that he and Biden should be drug-tested before the first debate. "My point is, if you go back and watch some of those numerous debates, he [Biden] was so bad. He wasn't even coherent. And against Bernie [Sanders], he was," the president said. "And we're calling for a drug test." It's important to note here that there is no evidence of Biden using drugs to enhance his performance during debates, and his campaign laughed off Trump's call for a drug test.
President Trump's campaign also argued that both candidates' ears should be inspected for electronic devices prior to the debate, and the campaign accused Biden of declining the offer. Biden's campaign has fervently denied using any type of enhancements, and judging by his photo of headphones, he wasn't phased Trump's baseless accusations.