The Real Reason Trump Says McDonald's Fries Are The Secret To His Hair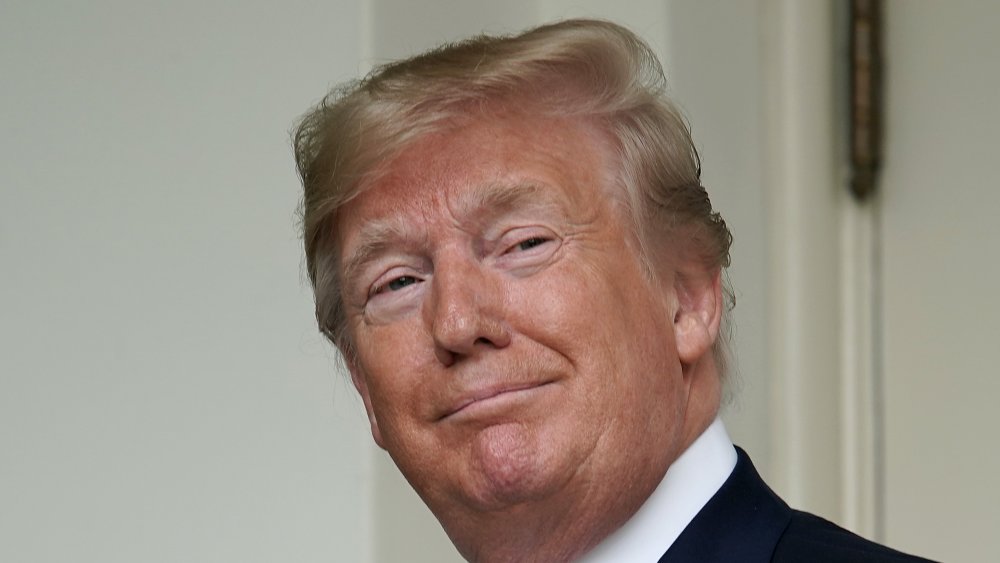 Chip Somodevilla/Getty Images
We may receive a commission on purchases made from links.
Wait, did Donald Trump credit his signature golden locks to... the Golden Arches? Here's what happened: The 45th president took a brief respite from tweeting about the first presidential debate between himself and Democratic nominee Joe Biden (that was a doozy, BTW) to humorously respond to a 2018 study suggesting a chemical in McDonald's french fries could prevent hair loss. "No wonder I didn't lose my hair!" he commented on Sept. 30, 2020. Say what?
The president's illustrious tufted mane has famously been one of his most distinguishing and newsworthy physical features while in office. It's flowed in the wind when descending "Trump Force One," combed up a frenzy when, in July 2020, he revealed a more silver fox style. And it made waves (no pun intended) when, amidst the massive report from The New York Times on Trump's taxes, it came out he allegedly spent more than $70,000 on the 'do — and wrote it off as a business expense — during The Apprentice. But is the secret to Donald Trump's hair actually scientifically braided into something that's also well-documented: his love of McDonald's? 
The tweet is based on a very real study published in the scientific journal, Biomaterials, and the article Trump remarked on was first shared by former White House press secretary, Ari Fleischer. The ex-press secretary, who is bald, joked, "It doesn't work." But does Donald Trump think his McDonald's habits — he once famously served it up at the White House  — have real hair-growth benefits? Here's the truth behind the tweet.
Inside Donald Trump's love affair with McDonald's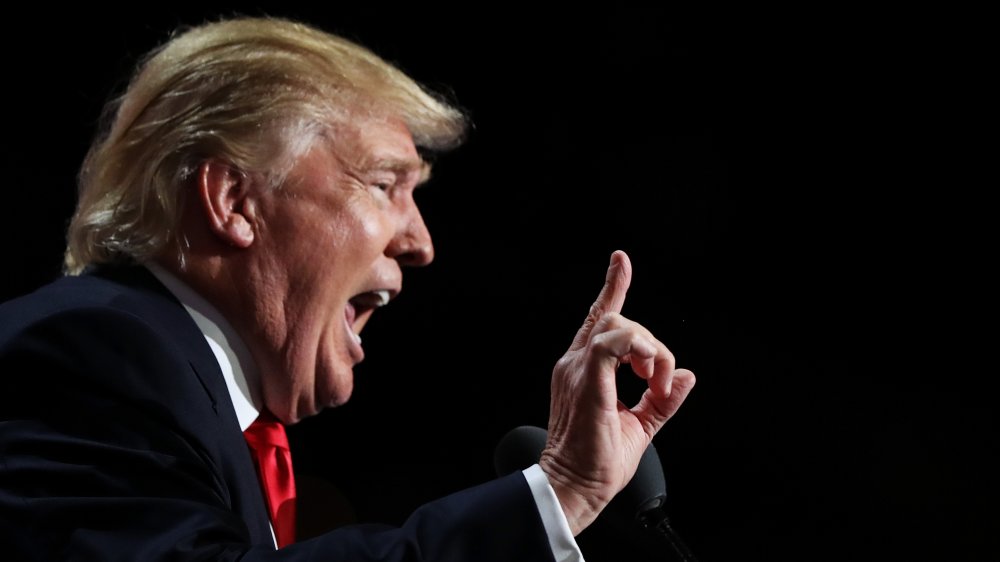 Joe Raedle/Getty Images
Does Donald Trump believe McDonald's french fries are the reason his locks have stayed luscious? The 2018 report he replied to noted how scientists in Japan isolated a chemical McDonald's adds to their cooking oil for fries that could potentially assist in regrowing hair follicles, and it worked on mice. It's important to note that this chemical is also present in many shampoos, per Fox News. Ultimately, Trump was probably just trying to "lighten up" his Twitter timeline with the study. In reality, there's a more well-documented reason he loves fast food so much. 
Journalist Michael Wolff claimed in his book, Fire and Fury: Inside the Trump White House, that Trump's fast-food consumption is due to concerns about being poisoned. Trump "had a longtime fear of being poisoned, one reason why he liked to eat at McDonald's — nobody knew he was coming and the food was safely premade," Wolff claimed. As for his iconic 'do? In Fire and Fury, Wolff alleged that daughter Ivanka Trump described the true method to friends as: "An absolutely clean pate...after scalp-reduction ­surgery — surrounded by a furry circle of hair around the sides and front, from which all ends are drawn up to meet in the center and then swept back and secured by a stiffening spray."
Not as fun as "hair by french fries" but fair enough!