This Is How Much Money Donald Trump Really Spends On His Hair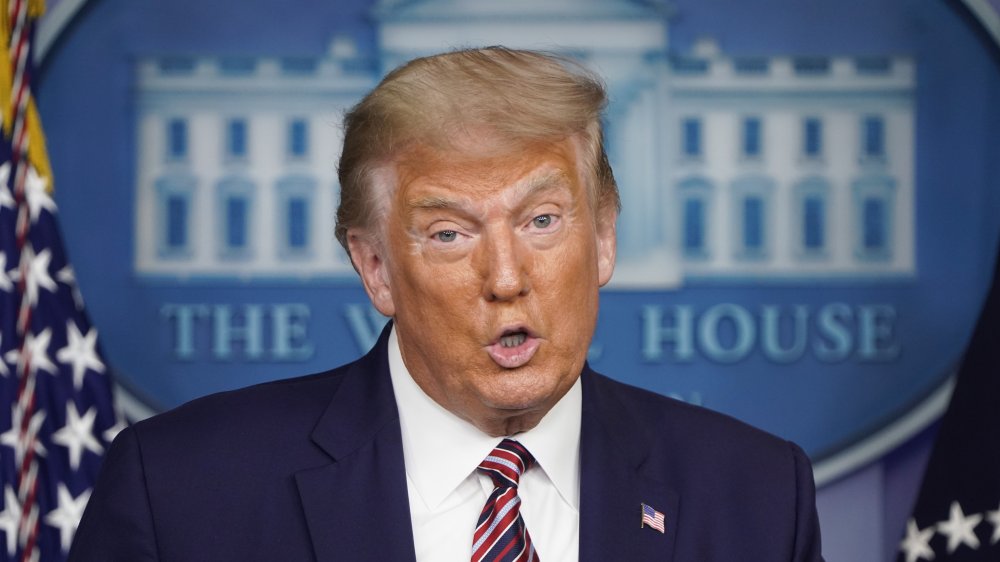 Joshua Roberts/Getty Images
In his 70-plus years, Donald Trump has had many careers: real estate investor, reality television host, and president of the United States, to name a few. Through all the ups and downs, the one thing that has remained the same is his signature coif. The wispy blonde comb-over is as recognizable to the president as the Trump logo is to ostentatious hotels.
The public has long been obsessed with the look. Michael Wolff dedicated several pages to this issue in his 2018 bestseller, Fire and Fury. Wolff claimed Ivanka Trump often mocks her father's iconic hairstyle and tells anyone who will listen that the coif results from scalp reduction surgery and a firm hairspray (per The Sun).
Celebrities often capitalize on a particular look or trait to make them more recognizable and build up their brand. For example, Kylie Jenner turned her cartoonishly huge lips into a makeup empire. Fans were shocked earlier this year to discover that Paris Hilton's valley girl vocal fry was part of an elaborate public persona the heiress cooked up years ago.
Perpetuating those personas ain't cheap either. Case in point: Jenner's lip filler reportedly cost around $900 to maintain, which brings us back to President Trump, who made headlines in September 2020 for writing off an outrageously expensive hair and makeup bill.
Donald Trump writes off his hairstyling costs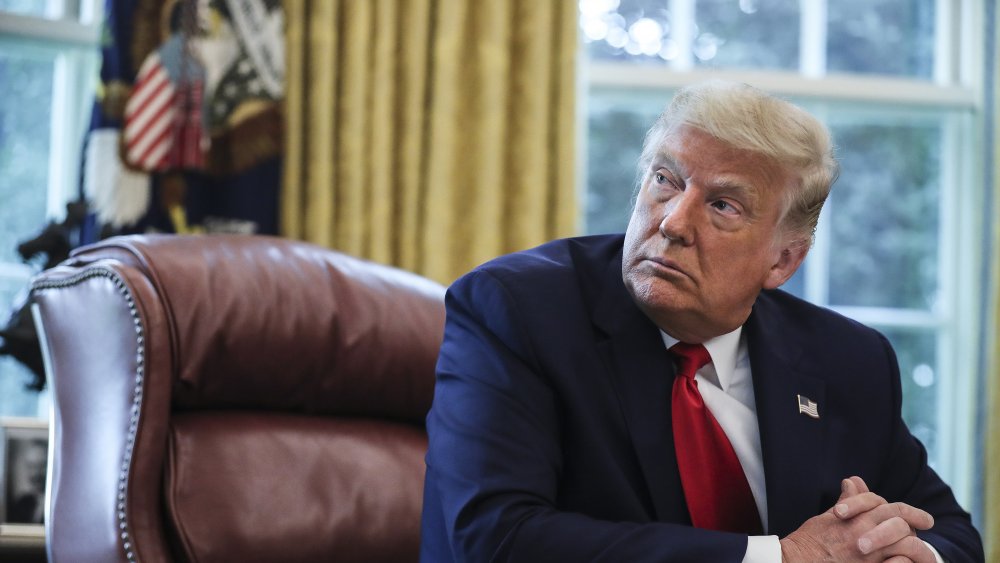 Pool/Getty Images
To the untrained eye, it might look like Donald Trump rolls out of bed, roughly combs through his hair, and promptly sits down to begin his day of watching Fox and angry-tweeting at reporters. However, the trained eye — more specifically the all-seeing eye of the New York Times — can see that it actually takes a lot of money and time to look that wispy (and orange, while we're at it).
In September 2020, the Times published a thorough report of Trump's tax releases through the years. Among the more shocking revelations was that Trump wrote off $70,000 for hairstyling and haircuts during his tenure on The Apprentice. The article noted that "the I.R.S. requires that [business expenses] be 'ordinary and necessary,' a loosely defined standard often interpreted generously by business owners." Loosely would be correct. The Times also revealed that along with the $70,000 write-off for Trump's hair, multiple Trump entities have written-off upwards of $95,000 for Ivanka's "favorite hair and makeup artist."
A six-digit tax write-off for the first family's hair is hard enough to swallow. Even more outrageous, though, is that Trump reportedly only paid $750 in taxes in 2016 and 2017, per HuffPost. When the news broke, rather than lean into the scandal and promote it for what it really is, a masterclass in how to do your taxes, Trump did what he does best and took to Twitter. "FAKE NEWS!" he claimed, because of course, he did.