How The Trumps Are Keeping Barron Safe From COVID-19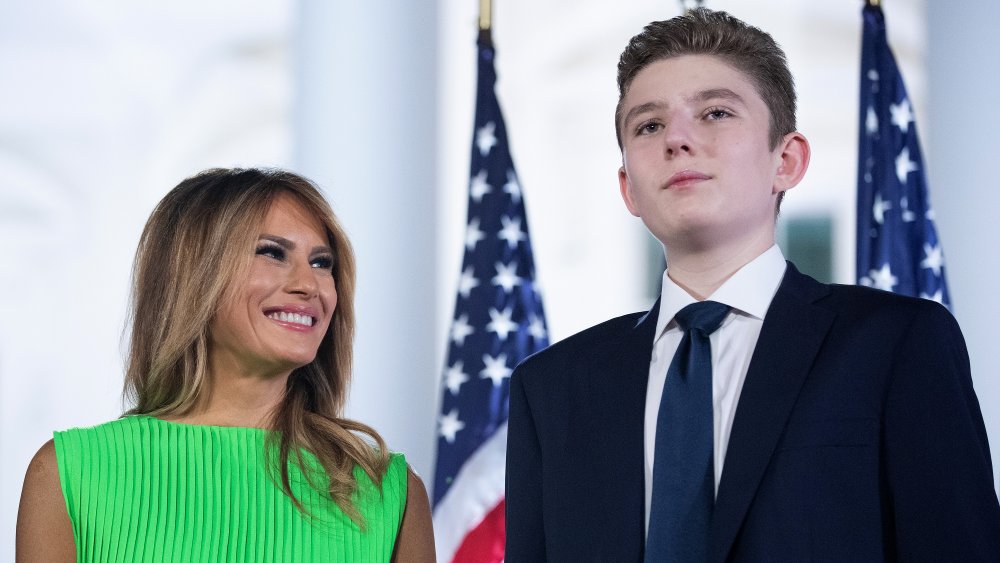 Chip Somodevilla/Getty Images
About a month before the presidential election, President Donald Trump took to Twitter on Oct. 2, 2020, to announce he and first lady Melania Trump tested positive for coronavirus. The White House said in a statement that Trump has "mild symptoms," as AP reported, and Melania tweeted that she's "feeling good." 
Although it's unclear how Trump and Melania's health will fare as their diagnoses progress, one thing is likely: The people who've come in contact with them will also get tested for COVID-19. Former Vice President Joe Biden, for instance, took a test because he was close to Trump at the first presidential debate on Sept. 29, 2020. "I'm happy to report that Jill and I have tested negative for COVID," Biden later confirmed on Twitter. "Thank you to everyone for your messages of concern. I hope this serves as a reminder: wear a mask, keep social distance, and wash your hands."
Of course, Biden isn't the only person people are concerned about amid Trump and Melania's diagnoses — following the president's tweet, some expressed concern for the couple's youngest son, Barron Trump. So how is Barron doing, and how are his parents keeping him safe? We reveal all of the details below.
Barron Trump's well-being is top priority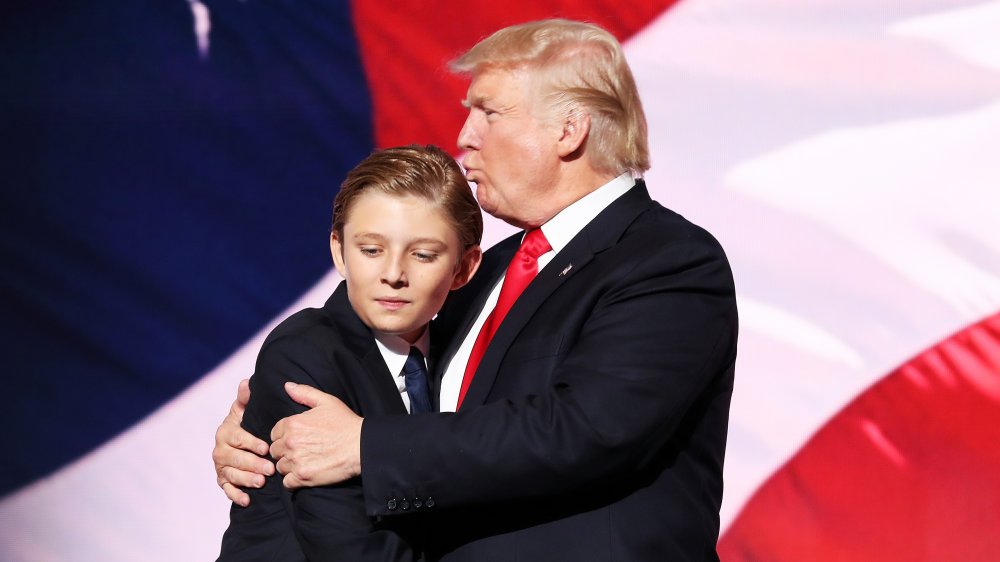 John Moore/Getty Images
Once news of Donald and Melania Trump's positive results became public, there was speculation about whether Barron Trump has also tested positive for COVID-19. Melania's chief of staff, Stephanie Grisham, revealed the results on Oct. 2, 2020, in a statement to USA Today, sharing, "Barron has tested negative, and all precautions are being taken to ensure he's kept safe and healthy."
As for what those precautions are, there's a good chance the teen will remain separated from his parents until their period of quarantining has ended. However, since Grisham did not answer additional questions about those safety measures, as People noted, it's impossible to know exactly what is going on with Barron's living arrangements. It's also unclear during this time whether he'll continue to attend classes at his school, which planned to open in October with a hybrid learning model. The first plan dictated that "students in Grades 7 through 12 would rotate between on-campus and distance learning, with half of the students learning remotely each week," per an August 2020 parent letter obtained by The New York Times. But CNN noted that the school is "currently operating via remote learning." 
Despite these unanswered questions, it's clear from Grisham's statement that the Trumps prioritize Barron's health and well-being.