Inside The MyPillow Guy's COVID-19 Advice For Trump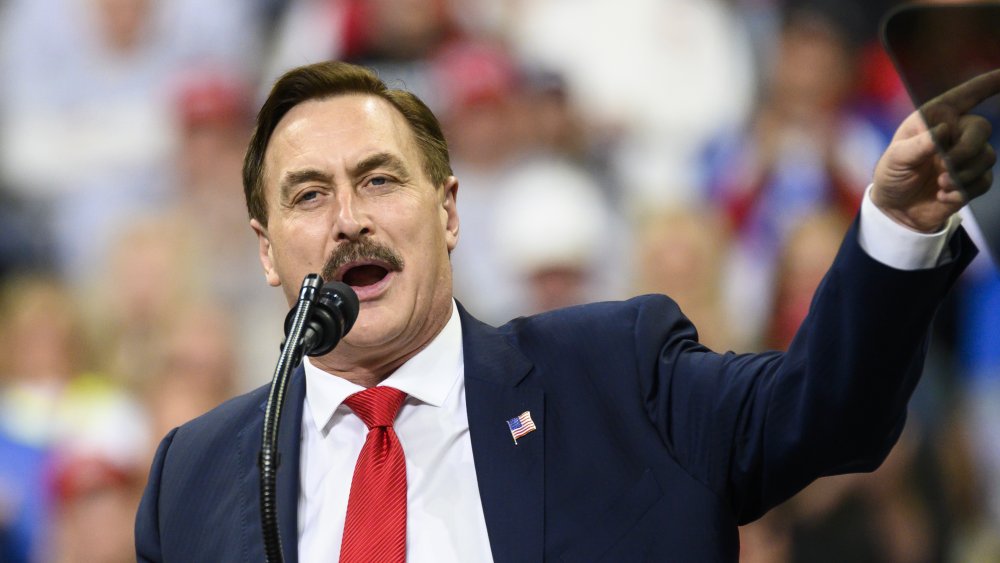 Stephen Maturen/Getty Images
Many probably know businessman Mike Lindell as "the MyPillow guy," but he's so much more than the moniker suggests. Lindell founded My Pillow, Inc. while battling an addiction to crack cocaine, an issue that started in the 1980s and persisted until 2009, his personal website notes. That was the year he quit cold turkey, and as he described to People, used religion to recover. Lindell also revealed to CNBC that the idea for My Pillow came to him in a dream, one he believes was an act of God.
Other acts of God, in Lindell's opinion, include Donald Trump winning the presidency against Hillary Clinton. The two men met in 2016 when the then-Republican candidate invited Lindell to Trump Tower in New York, and the MyPillow guy told People that before meeting with Trump, he had never voted in his life. The two seem to have developed a friendship since then, with Lindell visiting Trump more than once at the White House. 
Now, after Trump and Melania Trump tested positive for COVID-19, the MyPillow guy has some advice — here's what he had to say.
My Pillow Guy touted an unproven cure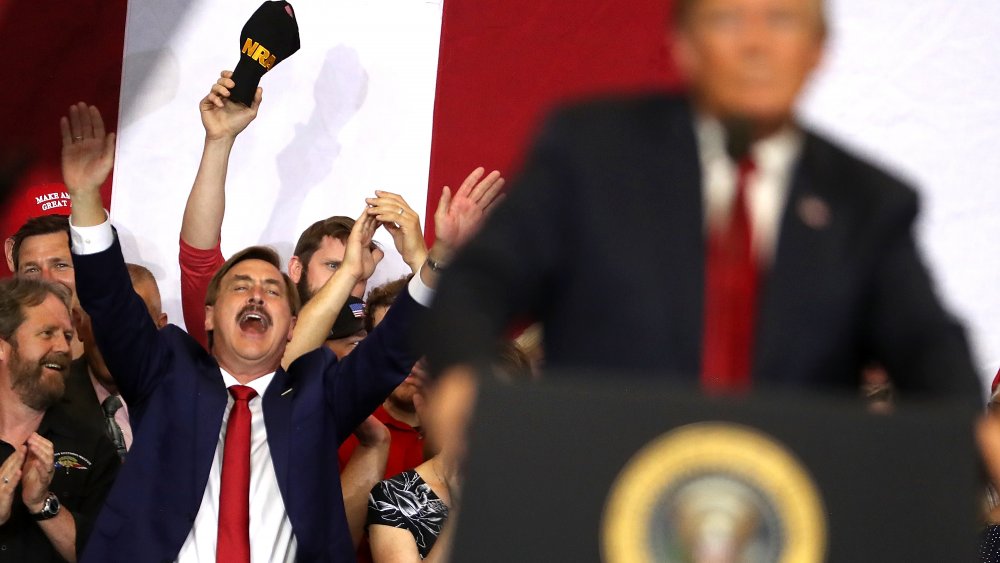 Justin Sullivan/Getty Images
MyPillow guy Mike Lindell has faced plenty of criticism throughout the years, especially where it concerns his unproven and potentially dangerous "cure" for COVID-19. Lindell has repeatedly claimed that the plant extract, oleandrin, is a remedy for the virus, despite experts stating that there's "no evidence" to suggest so. FYI: Oleandrin comes from the toxic oleander plant, and it can "lead to serious illness and possibly death," according to PBS News Hour.
After Lindell's trip to the White House in July 2020, President Donald Trump said that he would look into the supposed remedy. Now that Trump has tested positive for the coronavirus, he might be more willing to look into the claim, especially since Lindell encouraged the president, once again, to try it following his COVID-19 diagnosis. Lindell quoted a tweet that suggested Trump take the drug, and said, "It does work @realDonaldTrump... 100% effective!" 
Whether Trump takes Lindell's advice remains to be seen, but it's safe to say Dr. Sanjay Gupta would not be a fan of the idea.