Why 'Rose Garden Massacre' Is Trending On Twitter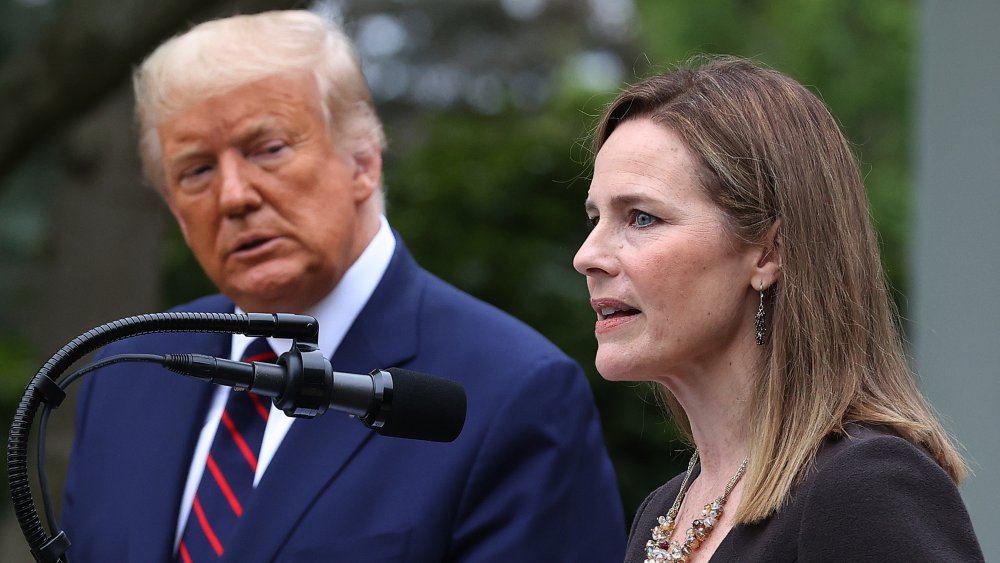 Chip Somodevilla/Getty Images
As President Donald Trump's positive coronavirus diagnosis continues to dominate the October 2020 news cycle, more and more White House associates have tested positive for COVID-19, and worrying those who came within close proximity to Trump in the days leading up to his positive test results. On Oct. 3, the hashtag #rosegardenmassacre started trending on Twitter, as it appears that Trump's Supreme Court nomination announcement in the White House Rose Garden — the event during which he officially nominated Judge Amy Coney Barrett to the highest court in the United States — was the "super-spreader event" that launched this sudden outbreak of COVID-19.
On Sept. 26, 2020, Trump held a special press conference to officially nominate Barrett to take the late Ruth Bader Ginsburg's seat on the Supreme Court. Ginsburg, who served 27 years on the bench, passed away only eight days prior to Trump's announcement. TMZ called this press conference "ground zero" after so many in attendance later tested positive for the novel coronavirus. While White House aide Hope Hicks was the first of Trump's inner circle to reveal their diagnosis, countless others have followed suit. Since the president announced his positive COVID-19 test on Oct. 1, First Lady Melania Trump, Sen. Mike Lee, Sen. Thom Tillis, Kellyanne Conway, and University of Notre Dame President Rev. John Jenkins,all of whom attended the press conference, have also tested positive, according to TMZ.
Judge Amy Coney Barrett's Rose Garden event is being called 'ground zero' for COVID-19 spread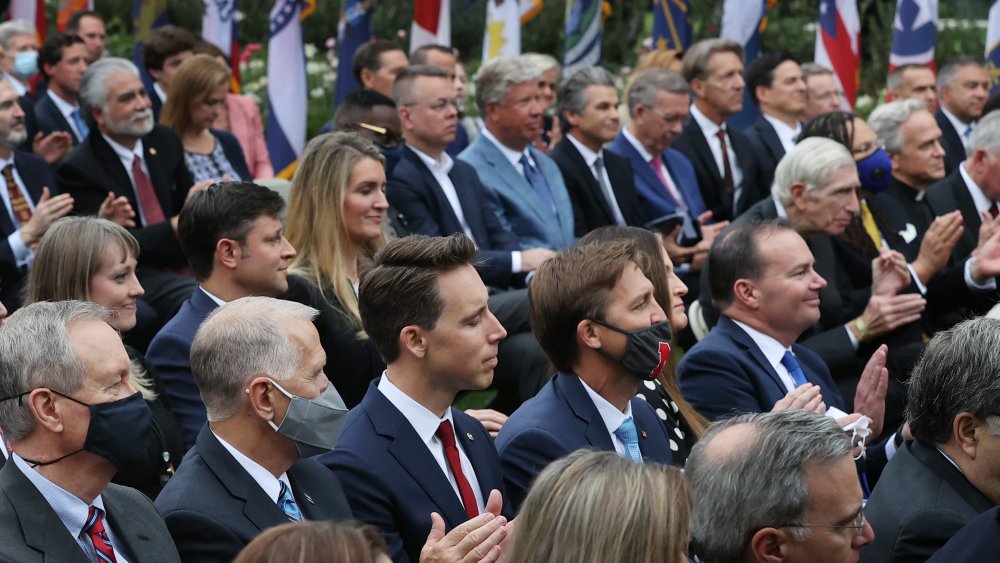 Chip Somodevilla/Getty Images
At the event in the White House Rose Garden, photos and videos confirmed that very few people were wearing face coverings or practicing social distance, as suggested by the CDC in their COVID-19 guidelines. It's likely that the lack of safety practices at this event led to it being what TMZ called a "super-spreader." And while many high-profile politicians at this event have tested positive for COVID-19 in the past week, including the president and first lady, what makes it more troubling is how many people they've come in contact with since that event.
The first presidential debate was held after this press conference, bringing President Trump and the first lady in contact with another group of people in Cleveland, Ohio. President Trump also went to a fundraiser in New Jersey on Oct. 1, where he came in close contact with at least 100 supporters. Former governor of New Jersey Chris Christie announced Oct. 3 that he had tested positive for COVID-19 as well, according to CNN, after being at the Rose Garden event and helping President Trump prepare for the debate on Sunday and Monday. He added that he was tested for the virus on Tuesday, but the test was negative. His Friday test came back positive. However, the #rosegardenmassacre hashtag — a likely nod to Game of Thrones' Red Wedding — continues to spread alongside the news of more positive coronavirus cases.