This Has Been Melania Trump's COVID-19 Experience So Far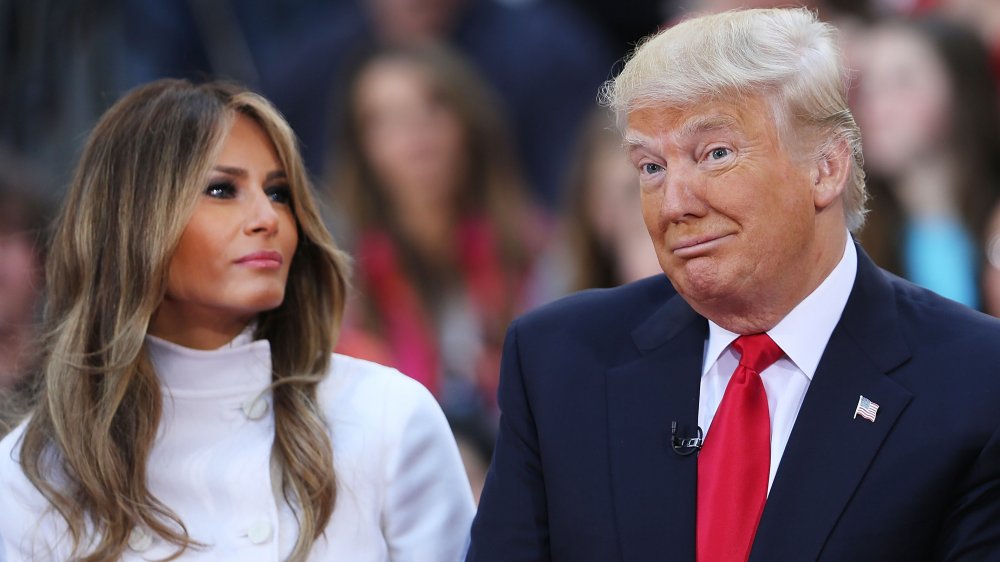 Spencer Platt/Getty Images
Ever since the White House announced that President Donald Trump and First Lady Melania Trump tested positive for coronavirus, there have been endless updates about the status of the president's health and whereabouts. However, the administration has been less forthcoming with details about Melania's current condition, though it does seem like she might be faring better than her husband. 
Donald was admitted to Walter Reed National Military Medical Center on Friday afternoon in order to monitor what aides called "mild symptoms." Over the weekend, his medical team shared various updates about the treatment he was receiving, noting at one point that the 74-year-old was given supplemental oxygen in order to help his breathing. On Sunday, the president shared a video on social media and left his hospital room in order to greet supporters who were in the streets outside the hospital. "I also think we're gonna pay a little surprise to some of the great patriots that we have out on the street," Donald said. "They've been out there for a long time and they've got Trump flags and they love our country. I'm not telling anybody but you, but I'm about to make a little surprise visit." Afterwards, he returned to the hospital. Melania's coronavirus experience, however, has been more under wraps. 
Melania Trump understands the dangers of COVID-19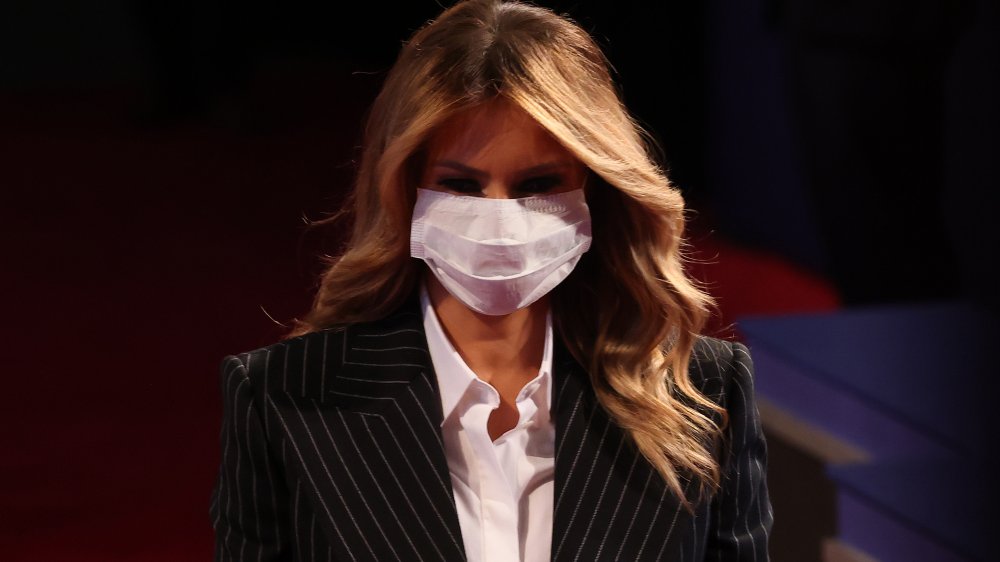 Win Mcnamee/Getty Images
So far, Melania Trump reportedly seems to be doing just fine, if not better than her husband. According to President Donald Trump's physician, Dr. Sean Conley, Melania has been isolating at the White House because there is no reason to hospitalize her at this time. During the Oct. 3, 2020 press conference, Conley added that she has a "mild cough and a headache," but there is no reason to treat her with any medicine at the time. On Friday, the first lady said as much herself, tweeting to her followers, "Thank you for the love you are sending our way. I have mild symptoms but overall feeling good. I am looking forward to a speedy recovery." Over the weekend,  she also tweeted, "My family is grateful for all of the prayers & support! I am feeling good & will continue to rest at home. Thank you to medical staff & caretakers everywhere, & my continued prayers for those who are ill or have a family member impacted by the virus."
Although Melania didn't wear a mask at the first presidential debate and accompanied her husband, who also refused to wear a mask, to events in the lead up to her diagnosis, the first lady is apparently heeding doctors' orders now. Per CNN, "Melania is aware of the dangers of COVID-19. Potentially exposing others is not a risk she would take." Hopefully she, the president, and everyone else who has tested positive for coronavirus recovers as soon as possible.