What Claudia Conway Just Revealed About Trump's Condition
Kellyanne Conway's daughter, Claudia Conway, has been keeping people updated about her Covid-19 diagnosis, and, in the process, has also revealed information about President Donald Trump's health — much to her mother's chagrin. Claudia first broke the news that her mother tested positive for coronavirus on TikTok in October 2020, telling followers that the former Trump aide also gave it to her family. Kellyanne has not been happy about her daughter's social media antics. In fact, in a couple of Claudia's videos, you can hear Kellyanne trying to dictate what she posts on TikTok. "You caused so much disruption," Kellyanne said in one clip, according to the New York Post. 
On Twitter, people were lauding the teen — who has openly been speaking out against the Trump administration for months — for standing up to her mother. Kellyanne also tweeted, "My daughter, Claudia, is beautiful & brilliant. She has access to top doctors & health care & lives comfortably. Like all of you, she speculates on social media. Yet she's 15. You are adults. We have COVID, but it's clear who's really sick." 
Kellyanne later added, "Claudia & I are faring well in quarantine. Everyone else is negative. I had 3 tests on Friday: 1 negative (saliva) 1 pos (rapid), 1 pos (PCR, most accurate). As soon as dr confirmed positive, I told my family & then went public." But Claudia is revealing a lot more than just info about her mom — she claims she also knows the truth about Trump, too. 
Claudia Conway says Trump is lying about his health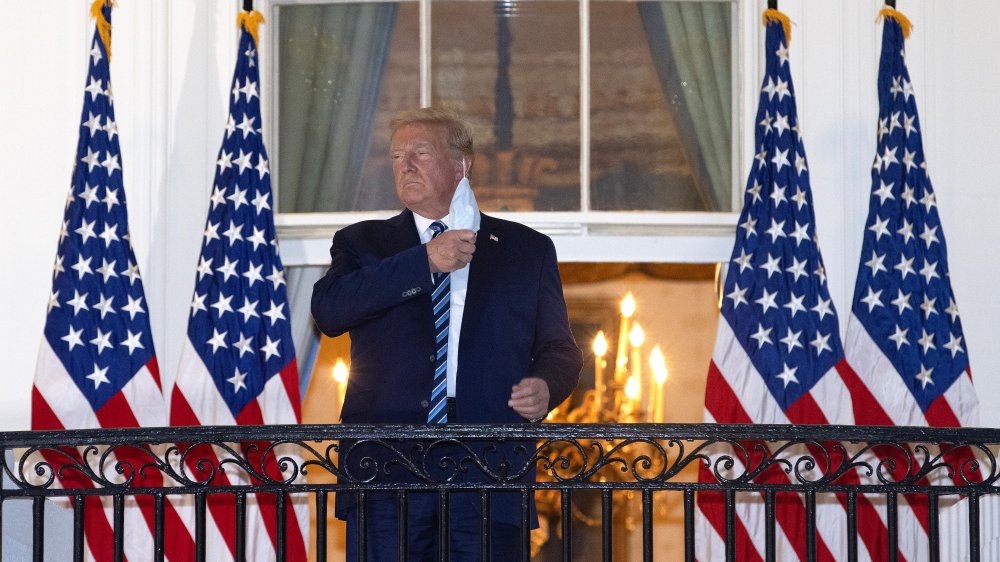 Win Mcnamee/Getty Images
After being hospitalized at Walter Reed Medical Center in early October 2020 for Covid-19 symptoms, Donald Trump returned to the White House just days later, still infectious. The POTUS said that he felt "good" and was nonchalant about coronavirus and that so many people in his orbit were infected. "Don't be afraid of it. You're going to beat it. We have the best medical equipment, we have the best medicines," Trump declared in a video (via Fox Carolina News). The Associated Press reported that he was taking deeper breaths than usual as he delivered his message. 
Claudia Conway didn't wait to call the president out on TikTok, as per screenshots via Twitter. She commented on the social media platform, "guys lmao he's not doing 'better'" and added, "he is so ridiculous. apparently he is doing badly lol and they are doing what they can to stabilize him." 
While Trump is set to receive medical treatment at the White House, it's unclear exactly who to believe. "I stood out front. I led. Nobody that's a leader would not do what I did," Trump said in his statement, adding, "And I know there's a risk, there's a danger. But that's OK. And now I'm better. And maybe I'm immune, I don't know." And if he's not, Claudia might just be the first to know.