This Was Eddie Van Halen's Final Concert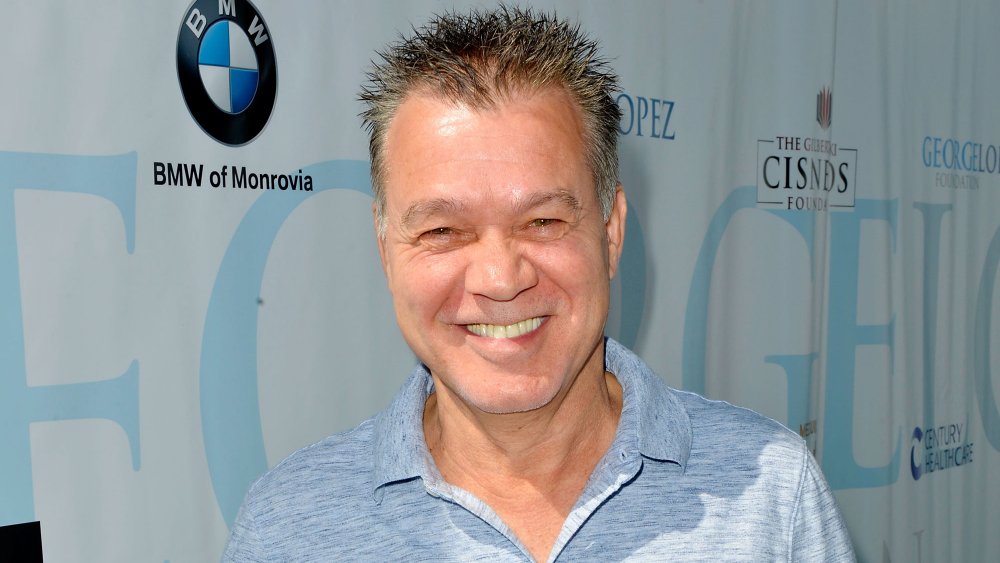 Jerod Harris/Getty Images
It doesn't need to be said, but Eddie Van Halen was more than your average rock star. With a hard-rock band that bears his surname Van Halen, the music legend birthed a new generation of the genre throughout the '70s and '80s by showcasing new possibilities of the electric guitar. With his iconic playing style, Eddie defined an era of rock & roll.
Tragically, On Oct. 6, 2020, Eddie passed away at St. John's Hospital in Santa Monica, Calif., after a prolonged diagnosis of throat cancer. Eddie's wife, Janie Liszewski, was by his side, along with his son, Wolfgang Van Halen, and Alex Van Halen, his brother and the band's drummer, TMZ reported. Wolfgang shared a heartfelt tribute to his father, while Eddie's bandmate, Sammy Hagar, shared a photo of the two and tweeted, "Heartbroken and speechless. My love to the family."
Fans and rock stars also mourned the loss of the guitar legend, with many lamenting that they did not get the chance to see Van Halen one last time. One fan wrote, "Can this year get any worse? I was supposed to go see Kiss and Van Halen last month. But of course covid made sure to cancel that concert."
On the topic of concerts, Van Halen's last tour was in 2015, which came three years after the band's A Different Kind of Truth. Van Halen wrapped up their final show at the Hollywood Bowl in Los Angeles on Oct. 4, 2015, and on that note, here's everything you need to know about Eddie Van Halen's last moment on stage.
Eddie Van Halen's special moment with David Lee Roth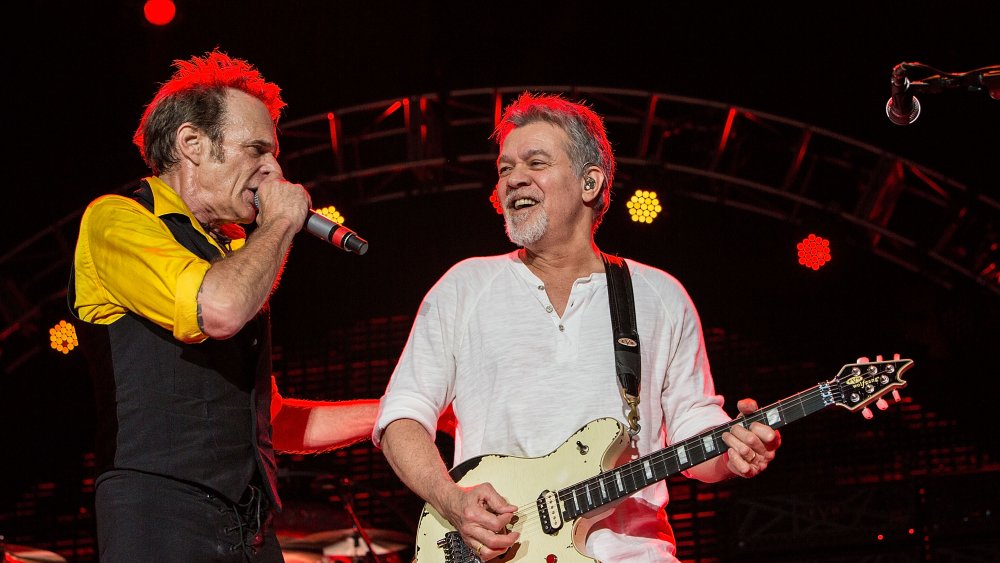 Daniel Knighton/Getty Images
Eddie Van Halen's final concert at the Hollywood Bowl in 2015 was not one to miss. Fans who attended the gig got to rejoice in Van Halen's earlier hits, such as "You Really Got Me" and "Dance The Night Away." Although Eddie did not perform his legendary six-minute riff with his cigarette still lit, he did deliver some heavy guitaring that brought people to their feet.
Toward the end of the 23-song show, per Setlist.fm, Van Halen had his final moment to shine on stage alongside his bandmates with a monumental, nine-minute guitar solo. During his solo, Van Halen performed "Little Guitars," "Mean Street," "Spanish Fly," "Cathedral," and "Eruption."
Commemorating the guitar pioneer, Rolling Stone shared a video of Van Halen's final encore of "Jump," and although that seemed to be the most powerful of the concert, the real highlight was the emotional moment shared between Eddie and frontman David Lee Roth. Midway through the show, Roth thanked the guitarist for giving him "the best years of my life." Roth concluded over the applause, "I will always do the half-Jesus towards you, Eddie Van Halen." The moment captured the hearts of everyone, as Eddie and Roth rarely saw eye-to-eye as bandmates.
Fans who attended Van Halen's last concert shared their memories on Twitter. One attendee tweeted, "I was fortunate to see Van Halen in concert as a teenager, and again on their last tour in 2015. Your music will live on forever!"
David Lee Roth had doubts Van Halen would ever tour again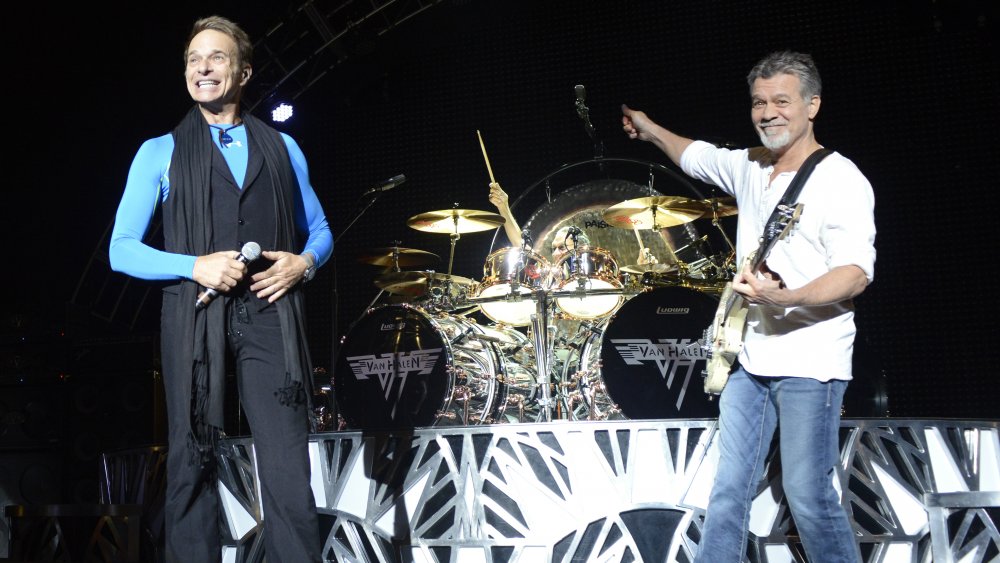 Tim Mosenfelder/Getty Images
Prior to Eddie Van Halen's tragic death, there was already uncertainty about Van Halen touring again in 2020. Eddie, who had been battling cancer recurrently for two decades, underwent some serious surgeries throughout his career. In 2000, Eddie began treatment for tongue cancer and would have part of his tongue removed in the next year. He was declared cancer-free in 2002. In 2019, TMZ learned Eddie was traveling back and forth between Germany and the United States for throat cancer treatment for five years.
In a New York Times piece about his pandemic artwork, Eddie's bandmate David Lee Roth shared his doubts about the band touring again due to Van Halen's condition. "I don't know that Eddie [Van Halen] is ever really going to rally for the rigors of the road again," Roth said. "I don't even want to say I've waited — I've supported for five years. Because what I do is physical as well as musical and spiritual — you can't take five years off from the ring... He's a band mate. We had a colleague down. And he's down now for enough time that I don't know that he's going to be coming back out on the road."
In July 2020, Wolfgang Van Halen, Eddie's son and bandmate, questioned and responded to Roth's comments (per NME). After seeing a post on Instagram related to Roth's comments, Wolfgang commented, "Yeah I don't really think that's up for him to decide." While touring with Eddie is sadly no longer a possibility for the band, his talents will go down in music history.