The Hardest Part Of The Masked Singer For Jojo Siwa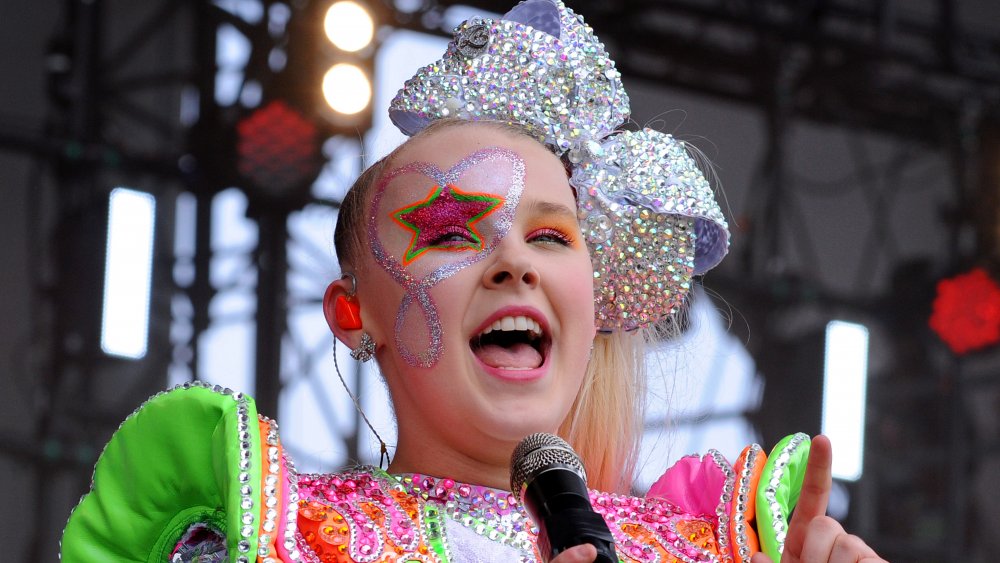 Timothy Hiatt/Getty Images
JoJo Siwa isn't "masking" her true feelings about her stint on The Masked Singer. The side-ponytailed, Nebraska-born superstar, who owns approximately one thousand hair bows and gives the Energizer Bunny a run for its money stamina-wise, seems like the perfect fit for Fox's singing reality show. A former Dance Moms cast member and a finalist on Abby's Ultimate Dance Competition, Siwa has turned her 15 minutes of reality TV fame into full blown stardom. She has a massive YouTube presence, a book deal, catchy singles like "Boomerang" and "Every Girl's a Super Girl," and an "overall talent deal" with Nickelodeon. 
Yup, she's successful and packed with energy; just perusing her dance-filled Instagram page is a jolt of electricity to the system! Sure, she's gotten into a few scraps online with contemporaries like Danielle Bregoli (a.k.a the "Cash Me Outside" girl) and has even orchestrated a YouTube prank or two gone wrong (case in point? she falsely claimed her dad was hit by a bus), but she's mostly an upbeat ray of blinding light.
For all of those reasons, it's no wonder that the Masked Singer crowd rose to its feet when Siwa first took the stage as the infectiously hyper T. Rex on The Masked Singer. Though the star was revealed and sent prehistorically packing on the third episode of Season 9 of the show, per Entertainment Weekly, she definitely made a splash. That being said, her time on the show wasn't without its difficulties. Here's Jojo Siwa's least favorite part of appearing on The Masked Singer.
Jojo Siwa couldn't stand this part of 'The Masked Singer'
So what did JoJo Siwa dislike about her Jurassic journey on The Masked Singer? Apparently, her T. Rex costume was a little heavy to perform in. Though the star made her seemingly endless dance moves look effortless, it was, in fact, "a struggle". 
"Oh no, it was so difficult. Honestly. It [the costume] was hard and heavy," she told Entertainment Weekly in March 2020. "I had 18 layers on, but it was still worth it. If I could go back in time, I'd do it all again," she said, adding, "It's definitely a struggle, but it was so fun." The star added that her mic was just for show and she was actually wearing a bulky headset the whole time. "It was honestly quite uncomfortable," Siwa told EW. 
As far as her energy went, however, Fox told the singer to dial it up ahead of time. "They actually told me to turn the energy up and if they needed me to tone it down, they would tell me. I was like, okay. That's what they told me before I even started. They loved it. They said my energy was amazing. Keep it."
Though the costume was cumbersome, Siwa told TV Line that her experience — which included numbers by Pink and Salt-N-Pepa — was worth the pain. "Even though you can't breathe. It's worth a minute-and-a-half of your life."