Here's Why The VP Debate Isn't Covid-Proof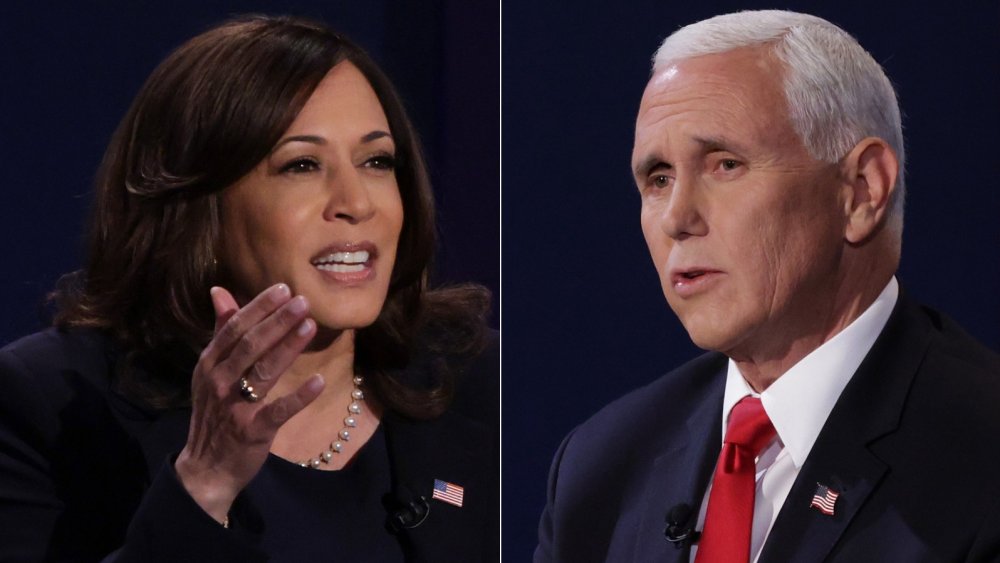 Alex Wong, Alex Wong/Getty Images
After deliberation with regards to whether the first and only vice presidential debate between Vice President Mike Pence and Democratic nominee Kamala Harris would take place after President Donald Trump's positive coronavirus result went public on Oct. 2, 2020, the debate went on as planned. However, the televised event on Oct. 7, 2020, was not held without reservations, due, in part, to questions of how seriously the Trump Administration has taken the pandemic. In fact, per Slate, questions have been raised about Trump's Covid-19 testing in the first place.
Though particular precautions were set following Trump's coronavirus diagnosis – among which included a mandated 12-foot distance between Pence and Harris, as well as plexiglass barriers at their stations, per CNN – it is still unclear to what degree the preventative measures made the entire event Covid-proof. So what's the verdict? Keep reading after the jump to find out.
It's impossible to verify that the VP debate was Covid-proof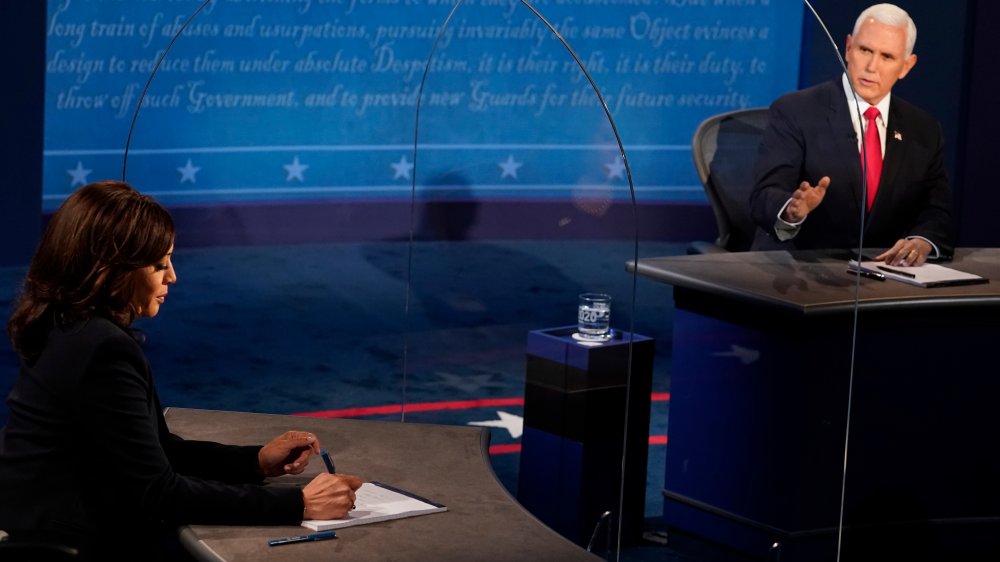 Pool/Getty Images
While the idea of creating an indoor space that is completely safe and foolproof with regards to the coronavirus pandemic is likely fiction at best, there are a number of factors at play that can hinder that prospect further. Perhaps one of the biggest factors is the fact that neither California Sen. Kamala Harris nor Vice President Mike Pence wore face masks during the 90-minute debate, which, according to multiple studies is integral to preventing the spread Covid-19.
The fact that neither side wore masks might also factor into the overall evaluation of a debate victory. According to a CNN poll conducted by SSRS in early October 2020, roughly two-thirds of respondents answered that "President Trump handled the risk of coronavirus infection to others around him irresponsibly" following his own coronavirus diagnosis. 
Experts on the matter seem to have a similar outlook. In an interview with Yahoo! Sports, Angela Rasmussen, "a virologist and associate research scientist at the Center of Infection and Immunity at the Columbia University School of Public Health," stated in so many words that the current model employed by the Commission on Presidential Debates was lackluster. "I laughed, in a hopeless, bitter, heartbroken way," Rasmussen told Yahoo! before the debate began to air. "In other words, LOLSOB."