BLACKPINK TV Appearances You May Have Missed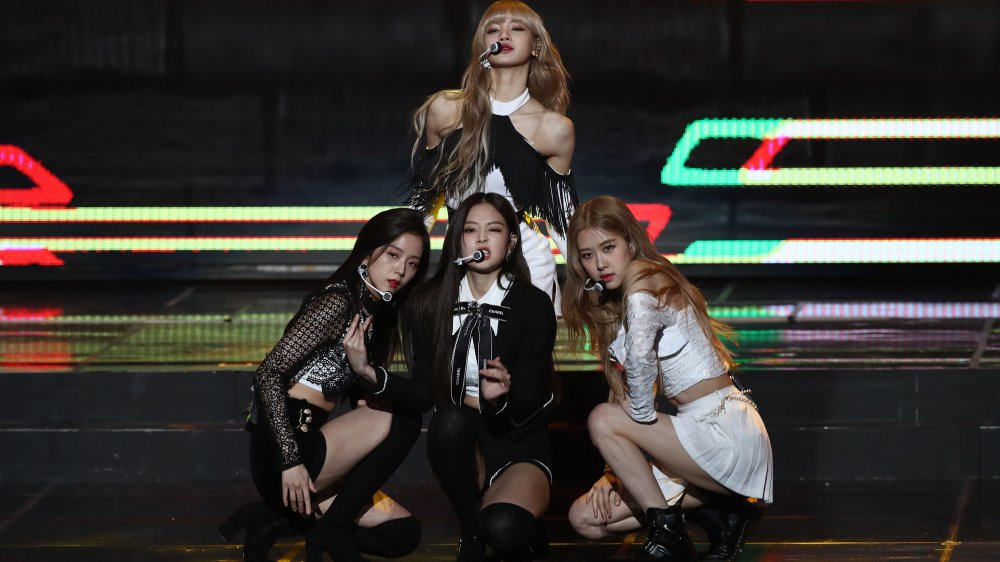 Chung Sung-jun/Getty Images
This content was paid for by Netflix and created by Nicki Swift.
So, you can't get enough BLACKPINK. You've watched all of the group's record-breaking music videos, maybe hundreds of times. You've pored over its historic Coachella performance, its appearances on shows like The Late Show with Stephen Colbert and The Tonight Show Starring Jimmy Fallon, and its reality shows, BLACKPINK House and 24/365 with BLACKPINK. You're planning to devour its feature-length documentary, BLACKPINK: Light Up the Sky, which gives fans unprecedented access to the members of the group as they go about their day-to-day lives, hammer out tunes in the recording studio, and embark on their first world tour. If you're lucky, you've even managed to catch BLACKPINK live.
And yet, that's not enough. When it comes to BLACKPINK, you still want more. Well, we have some good news. While BLACKPINK has only been around for four years, Jennie, Lisa, Jisoo, and Rosé have already made hundreds of TV appearances on music showcases, scripted comedies, talk shows, and variety programs. At this point, if it's cool, the girls have probably done it — and as their fame continues to grow, there's only going to be more and more.
That's great, but it also poses a problem. BLACKPINK has popped up on TV so many times that it's hard to keep track of everything. Even if you're the most devoted Blink out there, chances are that something's slipped through the cracks. So, sit back, turn up the volume, and check out these classic BLACKPINK appearances. With luck, you'll find something that's new to you.
Weekly Idol
On American talk shows, musical acts rarely do more than play their biggest hits. Maybe they'll get to do a brief interview. Maybe, if they're lucky, they'll even get to play a brief game with the host. In South Korea, it's different. Over there, there are multiple variety shows devoted entirely to highlighting pop idols' personalities. Yes, singing and dancing are part of the fun, but they're not the entire draw. On these shows, popular musicians also take part in extended interviews, play games, perform sketches, and generally let their fans get to know them as people in addition to performers.
Naturally, BLACKPINK has been on a number of these shows. BLACKPINK's first trip to the one of the most popular, Weekly Idol is well worth checking out. Over the course of the hour-long program, you'll see the members of BLACKPINK perform some of their signature dances at double speed, try (with mixed success) to sing their biggest hits a capella, show off some break-dancing moves, and share some interesting personal anecdotes.
In addition, this episode was BLACKPINK's very first non-musical TV appearance ever — before then, the group had never even done a televised interview. As a result, the show doubles as a basic introduction to each of the girls, and their nervous, giddy energy makes this especially appealing. New fans who want to know more after watching Light Up the Sky should find Weekly Idol pretty educational, while long-time Blinks will get a kick out of seeing Rosé, Jennie, Jisoo, and Lisa during BLACKPINK's early days. Basically, no matter how long you've been part of the BLACKPINK family, you really can't go wrong.
Men on a Mission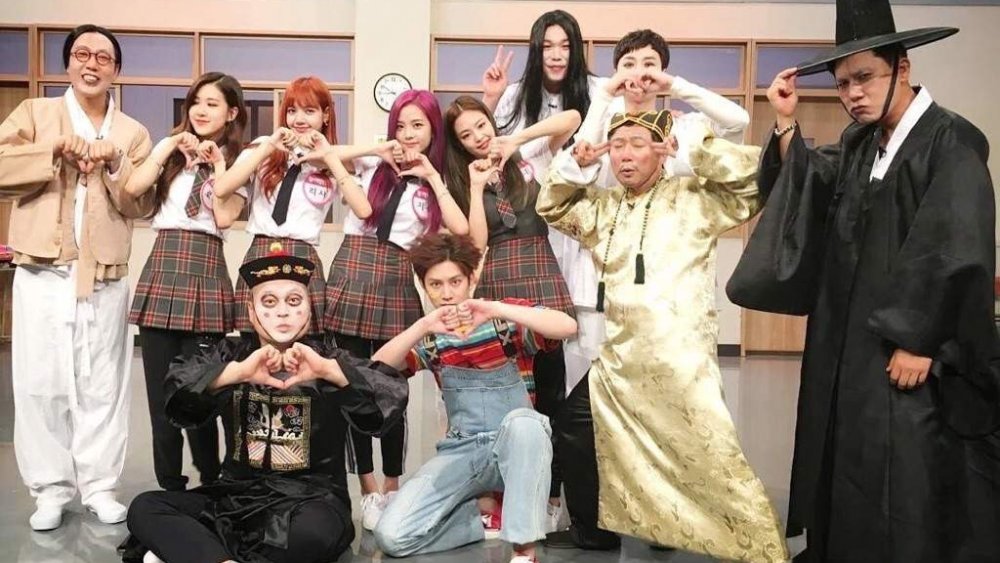 Among celebrity-focused variety shows, Men on a Mission (or Knowing Bros, as it's called in Korea) has a pretty unique set up. It takes place on a set that recalls a high-school classroom, and the hosts — all of whom are adults — dress up like students. Guests are treated like exchange students, who must introduce themselves to the class in a regular segment called the "Entrance Exam," before settling in to chat and play games based on regular school activities.
It's all very silly, but the unconventional premise lends itself to some unexpectedly revealing interviews. Normally, the Korean language places a big emphasis on age and seniority. But on Men on a Mission, both guests and hosts use informal language when speaking to each other, just like classmates would. That leaves everyone free to joke around and tease each other. Just look at BLACKPINK's episode. The hosts give Jennie a hard time about her self-proclaimed "strength," her ability to eat snacks quietly, the girls bop their elders on the head with a plastic mallet when they answer BLACKPINK trivia questions incorrectly, and everyone has a grand old time.
The moment that makes BLACKPINK's episode of Men on a Mission truly special, however, doesn't come until about an hour in. See, in a spooky twist, BLACKPINK members reveal that they actually aren't students at all. They're ghosts, and they're there to scare the wits out of their classmates. That revelation paves the way for both a ludicrous, ghost-themed skit and a trivia contest inspired by The Ring, both of which are funny and charming. If you've already binged the rest of BLACKPINK's variety show appearances, Men on a Mission is a very welcome change of pace.
YG Future Strategy Office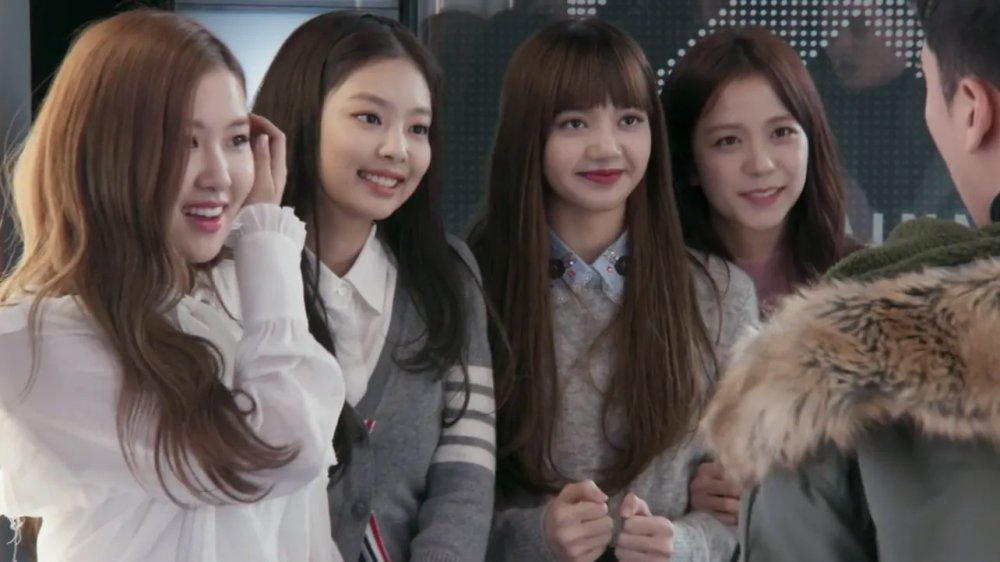 BLACKPINK didn't come out of nowhere. Like Big Bang, iKon, and 2NE1 before them, the group was put together by pop music juggernaut YG Entertainment, which discovered Jennie, Rosé, Lisa, and Jisoo during auditions, worked with them for years as part of its rigorous training program, and ultimately put them together to form BLACKPINK.
Oddly enough, YG Entertainment also has its own, mockumentary-style sitcom called YG Future Strategy Office, which centers on a fictional department charged with keeping YG's image squeaky clean. Naturally, lots of YG's talent appears on the show, playing exaggerated versions of themselves. If you're a K-pop fan, you'll enjoy seeing acts like Big Bang and iKon, ONE, Park Bom, and, of course, BLACKPINK. During their appearance, the ladies of BLACKPINK get to mug for the camera and show off their comedy chops.
BLACKPINK's appearance on YG Future Strategy Office actually comes in the first episode, "Family Day," in which the Future Strategy Office is trying to cajole YG's biggest celebrities into showing up for the company's annual celebration. The highlight, at least as far as BLACKPINK is concerned, is an extremely uncomfortable business lunch that gives each member of BLACKPINK the opportunity to do a talking head confessional similar to those you'd find on The Office, and proves that Jisoo has perfected her Jim Halpert impression. Y'know, if this whole popstar thing doesn't work out, maybe BLACKPINK can make a go of it as comedians. Just a thought.
Park Jin-young's Party People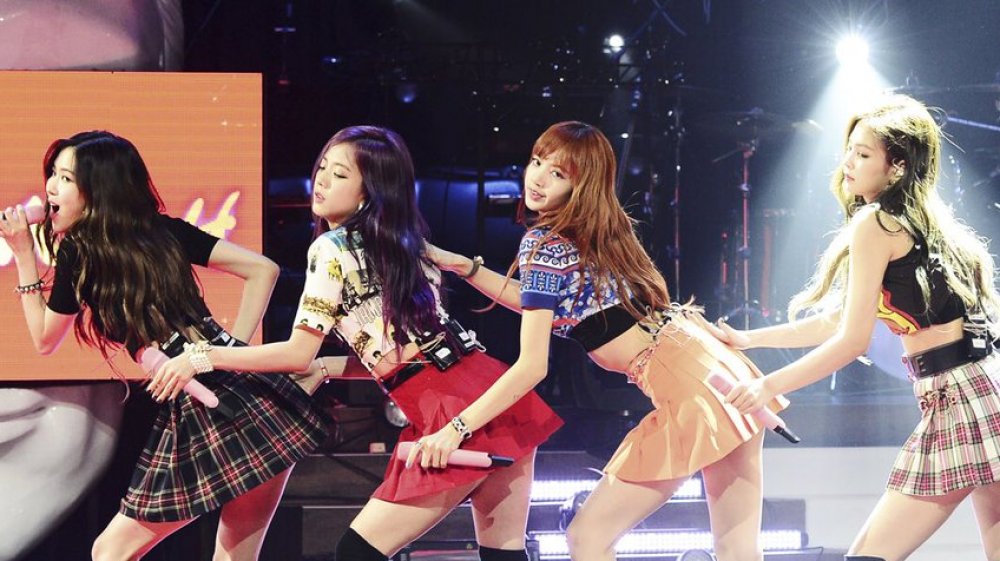 Park Jin-young's Party People tries to capture the feeling of being at a high-end club. There's music. There's booze. There are celebrities, dancing, and screaming crowds, and everyone's having a very, very good time.
Hosted by Park Jin-young, a musician, songwriter, and co-founder of one of the biggest names in the K-pop scene, JYP Entertainment, Party People is a show where fans can tune in to see their favorite acts perform, as well as catch some exclusive interviews in-between sets. In BLACKPINK's episode, for example, the girls share everything they're not allowed to do as pop idols (drinking, smoking, and having relationships are the big ones), discuss their ideal boyfriends, and joke around with fellow guest Jung Yong-hwa, a popular singer-songwriter and actor.
However, the undisputed highlight of BLACKPINK's Party People appearance is the group's soulful rendition of Miguel's "Sure Thing." It's not just an excellent cover. Many Blinks consider it one of BLACKPINK's all-time best performances. Don't let the simple staging or lack of elaborate dance moves fool you, either. While BLACKPINK spends the entirety of the song seated on stools, the stripped-down performance gives each of them a chance to show off their vocal talents. The end result is, in a word, remarkable.