Blackpink: Jisoo's Stunning Fashion Career Explained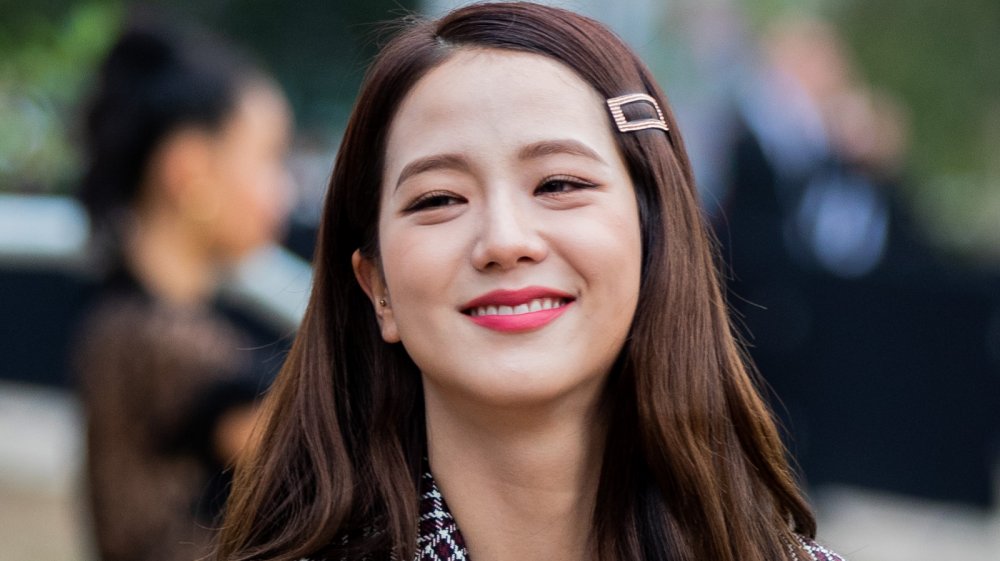 Christian Vierig/Getty Images
K-pop has seemingly popped up everywhere. While most have heard of BTS, the award-winning boy band that's stolen the hearts of millions around the world, there is one other K-pop group making a splash on mainstream charts: Blackpink. Debuting in 2016, the group — which consists of four talented singers: Jennie, Jisoo, Lisa, and Rosé – has rapidly accrued a massive, global following. In June 2020, the K-pop powerhouse group broke the record for the most viewed YouTube video within the first 24 hours, per Deadline. They've also worked with chart-topping artists like Halsey, Dua Lipa, Lady Gaga, Cardi B, and Selena Gomez.
More impressively, the music world is not the only space Blackpink is taking over. The band is also known for their impeccable fashion sense. Additionally, their "innate understanding of style has made them hot property," according to Vogue. Jennie, who has been nicknamed the "world's human chanel" by fans, became a face of the brand, sitting front row at the Chanel spring/summer 2020 show in Paris with Anna Wintour. Rosé is the "global face" of Saint Laurent, while Lisa is a global ambassador for Celine.
Meanwhile, lead vocalist Jisoo is leaving her mark on the fashion industry in her own way. From being a face of Dior and Kiss Me to sharing Instagram pictures featuring designer pieces, here is Jisoo's stunning fashion career explained.
Jisoo is a fashion icon
Jisoo is not afraid to switch it up when it comes to her looks, which has positioned her to be a huge influencer in the fashion industry. In 2019, she was found herself on Business of Fashion's annual list as one of fashion's top 500 influencers alongside Jimin of BTS. This was a major nod to the K-pop industry because it was the first time K-pop stars were included, according to E! News. Jisoo was honored due to her partnerships with Louis Vuitton and Dior Cosmetics, and for being a "front row favorite."
Jisoo's millions and millions of Instagram followers have been treated to the uptick in her high-fashion shots featuring Dior pieces, and she even picked a baker-style hat right off the Dior runway to wear in Blackpink's "Ice Cream" music video. Plus, there is no sign of slowing down for the fashionista. According to Vogue, "Jisoo's fashion relationship with Christian Dior has been building," which may mean more collaborations and front row seats in the future.
While Jisoo can speak Chinese, Japanese, and Korean, according to Time, English is not yet a strong suit for the "How You Like That" singer, and she often stays quiet in interviews. However, in a group interview with Elle in September 2020, the girls agreed when Jennie said, "Fashion definitely empowers us as much as music does." It's clear that Jisoo loves mixing fashion and music, and she makes it "look so good, look so sweet," as she does it.