The Truth About Fantasia Barrino And Kandi Burruss' Friendship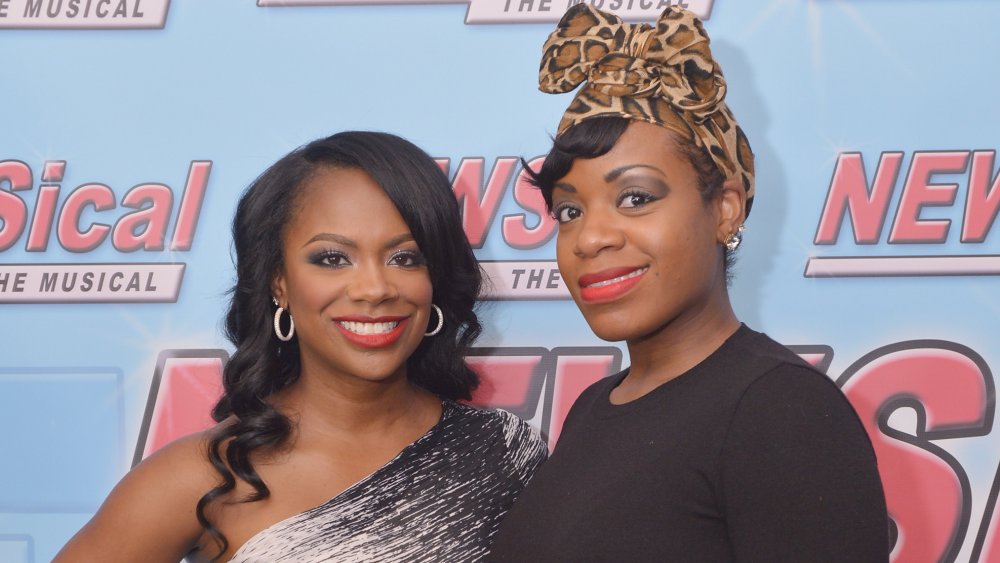 Stephen Lovekin/Getty Images
It's no question that Kandi Burruss is one of the most candid cast members of Real Housewives of Atlanta. Between the taboo topics on her Kandi Koated Nights show and her intimate novelty line Bedroom Kandi, this R&B songstress is known for being unapologetically herself at all times. Although RHOA viewers watched her clash with her former on-and-off friends, Phaedra Parks and Porsha Williams, Burruss' off-camera friendships seem pretty solid — especially her connection with fellow R&B singer Fantasia Barrino.
There are very few public details about how long Burruss and Barrino have been friends. However, a YouTube video of the two twerking in a dance studio together dates their friendship back to as early as 2009. In 2012, Burruss shared a video of herself and Barrino in the studio on her personal YouTube page. The two have also toured with one another, per Straight From The A. Much like Burruss, Barrino can also be the life of the party. Videos of Barrino on stage twerking for her fans prove that her and her partner in crime are two peas in a pod. Keep reading to find out the truth about the harmonious duo's friendship.
Kandi Burruss and Fantasia Barrino are not fans of Wendy Williams
Controversial TV host Wendy Williams is known for shaking things up throughout Hollywood with her outrageous inputs. There are a plethora of celebs who can't stand Williams and her mouth, and two of them happen to be Kandi Burruss and Fantasia Barrino. The duo spilled their opinions of the host during a visit to Andy Cohen's Watch What Happens: Live clubhouse.
Both Burruss and Barrino agreed that they are tired of Williams' criticism about their personal lives. Williams is known for making comments about the RHOA cast and made a few remarks about Burruss' relationship with Todd Tucker in the past. "Every week Wendy was coming on, you know, saying negative things about my relationship with Todd and then my mom would come, 'You know Wendy said ... even Wendy said ...' Every week," Burruss told Cohen. "I was like, I don't care what Wendy said. Let's ask Wendy about her relationship."
Barrino, who has also been verbally attacked by Williams on her show (per YouTube), chimed in, saying, "Seriously, at the end of the day, I feel like everybody has something that they went through and they have a past," Barrino agreed. "Nobody's asking her about hers. It's not her business."
Fantasia Barrino gave an interesting toast at Kandi Burruss' wedding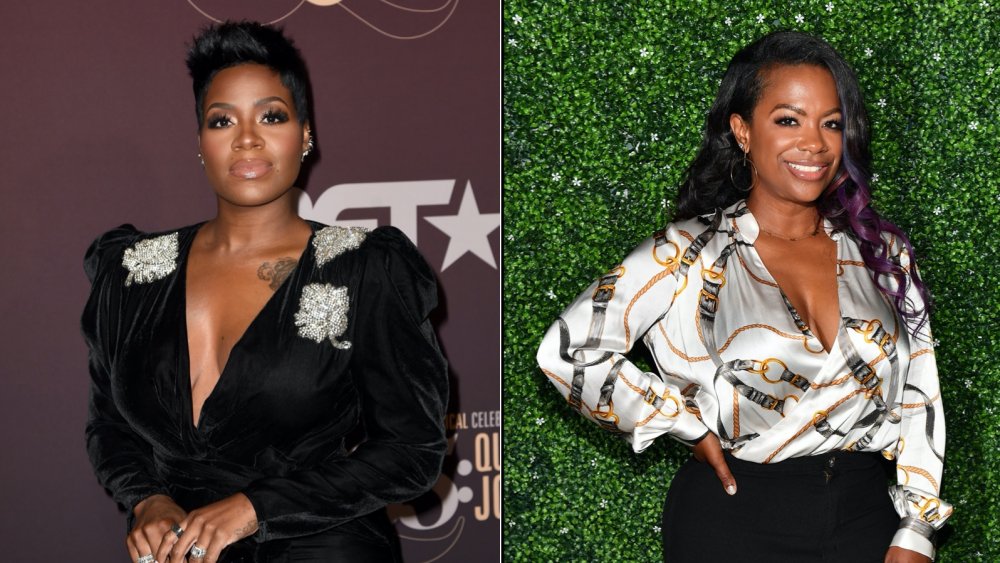 Paras Griffin/Getty Images
Wedding speeches are the time for family and friends to share a few words and memories with the bride and groom — they can either go really well or really bad. In Fantasia Barrino's case, she gave a speech at Kandi Burruss' wedding that one can only describe as... interesting.
Burruss tied the knot with her hubby Todd Tucker at Le Fais Do-Do event facility in Atlanta, Ga. on April 4, 2014, per Bravo. Although the star-studded wedding brought out celebrity guests such as Love & Hip-Hop's Rasheeda Frost and Burruss' former Xscape mate Tameka 'Tiny' Harris, Barrino managed to become the highlight of the reception after taking the mic and dropping a few endearing expletives for her dear friend. According to TMZ, Barrino called Kandi "the realest b***h" and "my motherf****n' friend."
Rumors later spread that Burruss ended her friendship with Barrino because she wasn't a fan of the outrageous speech. However, Burruss denied the rumors, telling TMZ that she loved Barrino's speech and she laughed her "big a**" off at it. When Barrino got married to Kendall Taylor the following year, Burruss didn't return with a similar F-bomb-laced speech. Instead, she shared a few words on her blog, writing, "Congrats to my girl Fantasia on her wedding day! She looked absolutely stunning!"