The Untold Truth Of Dak Prescott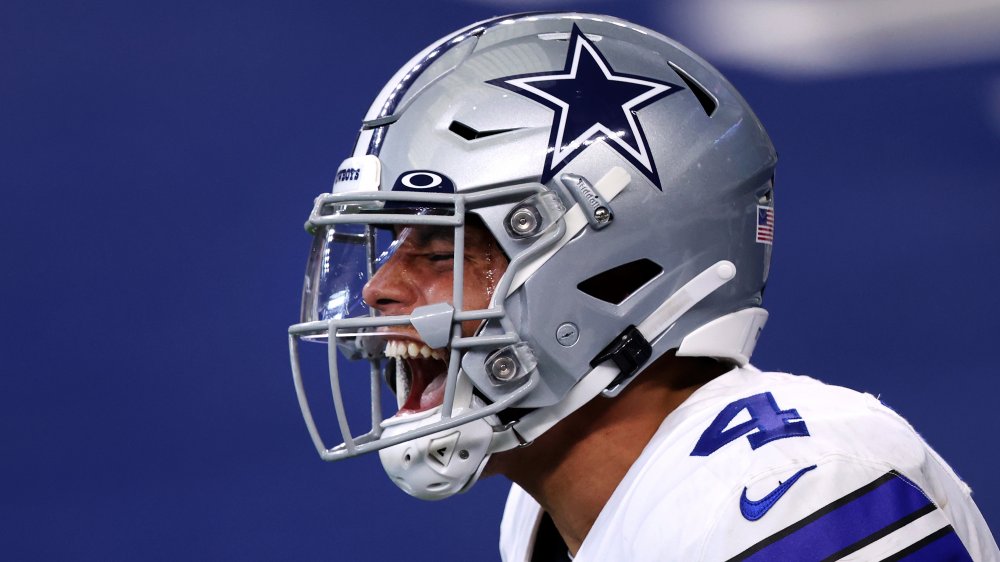 Tom Pennington/Getty Images
Quarterback Dak Prescott is known for his on-field success. Before being drafted by the NFL, he played college football for Mississippi State where he was the "most decorated player" in the school's history, as he was named All-American and All-SEC quarterback twice during his college career. After earning both his bachelor's and master's degree at Mississippi State, he entered the 2016 NFL draft and was picked up by the Dallas Cowboys in the fourth round. From there, he has only continued to set records for the Cowboys, becoming Offensive Rookie of the Year, and playing in two Pro Bowls in the past five seasons alone. The 27-year-old was even set to have "a massive payday" at end of his 2020 season "with either the Cowboys or the highest bidder elsewhere in the league" (via CNN). 
However, 2020 has proven to be a difficult time for Prescott because not only did he suffer a major tragedy in his personal life earlier this year, but he must now also face a devastating injury, leaving many fans (and teams) wondering if he will ever make a full recovery. 
Dak Prescott has had a heartbreaking year both on and off the field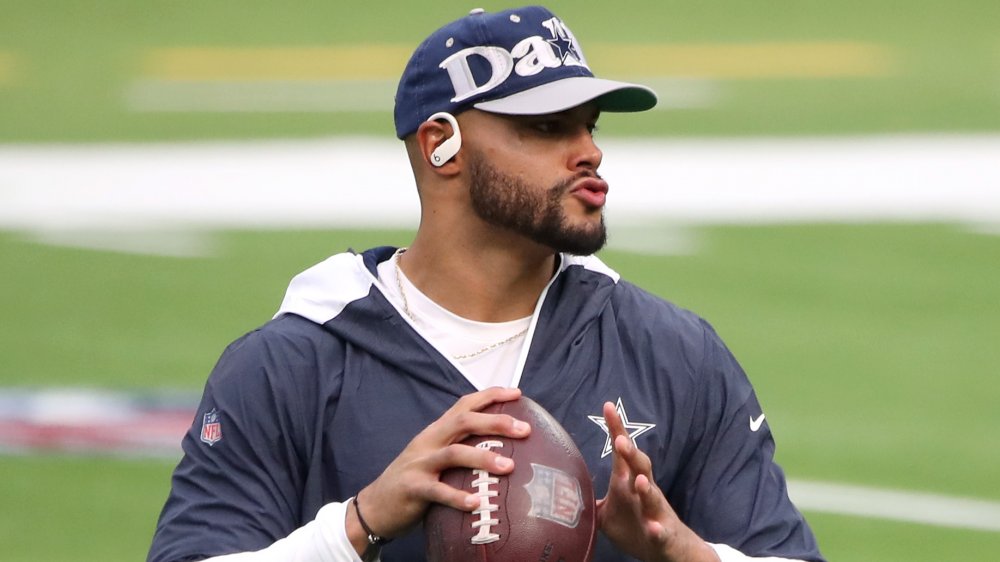 Katelyn Mulcahy/Getty Images
Dallas Cowboys quarterback Dak Prescott had a difficult 2020 off-season. On April 24, 2020, the NFL star's older brother Jace shockingly took his own life. Prescott went on to speak publicly about his brother's suicide in an interview with In Depth with Graham Bensinger, where he also shared his own battles with mental health. "All throughout this quarantine and this off-season, I started experiencing emotions I've never felt before," Prescott revealed. "Anxiety for the main one," he added. "And then, honestly, a couple of days before my brother passed, I would say I started experiencing depression." 
After coping with his brother's passing and his own mental health issues, Prescott went on to play in the 2020 football season for the Cowboys and had "been leading the league in passing yards, attempts and completions," per CNN. Prescott came into the season playing under the one-year franchise tag, so his impressive stats were looking like he could receive a similar deal to Patrick Mahomes, the Kansas City Chiefs' quarterback who "has the most lucrative deal in sports history." However, due to an unexpected injury, Prescott's profitable future with the NFL might not be as sure as it once was.
Dak Prescott's ankle injury could have a lasting impact on his career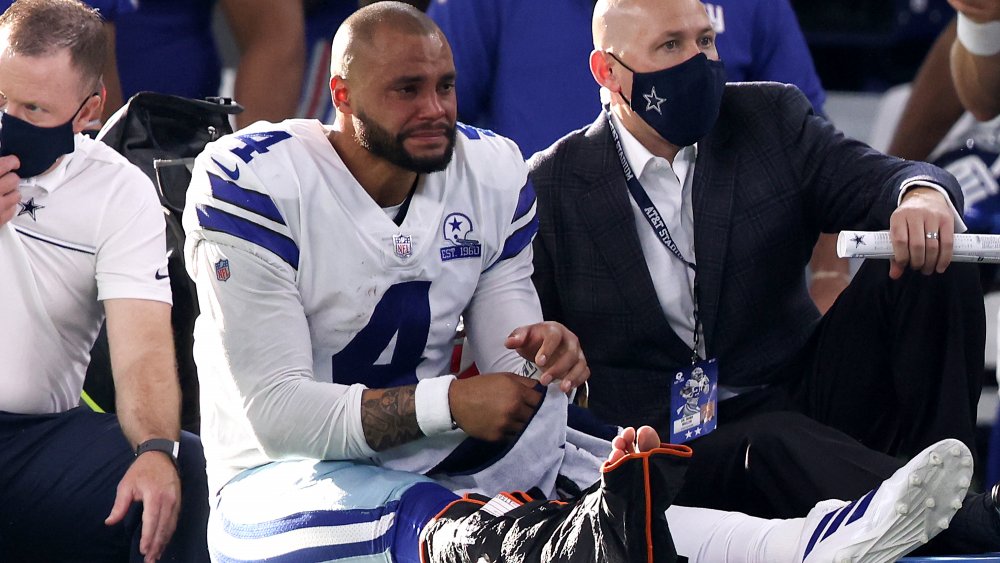 Although Dak Prescott's NFL future looked bright, that quickly changed on Oct. 11, 2020, after the Dallas Cowboys quarterback suffered a potentially career-altering ankle injury while playing against the New York Giants. During the Sunday evening game, Prescott was carted off the field for a compound fracture and dislocation of his right ankle. ESPN reported that "the injury occurred on a 9-yard run while being tackled by Giants defensive back Logan Ryan," adding that the hit "quickly brought a hush to the AT&T Stadium crowd, teammates and opponents alike."
Prescott underwent immediate surgery that was successful, but the injury could have a lasting impact on his football career. Cowboys owner and general manager Jerry Jones made a public statement about the injury, saying "I know the personal hardship and strife that [Prescott] has faced, dealt with and overcome in his young life. And I know of no one who is more prepared, from the perspective of mental and emotional toughness and determination, than Dak Prescott to respond and recover from this challenge that has been put in front of him." 
ESPN also reported that players from both teams "consoled Prescott as he left to a big cheer," adding that "Prescott raised his right hand in acknowledgment." It's clear that there is ongoing support for this NFL star both on and off the field and we, along with the entire football community, wish Prescott a speedy, full recovery.