Everything We Know About The 90 Day Fiance Spinoff Starring Annie And David
90 Day Fiancé stars Annie Suwan and David Toborowsky made their TV debut in 2017 on Season 5 of the show, with the two starting their romance in Annie's native country of Thailand. They faced financial difficulties during their later move to David's hometown in Kentucky, and they also struggled with skepticism from friends and family about their relationship. However, Annie and David eventually tied the knot, and they continued their story on Season 3 of 90 Day Fiance: Happily Ever After?
It's no secret Annie and David's initial season did not make the best impression on the 90 Day Fiancé viewers. But over time, they won fans over, in part due to their starring roles on the spin-off series, 90 Day Fiancé: Pillow Talk, which is a reaction show featuring fan favorites' sharing their takes on the most recent episodes. Now, the fandom can't get enough of the couple. One viewer tweeted, "Not a good day, but not even five minutes into #PillowTalk and David and Annie have me literally laughing out loud." Another fan declared, "David and Annie on #pillowtalk are hilarious." Someone else posted, "David and Annie. Never leave this show!" A Twitter user credited Annie for "[making] the show" by saying "the most random things."
Many viewers have deemed Annie and David as their "favorite" pairing on Pillow Talk with one person writing, "Annie needs her own damn show." Well, it's finally happening. David and Annie have landed a new digital series, and the concept is so on-brand for the couple.
Annie and David have cooked up a new show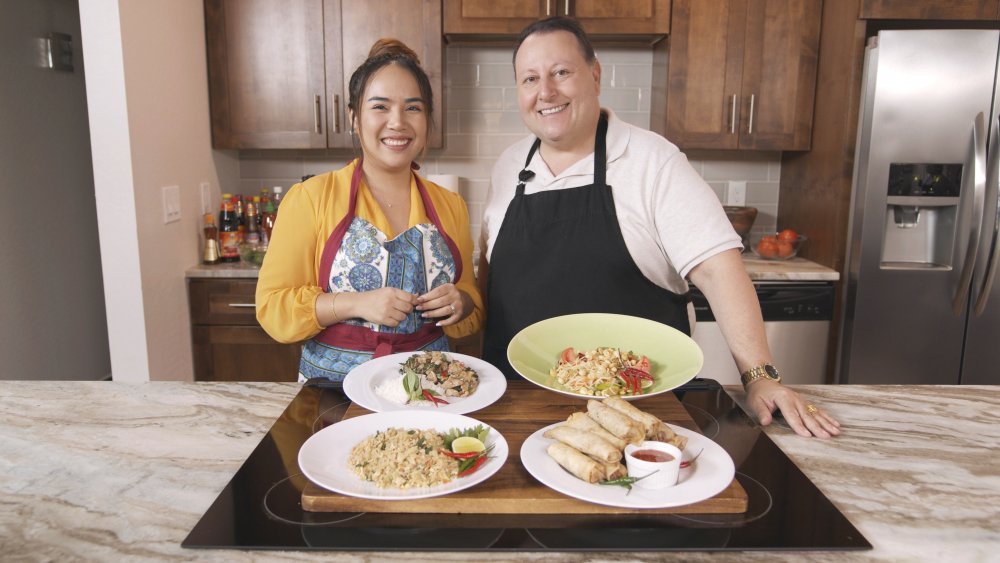 Courtesy of TLC
When Annie Suwan and David Toborowsky share their commentary on 90 Day Fiancé: Pillow Talk, they're usually eating food that Annie cooked, which has caught viewers' attention many times over. One fan tweeted, "I can't believe I'm saying this but I [could] make an exception about sharing a bed with David & Annie when she cooking all that delicious looking food." Another viewer deemed the couple as the "Best In-bed Snacking Team," hinting at an invite. Although it's unlikely that Annie and David will invite 90 Day Fiancé fans to eat snacks with them in bed, they are giving viewers the next best thing: a spin-off show that involves food.
As it turns out, the show is just what fans wanted. In July 2020, a viewer tweeted, "You should consider a show with Annie cooking and sharing her recipes. When we watch #PillowTalk and she and David have foods native to her country, I always want to know more." Luckily for this fan and others, TLC partnered with Facebook Watch for a new digital series called Spice It Up With David & Annie. According to an October 2020 press release, "the hilarious and heartwarming duo giving fans an inside look at how to create their favorite Thai-inspired meals." One tasty dish on the menu is Annie's Chicken Thai Basil. Yum. But the show is not just about cooking. They'll also "[indulge] in their signature, lovable and comedic banter," which includes everything from cooking tips to lessons Annie learned growing up in Thailand.
Spice It Up With David & Annie premieres on Oct. 28, 2020.