The Best And Worst Dressed At The 2020 Billboard Music Awards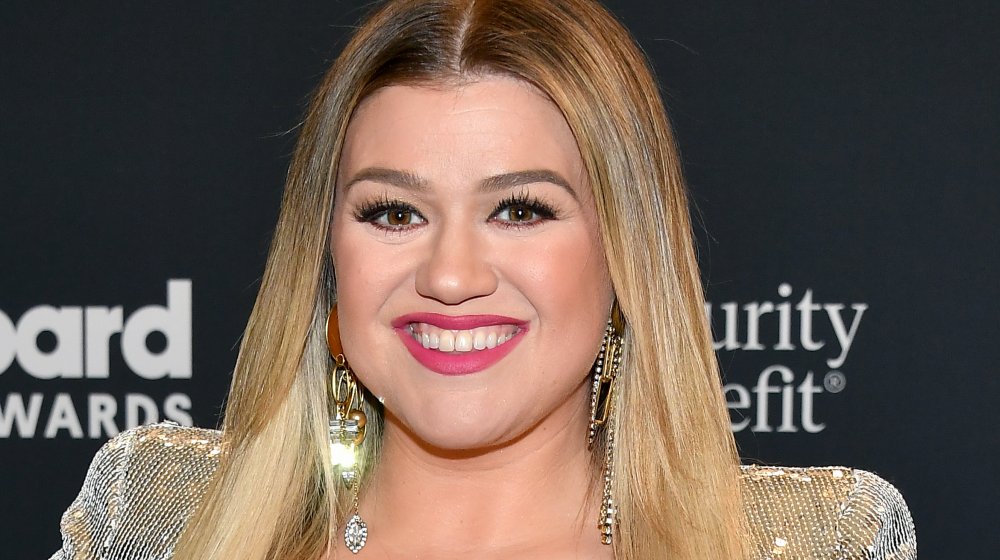 Amy Sussman/bbma2020/Getty Images
The Billboard Music Awards brings together the artists who have taken over Billboard's Hot 100 charts each year for a night dedicated strictly to music's most popular and mainstream singers, rappers, songwriters and more. The 2020 award ceremony did just that (socially distanced, of course) and was hosted by Grammy-winning artist, and The Voice coach Kelly Clarkson. The evening featured performances from Alicia Keys, Doja Cat, John Legend, BTS, Demi Lovato and of course, Kelly Clarkson herself.
Winner of the Billboard Music Awards icon award, Garth Brooks, gave a fan-filled (via video, of course) performance and thanked his award presenter, Cher, for inducting him into the small group of music legends who have been honored with the icon award in the past.
But if you're a self-proclaimed Fashion Police member, none of that matters to you as the lack of a red-carpet (thanks COVID-19) made it ever-so-difficult to judge the glamorous and just plain tragic looks of music's biggest stars. But fear not, because we've managed a list of the best and worst looks of the sans-audience ceremony from Alicia Keys' "new look" to Lizzo's political attire.
Lizzo makes a political statement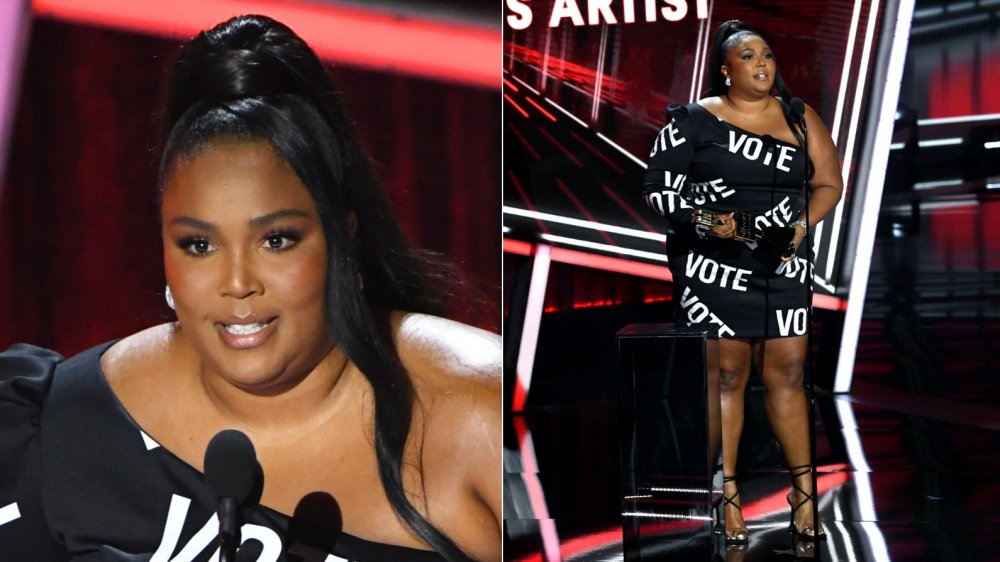 Kevin Mazur/bbma2020/Kevin Winter/bbma2020/Getty Images
Lizzo's outfits have never failed to be a talking point. One of the most notable fashion frenzies caused by the artist was her infamous Laker game thong, which ushered in endless online discussions, and, unfortunately, a big dose of body-shaming. Yet, at the 2020 Billboard Music Awards, fans were more concerned with the message her outfit gave rather than the amount of skin showing. The "Truth Hurts" artist dawned a one-shouldered, long-sleeve black dress with the words "VOTE" written all over.
Lizzo accepted the award for Top Songs Sales Artist and encouraged her fans to remember their voice. The singer shared how she wouldn't be on the Billboard stage "if it weren't for the big black women who refused to have their voices suppressed." While her dress read "VOTE," the artist told fans, "Use your power, use your voice, and refuse to be suppressed."
With her high ponytail intact, Lizzo affirmed in viewers, "Remain true to who you are."
Lil Nas X's Prince-inspired outfit was both a hit and miss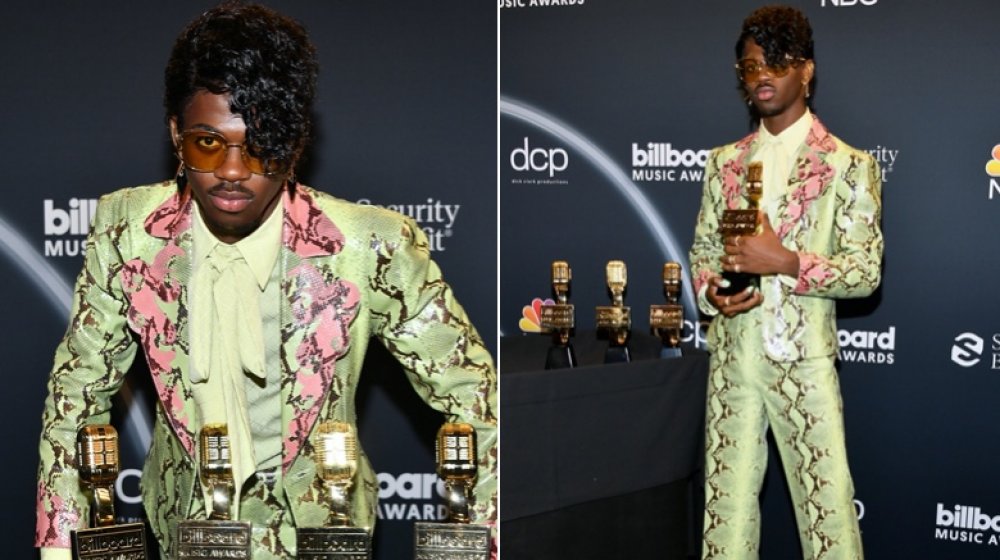 Amy Sussman/bbma2020, Amy Sussman/bbma2020/Getty Images
Lil Nas X sure knows how to make an appearance with his eccentric and often colorful outfits, and that seems to win fans over every time. The "Old Town Road" singer's outfit for the 2020 Billboard Awards managed to live up to the expectation that he'd show up wearing something slightly... different?
Lil Nas X accepted his award in person, rocking a Gucci snakeskin suit and Bvlgari rings on his fingers. The loud suit accompanied by a green top made it clear that Lil Nas X traded his country get-up in for an '80s look. Much like Alicia Keys, the highlight of his outfit was also his hair. The "Panini" popstar rocked some crimps in his flowy bang over his eye, in what seems to be a homage to late singer, Prince. He shared a photo of his new hairdo on Twitter with the caption, "not the bayanng."
As expected, viewers had a split decision about whether his outfit was fire or flawed; the collective agreement among them was that they loved the homage to Prince. One fan gushed over Lil Nas X's outfit, tweeting, "I'm getting major Prince energy and I'm HERE FOR IT!!!" Twitter's fashion police, however, disagreed. "Lil Nas X outfit gave me Jerome vibes from Martin tonight," One person wrote, adding, "why his team do that to him?"
Although the homage to the musical icon was well received, the hair definitely overpowered the outfit.
Sia's outfit took a bow for her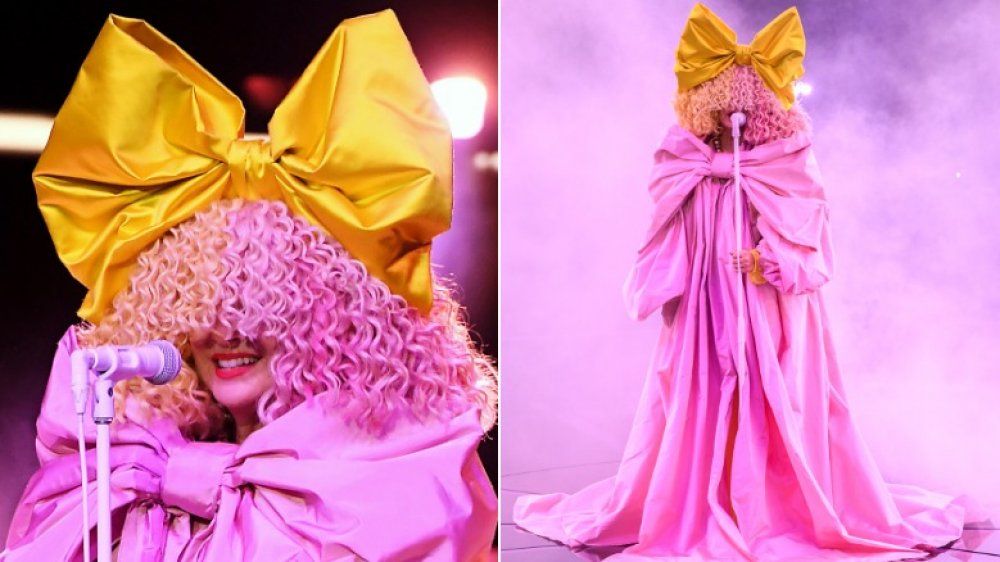 Kevin Winter/bbma2020, Kevin Mazur/bbma2020/Getty Images
The only thing bigger than Sia's talent is the size of her signature bows. The "Chandelier" singer took her bow look to the next level at the 2020 Billboard Music Awards with an extravagant choice of outfit. She took the stage in a huge pink Dolce and Gabbana gown with puffy sleeves and a dramatic neckline in the shape of a bow. On top of her curly tendrils, Sia wore a big yellow bow. The rather loud outfit had way too much going on.
PopSugar compared Sia's outfit to "Helga from the '90s cartoon show Hey Arnold!" Viewers weighed in on the singer's outfit, and the reviews were mixed. While some considered Sia's outfit to be one of ordinary fashion serves, others found it to be pretty weird. One user commented, "why does sia look like a grandma in that outfit?"
While we didn't love the look, we certainly understand where Sia's affinity for bows and face-covering wigs comes from. The singer explained to Chris Connelly on Nightline that she wears the bows and wigs to avoid being judged for her appearance, per Business Insider. "I don't want to be critiqued about the way that I look on the internet," the singer said, adding, "I've been writing pop songs for pop stars now for a couple of years and I've become friends with them and see what their life is like and that's not something I want."
Not the bayang, Alicia Keys!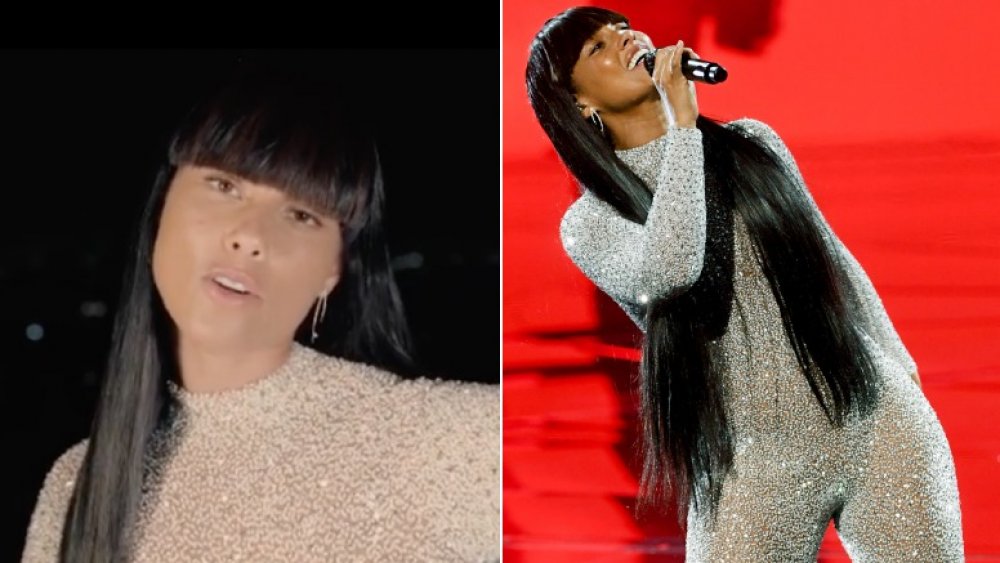 Instagram, Kevin Winter/bbma2020/Getty Images
Alicia Keys has undergone rather interesting style phases when it comes to her award show attire. The singer's previous denim-clad outfits at the 46th Annual Grammy Awards, per People, were clearly not her best style choices. However, when the "If I Ain't Got You" songstress hosted the 2019 Grammys, she was dressed to the nines. That's why this one aspect of Keys' outfit at the 2020 Billboard Music Awards threw a lot of a people off.
Even in a dazzling catsuit by Sanjay Kasliwal and slingback silver pumps, Keys still managed to miss the mark slightly. For the BBMAs viewers, the faux pas of Keys' outfit was her hair. The singer-slash-pianist sported a long hairdo with a bold, choppy bang. One viewer tweeted to Keys, "Did u cut these bangs in the dark?" Another wrote, "You are most definitely not ready for tonight please fix the hair love you ma."
Don't get us wrong — the outfit itself is a favorite among several viewers. The super blunt bang? Not really a fan fave.
Kelly Clarkson opens the show glittered in gold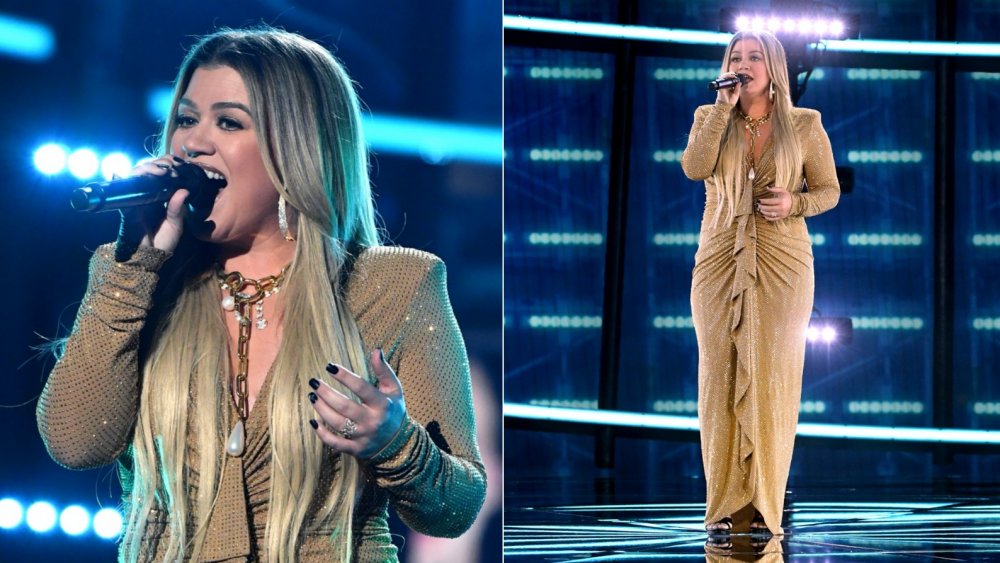 Kevin Winter/bbma2020, Kevin Winter/bbma2020/Getty Images
Host of the night, Kelly Clarkson, opened the 2020 Billboard Music Awards with Pentatonix and Sheila E. for a rendition of Steve Winwood's "Higher Love." The Grammy-winning singer, of course, wowed with her powerful vocals but it was her opening look that captured the eyes of viewers.
With long blonde locks, sparkly big hoop earrings, and a statement necklace, the artist wowed in a glittery gold gown with a ruffle down the middle. Complete with shoulder pads, the dress was definitely Clarkson's best look (of many) during the night.
With no audience available, the award show host finished her opening performance saying, "That was crazy fun," and noting the "virtual living room dance parties" uniting the night in music. Later in the show, Clarkson controlled her own audience noise and we only wish she would've given herself a round of applause for her first look....the others, not so much.
En Vogue said 'Free Your Mind' in all black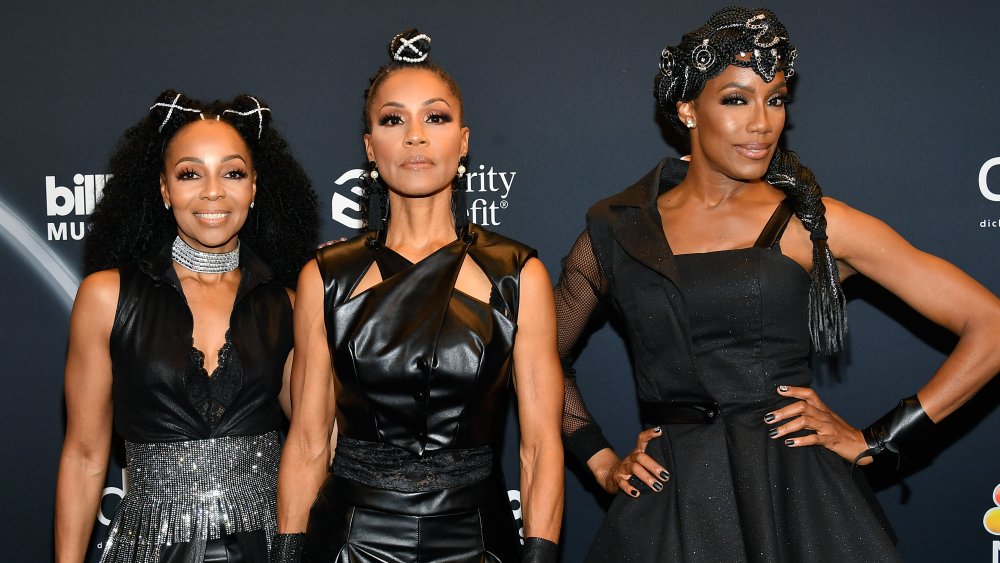 Amy Sussman/bbma2020/Getty Images
One of the 90's biggest R&B girl groups, En Vogue, returned to the stage for an epic performance of "Free Your Mind," one of their six Top 10 Billboard Hot 100 hits to date. Original members Terry Ellis and Cindy Herron joined newcomer Rhona Bennett on the award show stage after over two decades in the business (their debut studio album Born to Sing celebrated its 20 year anniversary in April 2020).
The performance brought the group back with the same power, fierceness, and hot outfits as before. The three women matched in all-black leather looks with cutouts here and there. Rhinestone accents completed the look while their band dawned bandanas with of course, "VOTE" written across, as the girl group rocked the stage in a somewhat political performance that mixed Childish Gambino's "This is America."
If anything, En Vogue proved tonight they're still the hottest R&B group around.