The Real Reason Blac Chyna And Rob Kardashian Are Fighting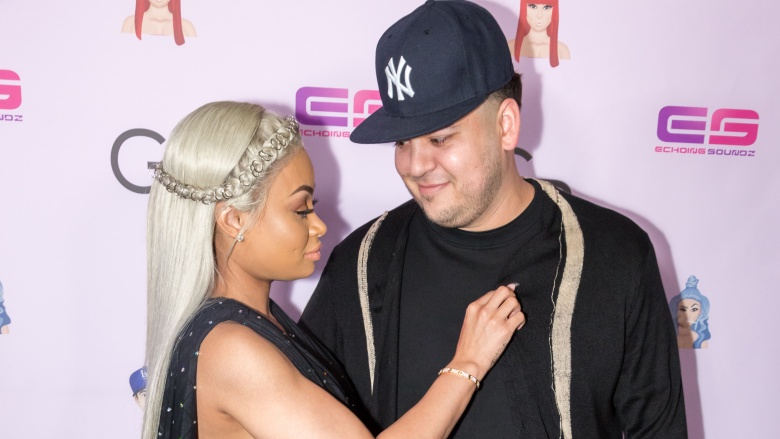 Getty Images
Rob Kardashian and Blac Chyna are still together, though that could change at any moment considering how hot and cold they've been. They're not on the best terms right now, and there are a slew of rumored reasons for the tension.
"Rob and Chyna are not really broken up, but they are not in a good place right now," a source told Us Weekly. "Filming the show has been a lot of stress on their relationship." Insiders told TMZ that filming Rob & Chyna has taken a toll on the coupling, in part because Kardashian believes Keeping Up With the Kardashians tore his own family apart.
There are more factors than just cameras creating conflict. "Add to that Chyna's pregnancy and the fact that Rob and his moods go so up and down," the source told Us Weekly. And they're more down than up: As Nicki Swift previously reported, Kardashian is allegedly falling back into a depression over his weight gain, and his family members fear for his life.
Another insider told Us Weekly, "[They have been] fighting more. They are living separately right now until the baby is born because they don't want the fighting to affect the baby. They think it is a healthier way to live until the baby is born."
Kardashian is reportedly also paranoid about Chyna's past loves, rappers Tyga and Future. Part of that jealousy may stem from his own insecurity about his weight gain, with sources telling TMZ that Kardashian told Blac Chyna, "You'd rather date a rapper than a fat Armenian."
The pair posted a video on Snapchat Sept. 28, 2016. so it seems they are trying to make it work. "Rob really loves Chyna," a source told Us Weekly. "[His family is] confident that they will get through it and patch things up."