Inside Jimmy Kimmel's Tribute To Regis Philbin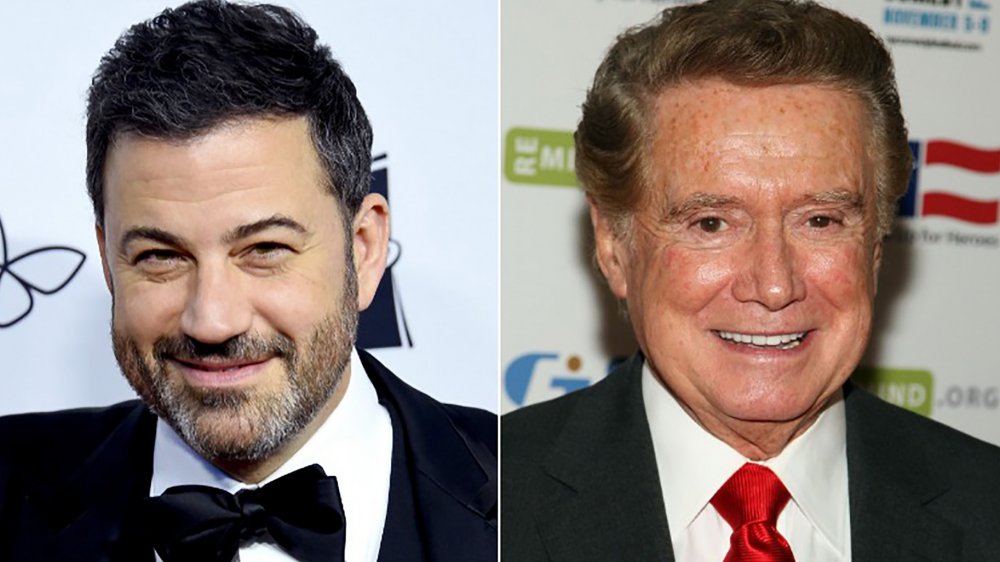 Gregg Deguire, Bryan Bedder/Getty Images
As comedian Jimmy Kimmel prepares to follow in the footsteps of the late talk show legend Regis Philbin in the Who Wants to Be a Millionaire reboot, the repeat Emmys host is rightfully paying tribute to Philbin for hosting the famous game show. ABC released the A Tribute to Regis Philbin video via YouTube on Oct. 15, 2020, an homage that features Kimmel looking back at Philbin's first visit to the revived show.
"Probably the most significant thing that happened when I hosted the first season is Regis came to the set the first day," the Jimmy Kimmel Live! star, who was named the show's new host in January 2020, says in the clip. "It was great to see him and it was exciting to just have him there because I'm hosting this show, but this is his show."
Philbin hosted Who Wants to Be a Millionaire from 1999 to 2002, according to People. Some might say the gig is what Philbin will be remembered for, as well as his time on ABC's now Live with Kelly & Ryan. Sadly, the TV vet died in July 2020. Although Philbin isn't here to see the reboot air on TV, his legacy won't get forgotten, as evidenced by Kimmel's emotional tribute. 
Jimmy Kimmel says Regis Philbin is the show's heart
The tribute video to the late Regis Philbin features old behind-the-scenes clips of the host on the original set of Who Wants to Be A Millionaire, a heartwarming montage for fans of the series.
The game show's new host, late night's Jimmy Kimmel, also looks back at the time he and Philbin were on set together before Kimmel took over. "I'm hosting this show but this is his show," the comedian says in the homage. In one moment, Kimmel shouts, "The king has returned!" as he and Philbin walk onto the Who Wants to Be a Millionaire stage, a visit that took place in March 2020, just a few months before Philbin's passing. "You built this house Regis," Kimmel says in a one-on-one with the famed talk show host. "No one will ever be better at doing this than you. No one, never and I'm not just being false humble by saying that — it's true. You're the best."
Kimmel admits the reason fans will come back to the new season will be because of Philbin's legacy. "That's why people love this show. It's a great game, but Regis is the reason."