Jim Carrey's Texts To Ex Cathriona White Released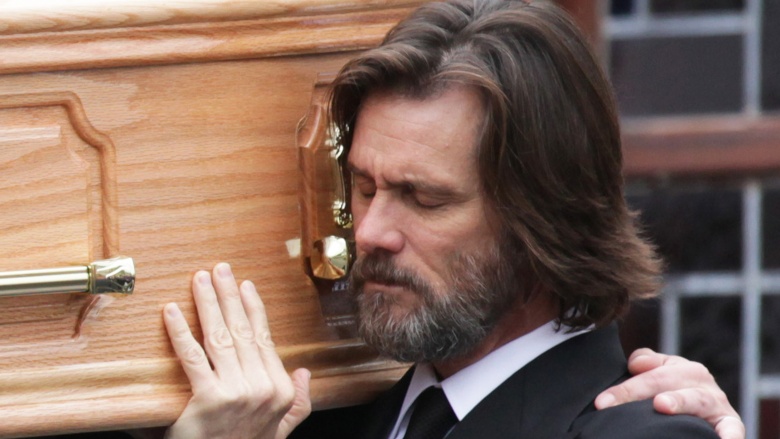 Getty Images
Jim Carrey is embroiled in a lawsuit over his late on-again, off-again girlfriend, Cathriona White, and it just keeps getting uglier.
As Nicki Swift previously reported, White's estranged husband, Mark Burton, sued Carrey, 54, for wrongful death, alleging the Ace Ventura star provided White with the drugs she used to commit suicide in Sept. 2015. Now, Burton is releasing text messages allegedly between Carrey and White, and they don't paint the prettiest picture of the relationship.
Carrey's messages to White are depicted as vulgar and sexual in nature, some within minutes of discussing deceased relatives. Others, released by the Daily Mail, reveal White was distressed after suspecting Carrey gave her sexually transmitted diseases. A letter from White to Carrey after their breakup was also released, in which White claimed she was "disrespected, degraded, called a w***e, an opportunist, threatened, and [treated] like an ungrateful b***h."
"Jim Carrey's public persona is a fraud," Burton said in a statement to Page Six. "In reality he is a guy who texts about his c**k in the same breath as deceased loved ones at Christmas."
Burton's lawyer, Mark Avenatti, told Page Six, "We have located nearly every text message, picture and email between them over the last four years by conducting a forensic examination of electronic media. The evidence will show that Carrey and his handlers are not shooting straight with the media or the public."
"The claim that Mr. Carrey gave Cathriona White an STD is categorically disputed," Carrey's attorney, Marty Singer, told People. "This is a desperate, bogus claim."
Carrey slammed the accusations as "evil," "heartless" and "baseless," chalking the lawsuit up to Burton's own "shameful greed."