Ex-Seinfeld Actor Trashes Trump's Dance Moves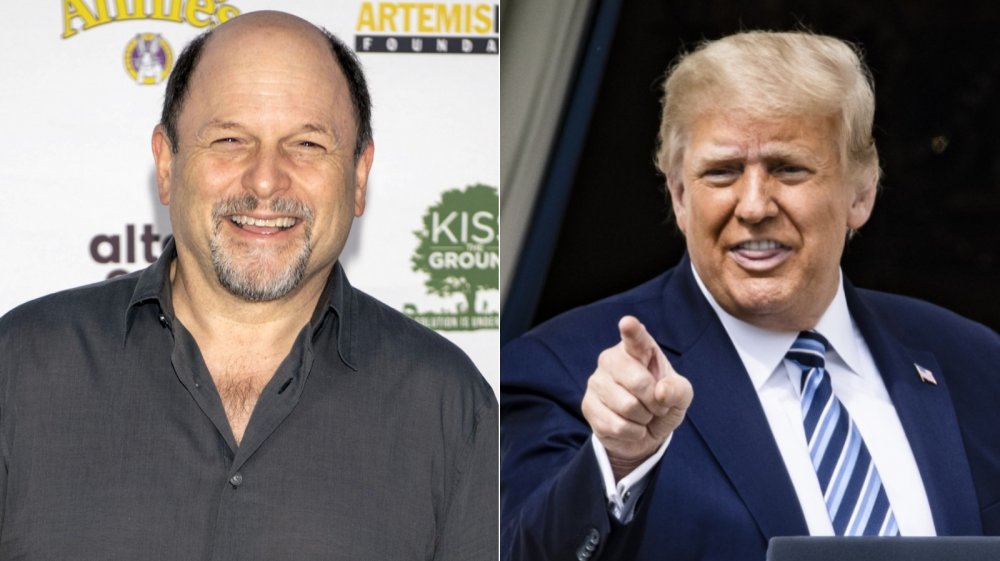 Michael Bezjian, Samuel Corum/Getty Images
Donald Trump has taken multiple hits from the internet during the month of October 2020. The announcement of Trump having the coronavirus set forth a new level of presidential mockery outside of the normal. According the New York Times, the president announced on Oct. 2, 2020 that he and Melania Trump both tested positive for coronavirus. Per the report, the diagnosis threw "the nation's leadership into uncertainty and escalating the crisis posed by a pandemic that has already killed more than 207,000 Americans and devastated the economy."
Ten days later on Oct. 12, White House physician Dr. Sean Conley released a brief memo that concluded, "President Donald Trump has tested negative for the coronavirus on consecutive days" per CNBC, following his positive diagnosis. Though the president's health was in a questionable state recently, it hasn't stopped Americans from having strong opinions about him regarding other things.
Keep scrolling to see which unexpected celeb is sharing a hilarious take on Trump — specifically the POTUS' dance moves.
Jason Alexander made a hilarious comparison of Trump's dancing
Now that President Donald Trump is back on the campaign trail for the presidential election, he's hitting it hard with rallies and events. According to The Hollywood Reporter, the president was filmed moving awkwardly while dancing at a rally and it caught a whirlwind of attention. As the amusing video made its way around the internet, comedian and Seinfeld alum Jason Alexander threw in some mocking as well. 
"The President is apparently a fan of @OfficialJLD 's famous I can't dance for s**t moves. Julia was working hard to be that awful. I feel like these are his best moves," the actor tweeted on Oct. 18, referencing his former Seinfeld co-star Julia Louis-Dreyfus.
Alexander retweeted the video from Senate John Kerry, who originally tweeted, "And you people called ME Lurch?!?" A helpful Twitter user posted a side-by-side video of Trump and the Veep actress dancing, which actually look pretty similar. Louis-Dreyfus hasn't responded to the video yet, but fans can assume she got a chuckle out of it.