Why Sarah Hyland Isn't Filming With Her Co-Hosts At The 2020 CMT Awards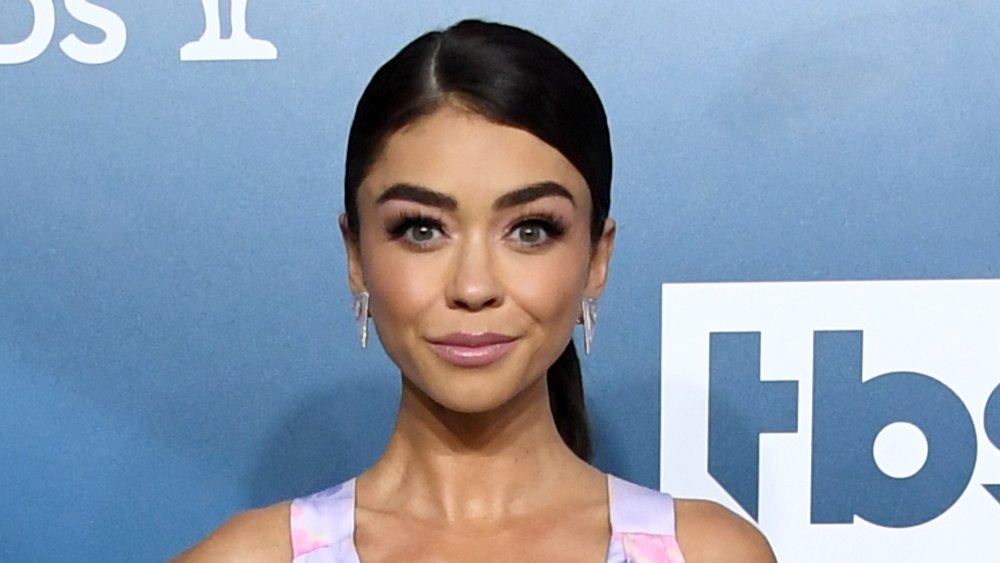 Jon Kopaloff/Getty Images
Like the Emmys, the VMAs, and the Billboard Music Awards, the 2020 CMT Awards are going to look a bit different than years past. Similarly to the other shows, there won't be an audience, and a good percentage of the event will get filmed ahead of time to keep everything safe. These challenges, however, can also present an opportunity; one of the evening's three hosts, Sarah Hyland, told People that "the performances are going to be the highlight of the show." The Modern Family alum added, "Fans can expect truly epic outdoor performances all over Tennessee."
Although the show has turned the requirement of outdoor performances into an asset, the 2020 CMTs have had another challenge; pre-taping segments. Speaking of, along with co-hosts Kane Bride and Ashley McBryde, Hyland has been pre-recording some bits for the Oct. 21 ceremony. Hyland, however, has not been filming with her co-hosts, and it turns out she has a pretty good reason for doing so.
Sarah Hyland has to be extra careful during COVID-19
Emma Mcintyre/Getty Images
Although Sarah Hyland told People that she's "excited and extremely honored to be a part of the show," she's taking extra precautions for the sake of her health. Hyland is immunocompromised, as she has kidney dysplasia and has received two transplants. The actor has been open about her health struggles, sharing that she received her first transplant in 2012 at 21 years old, and by 2016, her body was rejecting the transplant, leading to a second procedure in 2017, per Entertainment Tonight.
By 2019, she was feeling relatively OK again, telling ET she was able to do things she hadn't in a while, like vacationing. "The last time I took a vacation before this year I was 24. I just turned 28, so I've just been either working on my health or working nonstop, so it's really good to be able to do something like that now," she explained.
Even though Hyland is feeling good in general, she has no choice but to take the coronavirus pandemic and social distancing guidelines very seriously. The star, however, is taking it in stride, sharing an upbeat update in April 2020 alongside her fiance, The Bachelorette alum Wells Adams. Hyland has a similarly optimistic outlook regarding her CMT Awards gig, telling People, "Virtually, non-virtually and I think it's gonna be a really, really great and fun show."