Chace Crawford's Relationship With His Famous Brother-In-Law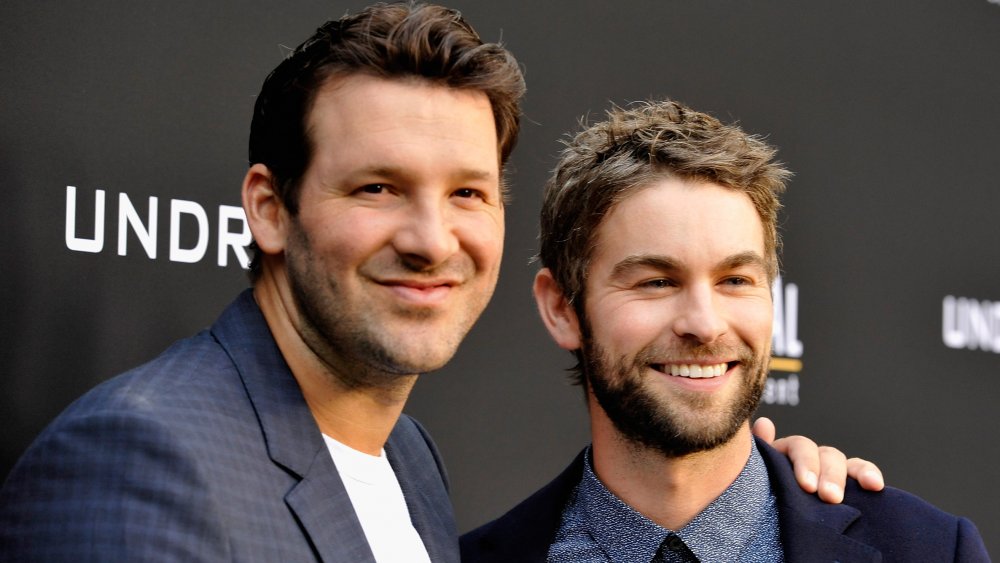 Michael Tullberg/Getty Images
From 2006 to 2007, Carrie Underwood dated Tony Romo. After they broke up, there were rumors that her song "Cowboy Casanova" was about Romo, but she told Esquire, "No. I would never immortalize a guy that did me wrong. I would never give him that much credit." Then, from 2007 to 2008, the American Idol alum dated Chace Crawford, who reportedly dumped her via text message.
But, in an odd twist of fate, the former football star began dating Chace's younger sister and, in 2011, Romo proposed to Candice Crawford (now Candice Romo). When they got engaged, Chace told E! News, "I'm very excited. I'm very happy that she's happy." Then he joked that he taught the Dallas Cowboys quarterback "everything he knows." That year, he told Access, "We get along very well, so I'm very excited for both of them." 
After discussing his family's love for the Dallas Cowboys, Chace admitted to Jimmy Kimmel, "I had to play It cool in the beginning, and then you know screw that, we played that act. It was cool. We're like brothers." Kimmel also revealed that he witnessed Romo FaceTiming a shirtless Chace when he and Romo were in a car on the way to Willie Nelson's house (which he sadly didn't elaborate on). 
In 2016, Chace told Rich Eisen, "Tony's like the best guy." It sounds like the two of them have a great relationship, especially given Chace's life-long Cowboys fandom.
Chace Crawford says it was 'surreal' to become friends with Tony Romo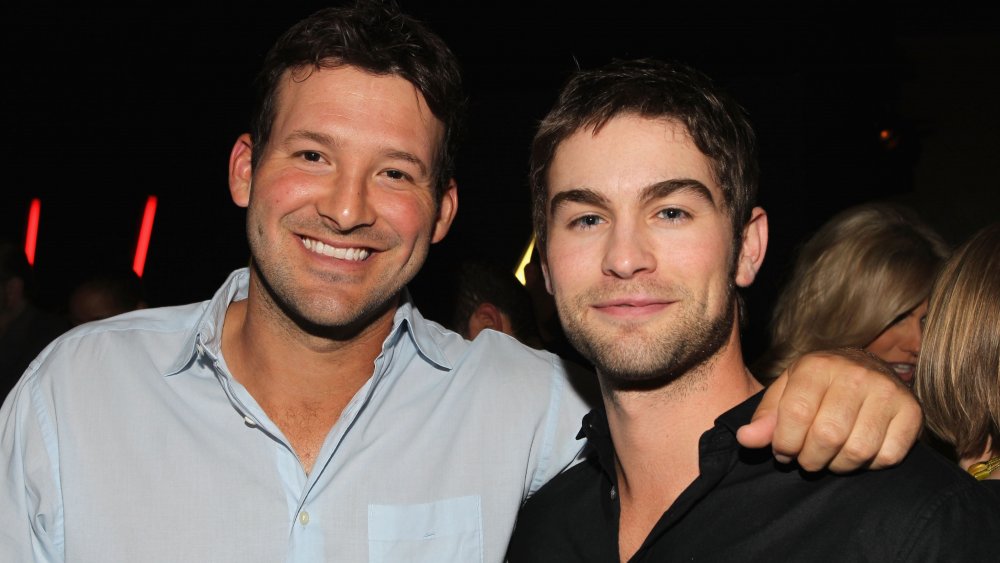 Paul Morigi/Getty Images
In September 2020, Chace Crawford dished on his sister Candice Crawford's husband Tony Romo during an appearance on The Tonight Show Starring Jimmy Fallon. "I grew up in Dallas, big fan," the Gossip Girl alum confessed, "It was very surreal to become friends with him. We were the family that took ridiculous Christmas pictures in front of the fireplace with Cowboys starter jackets and white turtlenecks and that's a true story. You know it was the '90s because of the starter jackets."
As cool as it was to gain the Dallas Cowboys quarterback as a brother-in-law, it wasn't all fun and games. Chace recalled, "When he became a part of our family, watching those football games became a lot more nerve wracking." The Boys star explained, "After games he would always record them and we'd go back to the house, he'd gather everyone." Chace elaborated, "He had a little pointer and he'd break down these plays. We knew he'd become a good announcer after the fact. It's not as stressful. My mom's not hiding in the broom closet anymore."
Maybe it's time for the Crawford and Romo families to bring back the white turtlenecks and Cowboy starter jackets!