The Truth About John Travolta And Guy Fieri's Friendship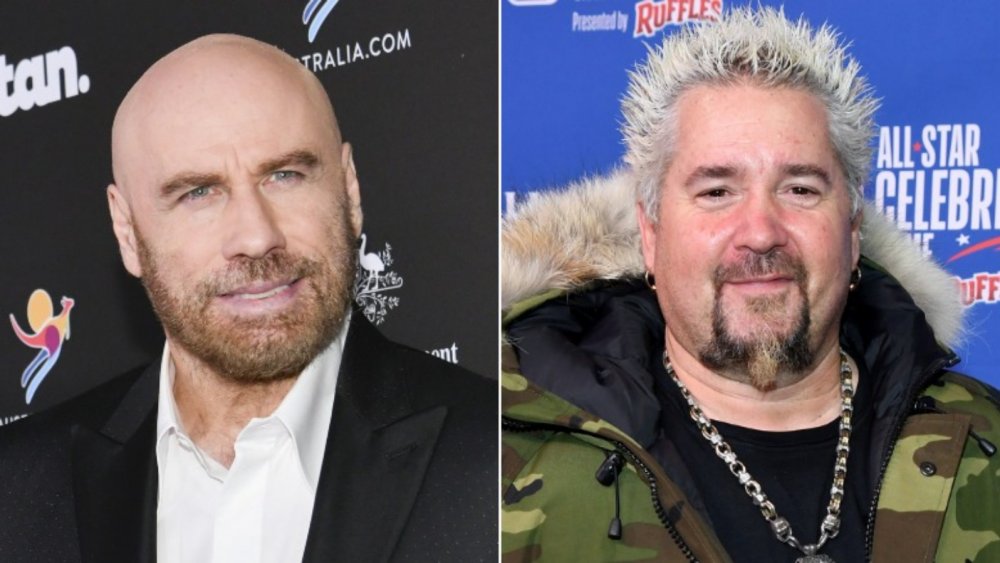 Getty Images
In one of his first few social media posts since the death of his wife Kelly Preston in July 2020, actor John Travolta gave his fans and followers reassurance that he's slowly but surely carrying on by putting himself out into the world socially. Not only that, but Travolta also showed he's forging a new friendship — with none other than the Mayor of Flavortown himself, Guy Fieri.
As the Daily Mail reported in October 2020, the newly formed friendship between these two stars was documented by Travolta on his Instagram account with a post featuring the celebrity chef and the Grease star with a group of presumably mutual friends.
"Lunch with @guyfieri," Travolta's Instagram caption read. "What a guy!! A start of a wonderful friendship!" In short, the outdoor dining affair and the accompanying jubilant depiction of it on social media can only be described as the stuff celebrity-based friendship fan-fiction is made of. But have they known each other for longer than the given timeline Travolta's social media might suggest?
John Travolta is finally getting back out there — with new friend Guy Fieri in tow
While actor and noted Scientologist John Travolta and celebrity chef Guy Fieri might have known each other for much longer than Travolta's selfie of the two posted on Oct. 20, 2020 might suggest, there's no evidence that indicates it. But considering that Travolta's Instagram post directly identified the friendship between the two as something that's at its "start" — in addition to the comparably recent death of Travolta's wife, Kelly Preston, in July 2020 due to breast cancer — it's probably safe to assume that the pair's budding platonic palling around is a very, very recent development. 
What also remains a bit of a mystery is the location of their al-fresco meal or the mastermind behind it. While it could be easily assumed that their meal could have been a more home-style affair than haute cuisine — Fieri, after all, has made his name over the past two decades as the champion of quintessential food-centric Americana like diners, drive-ins, and dives — it doesn't mean that's actually the case. Regardless, here's hoping that the Flavortown the pair merrily went to wasn't this one — if anything, for the sake of food critic Pete Wells' sanity.