The Truth About Ellen DeGeneres' New Look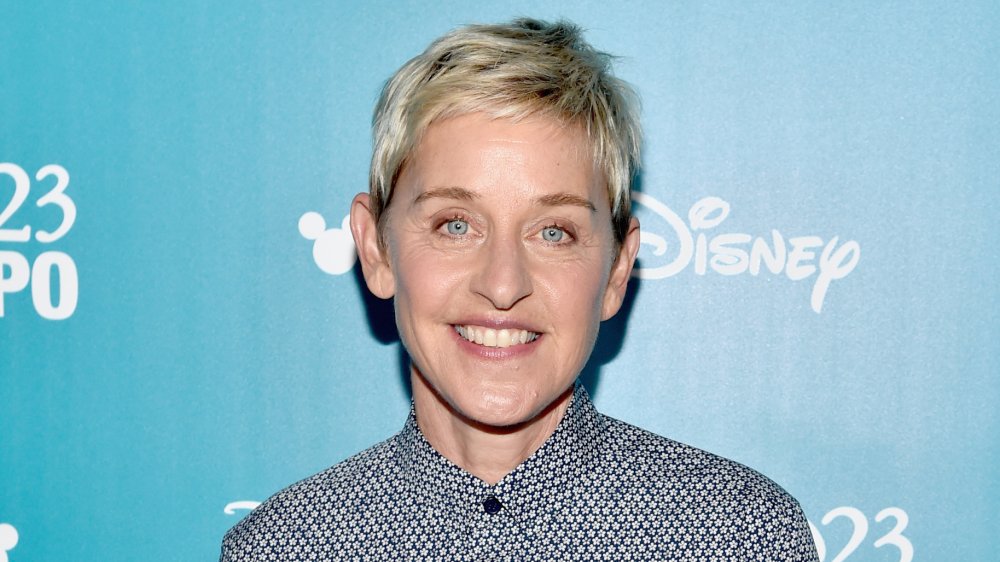 Alberto E. Rodriguez/Getty Images
Ellen DeGeneres showed off a new hairdo on The Ellen DeGeneres Show in late October 2020, and as People pointed out, it's a major change from her usual pixie cut.
The talk show host is sporting slicked-back hair, resembling a style her wife, Portia de Rossi, favored some years ago, per the outlet. Fans on Instagram offered support in favor of DeGeneres' new look. In the post, which she calls "thirsty," DeGeneres showcases her fresh 'do, imitates one of Kylie Jenner's poses, and encourages people to vote. Fans responded positively to the new look saying: "I love your new haircut," while someone else added, "Ellen, I like your new hair."
The haircut gave DeGeneres an "edgier" look, as noted by the Daily Mail, and brings a fresh style during what's been a rough period for the host and her program. In 2020, allegations of behind-the-scenes toxicity on The Ellen DeGeneres Show surfaced, many of which appeared in a report from BuzzFeed News. (As Variety reported, WarnerMedia began an internal investigation in July 2020.) It seems like even with a new look, DeGeneres can't quite shake that negative publicity.
Can Ellen DeGeneres' new hair distract fans?
The first episode of The Ellen DeGeneres Show to air following the allegations of a toxic working environment premiered on Sept. 21, 2020, and according to Deadline, the ratings were solid. However, according to USA Today, the Nieslen ratings indicated a 38% drop from the previous year. As Variety noted, some assumed the controversy surrounding the show might bring in more viewers. 
DeGeneres opened the season with a 6-minute speech addressing the allegations against the series. "As you may have heard, this summer there were allegations of a toxic work environment at our show, and then there was an investigation," DeGeneres said. "I learned that things happened here that never should have happened. I take that very seriously, and I want to say I am so sorry to the people who were affected."
"Being known as the 'Be Kind Lady' is a tricky position to be in," DeGeneres continued. "The truth is I am that person you see on TV. I am also a lot of other things. Sometimes I get sad. I get mad. I get anxious. I get frustrated. I get impatient — and I am working on all of that."
Despite this opening monologue and the positive ratings for her show, not everyone on Instagram was sidetracked by DeGeneres' new hairdo. "Thought you were canceled," someone commented. Only time will tell if DeGeneres can ride out these allegations. In the meantime, at least she looks sharp as heck!