The Truth About Bebe Rexha And Rihanna's Relationship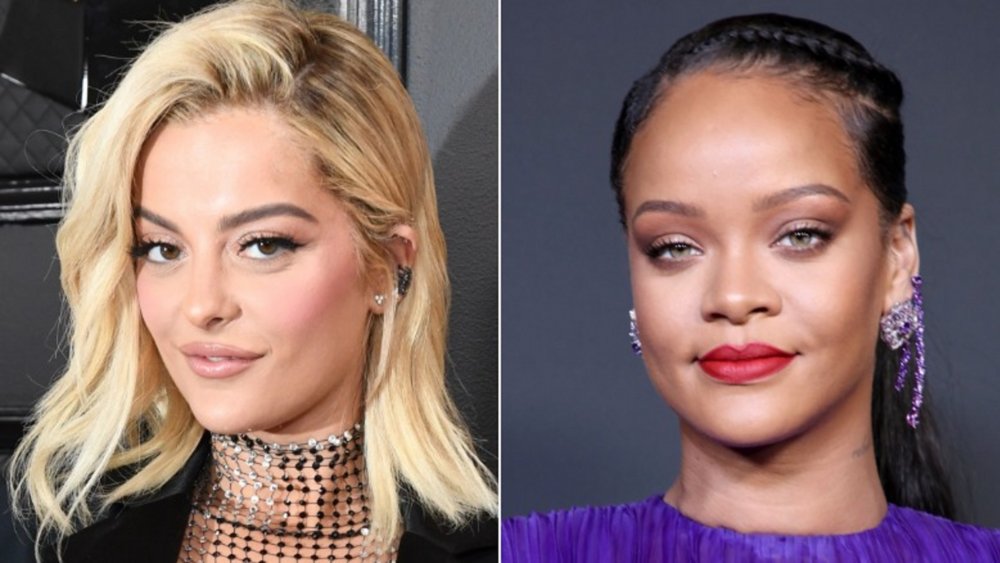 Kevin Mazur, Robin L Marshall/Getty Images
Hearsay and misinterpreted words might've launched a shady start to the seemingly non-existent relationship between singers Rihanna and Bebe Rexha. The musicians have reportedly never talked, despite Rexha being a co-writer behind Eminem and Rihanna's No. 1 hit "Monster." 
The rumored drama between the two started in June 2017, when Rexha was called out on Twitter over claims that she said Rihanna couldn't hit high notes like her. The debacle apparently gained legs when Shady Music Facts tweeted: "Bebe Rexha admits she did the 'oooh ohhh' parts in 'Monster' & shades Rihanna "She can't sing those high notes.'" Needless to say, RiRi's fans weren't happy about Rexha's supposed shade. 
During a June 2018 appearance on Watch What Happens Live with Andy Cohen, Rexha addressed the online backlash she'd received and said her words were misconstrued. She discussed how Eminem flew her out to perform "Monster" with him at Coachella in 2018 and admitted that she still had not personally met Rihanna. Cohen asked her to share her feelings on the rumored beef. "Yeah because I did sing that part and somebody spun it out to being, 'She said Rihanna can't sing those high notes.' I'm like, 'That's so annoying,'" Rexha told Cohen. "You can't say anything on the internet these days. Everybody takes everything to the extreme." 
Fun fact: Bebe Rexha once sold perfume to Rihanna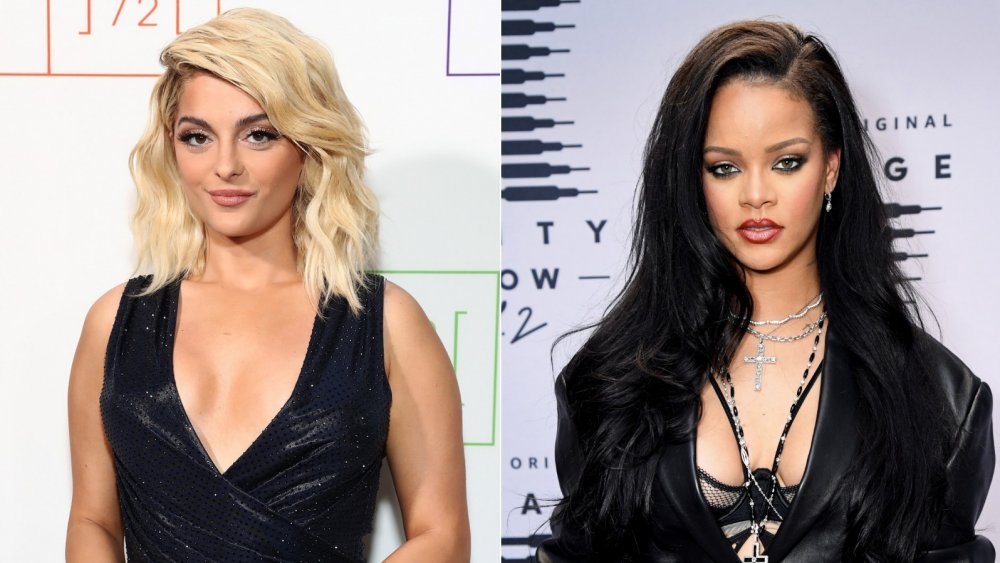 Cindy Ord, Kevin Mazur/Getty Images
We may never know if Rihanna and Bebe Rexha ever exchanged words following Monster-gate, but the "I'm A Mess" singer did reveal how things came full circle for her.
During a September 2018 interview on Good Morning Britain, Rexha revealed that the only time she's ever been face-to-face with the Bajan superstar occurred before Rexha was famous. "I actually sold perfume to Rihanna, funnily enough," she said, per the Independent. "I was working at Saks Fifth Avenue, like the Harrods of the US. She came to the counter with red lipstick and sunglasses on." The celebrity encounter reportedly happened before Rexha wrote "Monster," the song she had shopped around to Eminem. "I had no idea that a year later I would have written a number one song she would have been on," Rexha shared. "It changed my life completely."
In February 2014, Rexha talked to B96 Chicago and explained that she wrote the song's hook after being dropped by her record label. Once she got in the studio and recorded the vocals, she knew instantly that it would be the perfect song for the rap veteran. She's since been able to build an amicable professional relationship with Slim Shady, so maybe someday she'll be able to do the same with Rihanna.