Why Teen Mom 2's Kailyn Lowry Regrets Moving Closer To Her Ex, Chris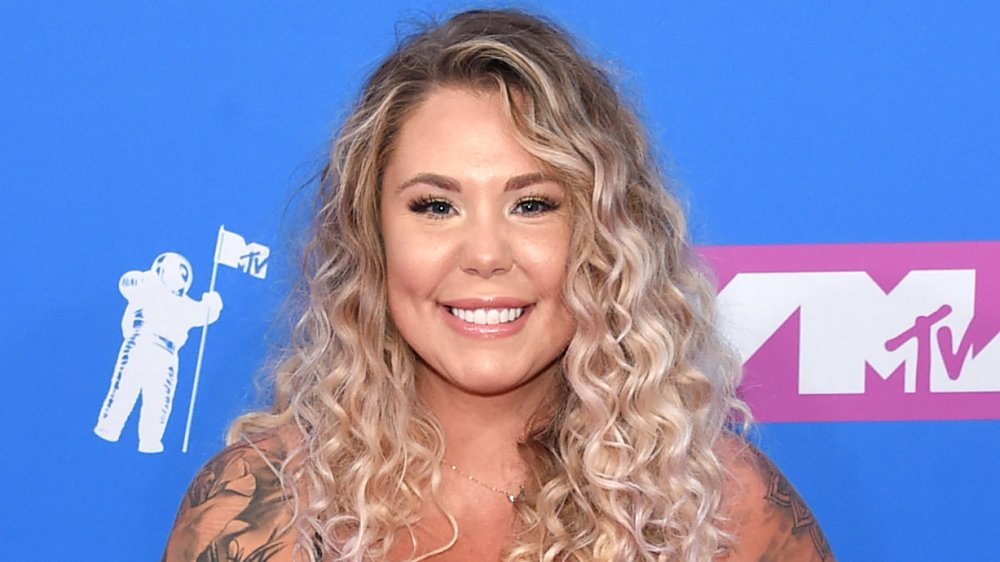 Jamie Mccarthy/Getty Images
Teen Mom 2 star Kailyn Lowry has learned a hard lesson with one of her exes. During an October 2020 episode of the series, Kailyn revealed that she "f***ed up" by moving closer to her ex-boyfriend Chris Lopez. In a sneak peek clip, Lowry explained her decision to move closer to the father of their children, Lux and Creed. "I'm going to look at a house in Dover," the reality star told her friend Sterling in the clip, per In Touch Weekly. "I'm really excited, and I have a good feeling about it, and if I could just, like, work it out and make it happen because Chris is not stepping up like I thought he would."
If you've been keeping up with Teen Mom 2, it's apparent that the mother of four and Chris have been on an emotional rollercoaster for years. Despite the exes being on the outs as of this writing, Kailyn attempted to make things work by moving closer to Chris' Delaware home to avoid any "inconvenience." Unfortunately, she claims Chris hasn't stepped up to the plate. "I f***ed up, like that's the bottom line, I f***ed up by moving," Kailyn ranted. "I made that mistake and now I need to correct it because I don't need to be driving back and forth 35 minutes to make it easier for someone who's not contributing to our household."
Read on to find out why this former couple is having a hard time working things out.
Kailyn Lowry claims Chris Lopez isn't an 'active parent'
It's without a doubt that Kailyn Lowry and Chris Lopez have had quite an unpredictable relationship since 2015. After welcoming their first child, Lux, in 2017, Kailyn changed Lux's last name to hers because Chris was not an active parent. Things seemed to be getting better in 2019 for the two reality stars after In Touch Weekly reported they were on vacation together with Lux and Kailyn's other two sons, Isaac and Lincoln.
However, things went downhill between the couple shortly after the reported vacation. Lopez got arrested and charged with "criminal contempt of a domestic violence protective order" that got filed in 2019, Us Weekly reported. Then in March 2020, Kailyn announced she was expecting another baby.
Despite these legal issues, Chris and Kailyn came together to welcome their youngest son Creed on July 30, 2020. Lowry later explained during a Coffee Convos podcast episode that she decided to give Creed his father's last name as a chance for him to step up. "This is another attempt of me trying to give him a chance to step up as a dad," The Teen Mom 2 star said. "Nothing I do is going to change someone else's behavior. However, I feel this is another attempt of me giving him a chance to not argue about the last name and try to be there."
Kailyn and Chris' drama played out on social media
It's hard for reality TV stars to keep their drama out of the limelight, but many try to anyway. For Kailyn Lowry and Chris Lopez, it seems like they just can't keep their issues off of our timelines.
In September 2020, Kailyn and Chris had a huge blowout on social media due to Chris allegedly cutting their eldest son Lux's hair without her permission. In the comments of the Teen Mom Shade Room's repost of the star's now-deleted Instagram live, Lowry confirmed that Lopez does not have custody of Lux. In response to one fan, Lowry commented, "He does not have custody. He has supervised visits." One day before her comment, Lowry shared a "before" and "after" photo of Lux's hair with the caption, "Parenting with a narcissist be like ... Control tactic," per The Sun.
Since then, the two have not been able to stop shading one another on social media. Lopez took to his Instagram story on Oct. 8, 2020, to share a cryptic quote about "letting go" of things, per In Touch Weekly. "If your heart hurts a little after letting go of someone or something, that's OK. It just means that your feelings were genuine. No one likes endings," the quote read. "But sometimes we have to put things that were once good to an end. Not every new beginning is meant to last forever. And not every person who walks into your life is meant to stay."