Joe Manganiello's New Look Has Fans Not Even Recognizing Him
Tommaso Boddi/Getty Images
A lot of times when a star debuts a new hair color or length, fans will clamor to their Instagram comments section to freak out about their fave celeb's transformation, even if it's, frankly, not that dramatic of a change. But before you read one comment, you should know that Joe Manganiello's new look is one that is incredibly drastic. In fact, if you didn't already know it was him in the Instagram picture Jesse Tyler Ferguson posted in late October 2020, you might even wonder who the tall guy hanging out with the Modern Family crew is. He looks that different, and it has nothing to do with the face mask he's wearing due to the coronavirus pandemic. 
The picture fans are freaking out about was posted to Ferguson's account in celebration of the Modern Family actor's birthday. There are multiple pics in the carousel, and in one, stands Manganiello, holding his and wife Sofia Vergara's puppy, Bubbles — alongside Ferguson, Sarah Hyland, and Julie Bowen. In another, Manganiello is sitting on a couch by himself holding the puppy, too. In both photos, you have to do a double take to recognize the former True Blood star. 
Joe Manganiello's mohawk might be for Justice League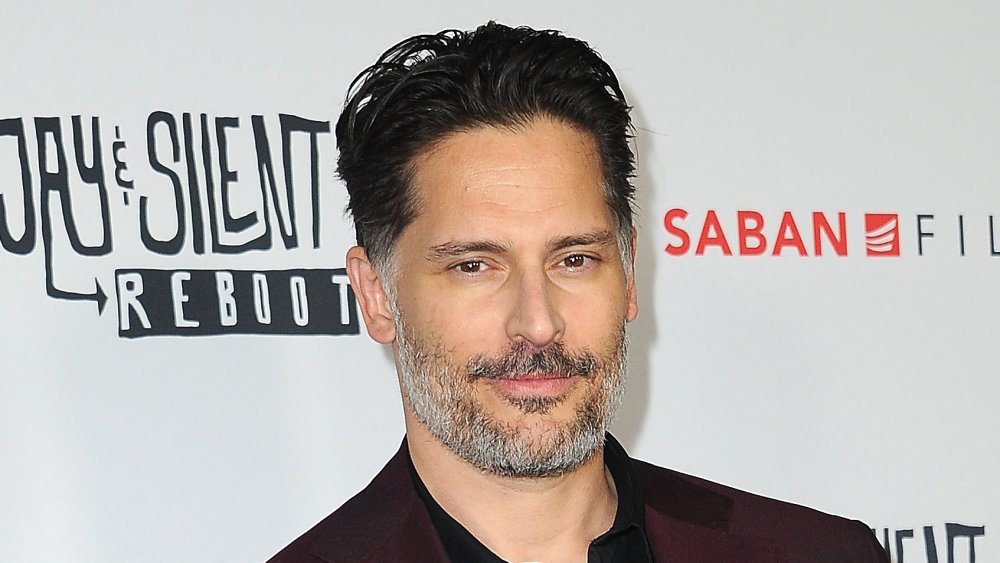 Albert L. Ortega/Getty Images
Joe Manganiello's new hairdo might have something to do with his upcoming Justice League role. He had previously been in just a post-credit scene in the 2017 theatrical version of the movie, but The Wrap reports that the character he's playing, villain Deathstroke, will be fleshed out for Zack Snyder's HBO Max version of the superhero saga. In stills, it looks like Manganiello's hair is cut short and is a sort of grey color. It's possible that Manganiello just styled and dyed it even lighter after reshoots for the HBO limited series to make it a bit more stylish and less, well, less of a Justice League villain's style. 
Then again, blond is sorta Manganiello's thing. In a previous Instagram post, he shared a throwback pic from college — joined by none other than Henry Rollins — in which he has a shaved, bleached blond haircut. He wrote in the caption, "I had the blonde hair before Eminem for anyone who cares... it was the 90s y'all." So, this new look is nostalgic for the actor. Fans are into it, at least. Well, kinda. 
Fans were shocked by Joe Manganiello's new look
When Joe Manganiello debuted his new hair cut on Instagram, fans could barely believe their eyes. Really. One person wrote in the comments section, "Never even recognized Joe. Looks so different with the blonde mohawk." Another added, "Lol I didn't know that was Joe until I saw his face," referring to the fact that in one picture, he's wearing a face mask and in another, you can see his full face while he cuddles with his and Sofia Vergara's dog. 
Manganiello reposted the pic of him and Bubbles to his own page, where fans were very excited to assume that the cut was for his reported Justice League role as Slade Wilson/Deathstroke. One person wrote, "DEATHSTROKE HAIRCUT GUYS!!!!!! OMG." Another fan was a little more of a stickler when it came to assuming Joe was just prepping for Justice League, writing, "Deathstroke has never been blond tho." 
Whether it's for an upcoming role or just a new quarantine look, everyone had something (fairly) nice to say about the blond mohawk. Maybe he should keep it. 
View this post on Instagram