Tyra Banks' Bizarre Dancing With The Stars Outfits Are Causing A Stir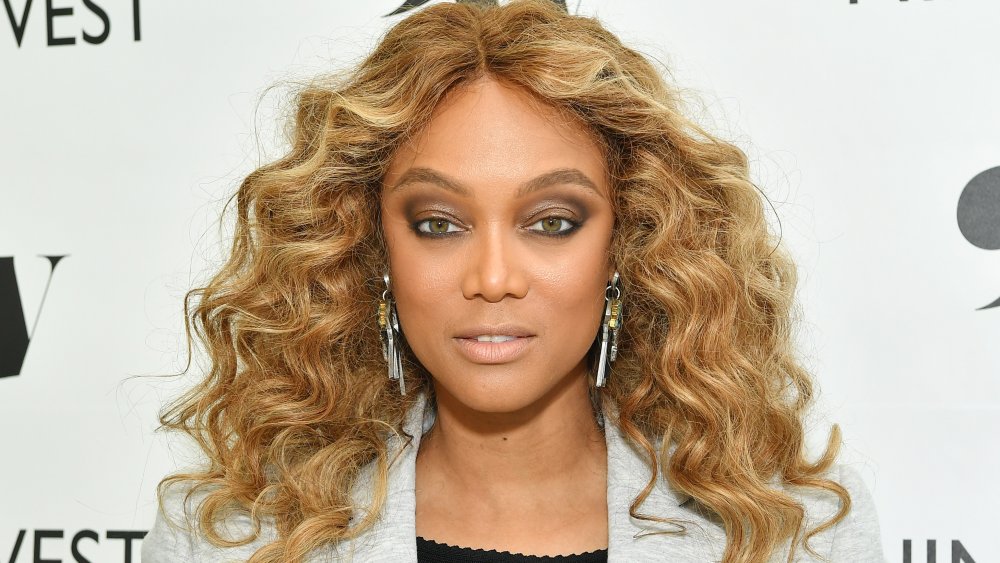 Amy Sussman/Getty Images
While hosting Season 29 of Dancing with the Stars, Tyra Banks has caught a lot of heat from fans of the reality dance competition. In July 2020, ABC announced that Banks would be replacing both Tom Bergeron, who had been the host since the show's beginning in 2005, and Erin Andrews, who had been co-hosting with Bergeron since Season 18. The reason for the switcheroo? The show was moving in a "new creative direction." 
The change definitely caused a divide among DWTS fans with many taking to social media to vocalize their frustration about the longtime hosts' departures. Additionally, it seems like disgruntled fans might be taking out their frustration with the casting changes on the supermodel. Since Season 29's first episode aired in September 2020, Banks has been on the receiving ending of quite a bit of shade, especially after an elimination mishap where she almost sent home the wrong couple. And the criticism isn't just being directed at her hosting skills, but towards her outfit choices, as well.
From the red number she wore on opening night to the broken umbrella-like costume she wore on the Halloween-themed episode, fans aren't holding anything back when it comes to dissing Banks' DWTS fashion statements. 
'DWTS' fans are hating on Tyra Banks' wardrobe choices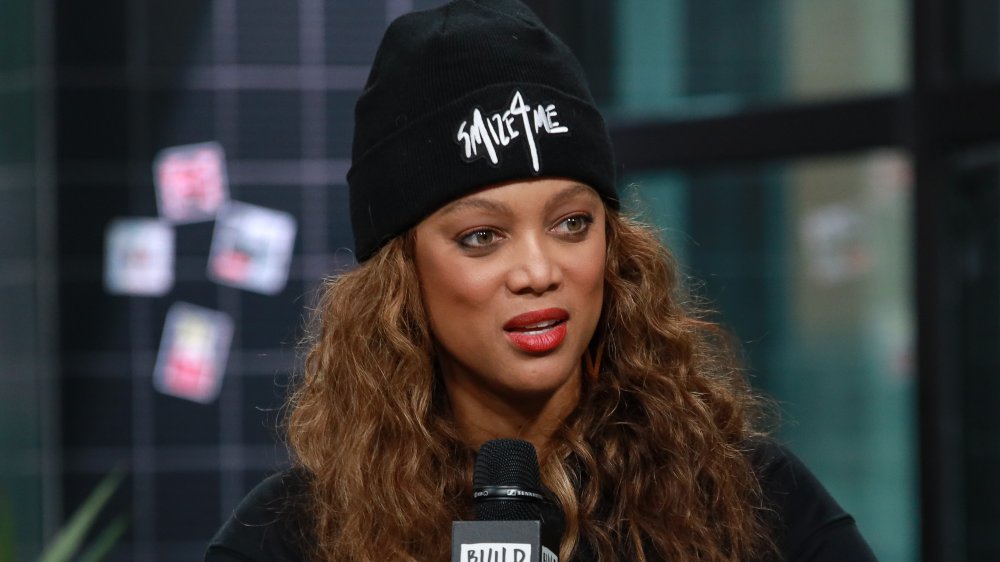 Jason Mendez/Getty Images
It seems that fans can't stand Tyra Banks' Dancing with the Stars outfits. After every episode thus far of the show's 29th season, Twitter has exploded with critiques about Banks' outfit choices. No matter the show's theme – whether it's '80s night or Villains' Night – Banks debuts some kind of extravagant number. Per Newsweek, fans have been "outraged at the style choices, questioning who was hired to dress Banks and how they can make it stop." 
After Week 4's episode — during which Banks was seen wearing a satin, corset-inspired gown – one fan wrote: "I don't know what Tyra Banks did to her stylist but they are out for revenge ... and they got it." Things got even shadier during Week 6 when Banks took the stage in a gold sequined armor-inspired top paired with pleated burgundy pants. According to Inquisitr, one person commented about the outfit, writing, "I don't understand how a supermodel's stylist can't do better."
Then, during Week 7 — which was the show's Halloween-inspired night – Meaww named Banks' costume the worst in a roundup of her most cringe-worthy outfits from the show, stating, "Tyra's bat-inspired outfit outdid all the worst clothes she's worn on the show in the past. The platinum blonde wig that wasn't even laid properly did nothing to save Tyra from the embarrassment that was the dress." 
Yikes! It seems like maybe Banks should look into a new stylist after reading those outfit reviews.