Kim Kardashian Is In The Market For A Body Double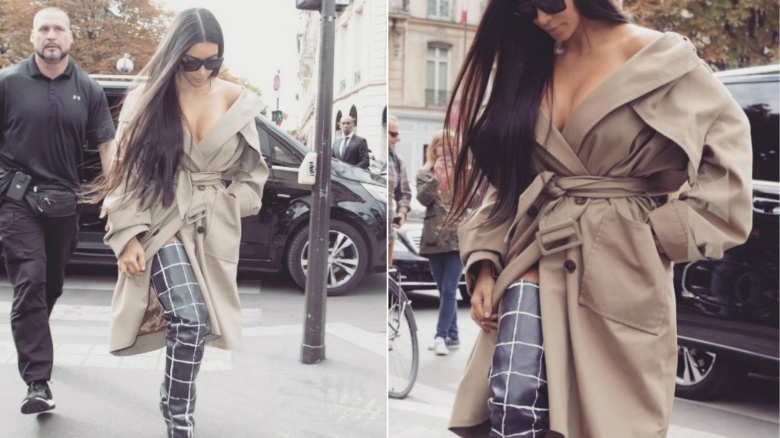 Kim Kardashian is taking serious measures to protect her safety after being held at gunpoint and robbed in her Paris apartment. Tactics include beefing up her security team and using new methods to protect herself and her family and avoid creeps and criminals.
"The kids being kidnapped is Kim's biggest fear," a source told Page Six. "She previously didn't want to shell out for armed security, but now she realizes the family needs 24-hour protection." As Nicki Swift previously reported, Kardashian has not employed armed guards in the past, but that may change.
Kardashian is also reportedly looking for a body double who can mimic her infamous curves in public. "There's a circus that follows Kim's every move. Her new security team is recommending she employ a body double to help confuse would-be assailants," a source told Page Six.
Kardashian may change her lifestyle too. Her constant displays of wealth, coupled with her social media presence (like when she posted her massive diamond ring to Instagram), may have made her a target for the perps. Sources told TMZ that Kardashian agrees with critics that say she flaunts her fortune too freely, especially online. She's reportedly taking a month off of work to recover from the trauma and reassess her entire existence, saying privately, "Material things mean nothing. It's not all about the money. It's not worth it."
Since it's been speculated that the robbery was likely an inside job, the family is also cleaning house on their current entourage. "She doesn't know who she can trust," a source admitted to Page Six. "Kim's team is conducting an internal investigation—interviewing assistants and looking through phones for evidence that anyone may have communicated with the thieves. They are slowly ruling people out." TMZ reports that Kardashian's longtime bodyguard, who was away protecting Kendall Jenner and sis Kourtney Kardashian when Kim was robbed, will stay on the payroll as well.
Thankfully, the Kardashians have a very important ally in her investigation: French President François Hollande. Page Six reports that Hollande "is personally involved in the investigation" and swore to provide "additional security on [Kim's] behalf next time she is in France."
While Kim is taking a breather from social media and work, her sisters have returned to their habits, albeit likely with more precautions. Kourtney took to Twitter to post some motivational words and scriptures in light of the trauma. "People who reach the top of the ladder career-wise are often surprised to find emptiness awaiting them. True Joy is a by-product of living in My Presence. Therefore you can experience it in palaces, in prisons...anywhere," the missive read. "Do not judge a day as devoid of Joy just because it contains difficulties. Instead, concentrate on staying in communication with Me. Many of the problems that clamor for your attention will resolve themselves. Other matters you must deal with, but I will help you with them. If you make problem-solving secondary to the goal of living close to Me, you can find joy even in your most difficult days."
Meanwhile, Kendall posted a photo on Instagram of her wearing a giant red furry jacket, captioned, "Low key look."
At the time of this writing, Kim's public demeanor has remained more subdued. "This incident was a completely life-changing event for Kim," an insider told Us Weekly. "She realizes she was living in a bubble doing what she was doing. She loved flaunting her wealth and being so public. She felt safe and never really thought about her vulnerability. Now she knows she was so naive. Everything has to change going forward."