What The Bachelorette's Bennett Jordan Really Thinks About Dale Moss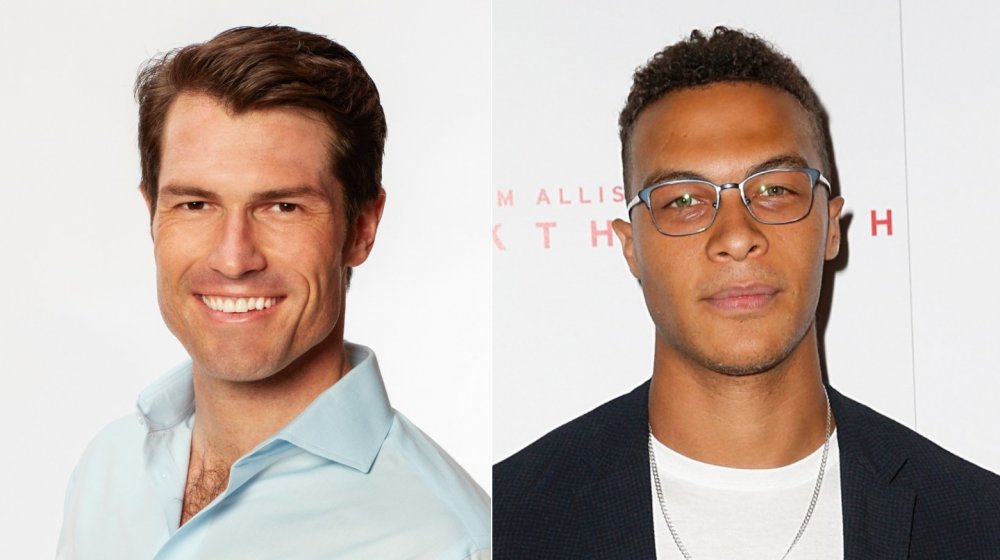 ABC/Craig Sjodin, Dominik Bindl/Getty Images
It takes a lot to impress a Harvard alum, but The Bachelorette contestant Bennett Jordan was taken aback by fellow cast member Dale Moss. The ivy leaguer revealed on the Bachelor Happy Hour podcast on Oct. 28, 2020, that the former professional football player left him in awe, and (clearly) Bachelorette lead Clare Crawley felt it too.
"I was personally very, very impressed with Dale night one," Bennett told podcast hosts and former leads Rachel Lindsay and Becca Kufrin. "I remember speaking with Dale and I was blown away by him. I was like, 'This guy's a stud, he is beautiful — have you seen those eyes? He's super articulate, he has a soft-spoken voice, what's not to love about this guy?'"
Dale is quite the charmer, and his ability to seamlessly slide into leadership roles proved to be a thorn in Bennett's side. "It also struck me as we were kind of getting going, just kind of learning the process and how things work around there, [that] Dale was super quick [to lean] into a producer/event-manager type role," the wealth management consultant shared. "He was really outspoken and would go on these monologues." Although Dale faced flak for "taking the mic" (and scooping Clare away for a make-out session or two), Bennett began to understand his aggressive approach was "totally fair game." He explained, "I was impressed by both his eloquence and the way he stepped up immediately. That sort of nudged me along to find my voice."
However, Bennett's opinion of Dale wasn't always so positive — here's what he had to say during filming.
Bennett Jordan knocked Dale's supposed cockiness
Before Bennett Jordan could look back and appreciate Dale Moss' forwardness, he was definitely annoyed the former professional athlete took up a lot of Clare Crawley's time. Bennett's angst came out during the Oct. 27, 2020, episode of the show when a group of the guys were selected to give a roast. As guest comedian Margaret Cho put it, Bennett "went so hard" on Dale.
"Since you've said you're the best-suited for Clare, do me a favor and at least swing by my chateau for a little lesson in fashion before the big day, you big diva," Bennett told Dale when it was his turn with the microphone. In addition to insinuating Dale was only there for exposure, he continued to joke that Dale looks "like the boa constrictor from The Jungle Book and it's only a matter of time before Clare snaps out of [his] spell."
Although his roast may have been a little harsh, he said on the Bachelor Happy Hour podcast that "it was really the time" considering how "rapidly" Dale and Clare's relationship was moving. Still, Bennett was up for the challenge. "I certainly am not one to shy away from the competition. Never scared of anything. I always believe in myself and my ability to succeed," he said. "So, you know, why not go after Dale a little bit more than the others?"