The Real Meaning Behind Kamala Harris' Signature Pearls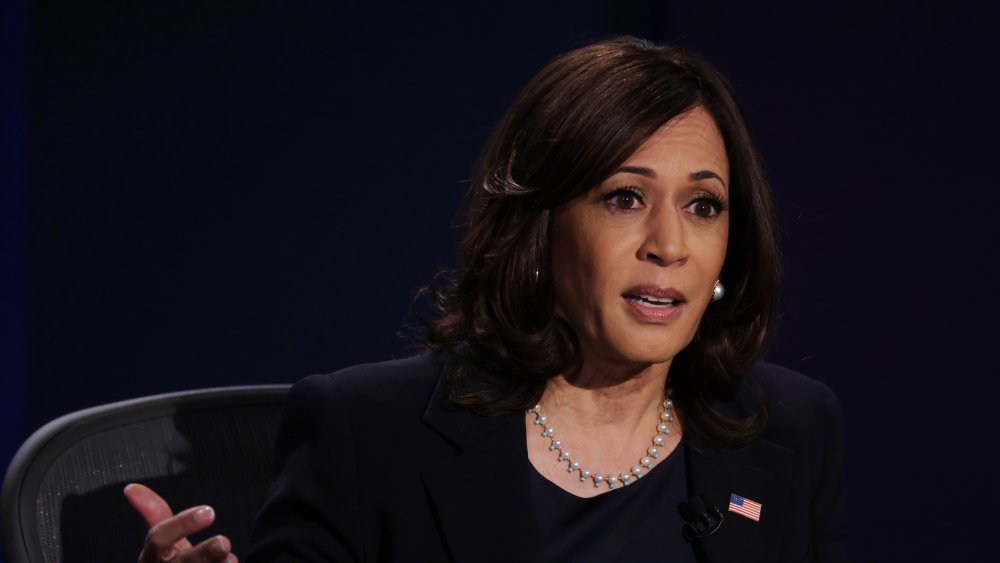 Alex Wong/Getty Images
On the campaign trail to the vice presidency during the 2020 presidential election, there are two things about Kamala Harris that keep catching our attention. Whenever the California senator is spotted at events, she's always consistent when it comes to her volumized press and curl and her jewelry. Harris' most prevalent accessory, in particular, is her pearl necklace.
Harris' pearl collection has always been her style staple dating back to her days in college. In a throwback photo of Harris, she wore a single-strand pearl necklace and pearl drop earrings to her graduation from Howard University in 1986. For her swearing in as district attorney of San Francisco in 2004, she rocked yet another single-strand pearl set. Becoming California's first Black woman elected to the Senate in 2017, her dark Tahitian pearl necklace complimented her attire as she was sworn into office. Her collection of pearls is quite impressive, especially her pearl and gold chain designed by fellow Californian Irene Neuwirth, per Vanity Fair.
But Harris isn't the only woman in politics to sport the stone, which stands for incorruptibility, as Hillary Clinton, Ayanna Pressley, and countless others are often seen wearing their own sets. For Harris, however, her affinity for pearls goes deeper than politics and represents a meaningful aspect of her life.
Kamala Harris' pearls represent her sorority membership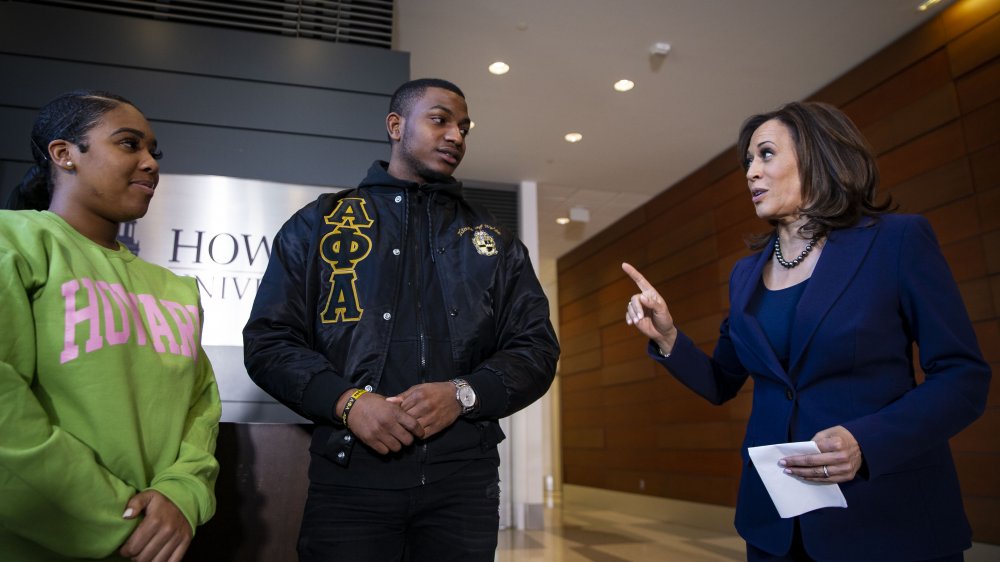 Al Drago/Getty Images
Shortly before graduating from the top co-ed historically Black college in the country (per U.S. News & World Report), Kamala Harris made a huge lifetime commitment by becoming a member of Alpha Kappa Alpha Sorority, Inc. The former district attorney joined the sorority's Alpha Chapter in 1986 alongside 38 other women, per Atlanta Journal Constitution.
AKA, the first Black Greek letter sorority established in 1908, refers to their founders and incorporators as the "Twenty Pearls." Upon initiation into the sorority, each inductee receives a badge dressed in twenty pearls. Outside of wearing their sorority colors of pink and green, the pearls are significant to members of Alpha Kappa Alpha. The pearls, according to the Alpha Kappa Alpha international president Glenda Glover, are a representation of solidarity among members, which explains why they're part of Harris' look. "Pearls represent refinement and wisdom," Glover told Vanity Fair. "We train young ladies to be leaders and to make sure they have the wisdom to lead... and that goes hand in hand with the true meaning of what Alpha Kappa Alpha is all about."
Although the sorority does not endorse candidates, luckily for Harris, she has a strong support system in her AKA sisters.
Kamala Harris received an outpouring of support from her sorority sisters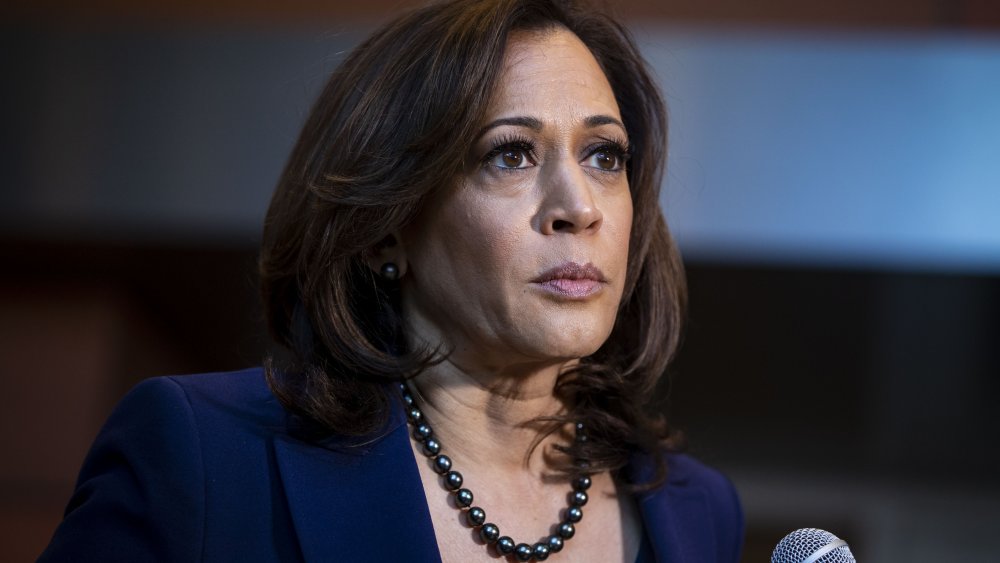 Al Drago/Getty Images
Sisterhood has been a huge factor in the amount of support Kamala Harris has received. When she ran for president in 2019, her Alpha Chapter sorority sisters spearheaded a fundraiser for her campaign, raising over $100,000, per Atlanta Journal Constitution. She's also received praise from her Real Housewives of Potomac sorors, Gizelle Bryant and Wendy Osefo. Bryant wrote on Instagram, "I'm screaming!! Congratulations to @kamalaharris my SOROR. Excited to see history in the making. Thank you in advance for being a role model to my daughters." Osefo also shared her support for Harris, writing, "Major congrats to MY SOROR @kamalaharris on being picked as the Vice Presidential nominee."
One of Harris' neophytes from Howard University, Kelsey Curtis, told Nicki Swift she is 'ecstatic' about Harris' potential to become the first Black and South-Asian American woman to serve as vice president if elected on Nov. 3, 2020. "This is huge for young Black women all over the world, and especially for me to see someone who has taken a similar path to my own be able to accomplish so much," Curtis, who was inducted into Harris' chapter in 2018, commented. "This is just another reminder that I and all the women around me are capable of anything we put our minds to. This is one of many reasons I am proud to call Howard University my alma mater, as well as to be a member of Alpha Kappa Alpha Sorority, Incorporated."