Are Ellen DeGeneres And Melania Trump Friends?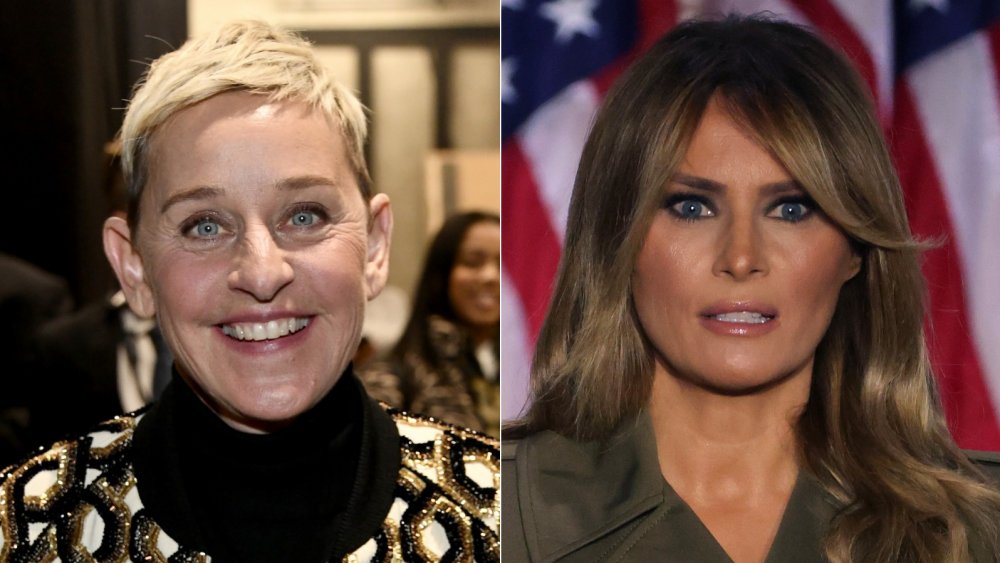 Frazer Harrison, Alex Wong/Getty Images
Ellen DeGeneres found herself embroiled in controversy yet again in 2019. While attending a football game between the Green Bay Packers and the Dallas Cowboys, the camera cut to DeGeneres sitting in the stands beside former President George W. Bush. The few seconds of screen time inspired weeks of internet discourse about how — and if — people with such seemingly different political views could be friends. DeGeneres' supporters found it heartwarming that people with different beliefs could still be friends, and felt that their friendship could be an example to the rest of us, while critics pointed out that there must be some difference between being friends with a neighbor who supports a different candidate and being friends with the candidate himself.
DeGeneres placed herself in the former category, explaining on her show, "I'm friends with a lot of people who don't share the same beliefs that I have." While her stance might not have changed anyone's mind — a Herculean task in 2019 and beyond — it did prompt people to wonder who these other friends "with different beliefs" might be. In searching for said friends, fans discovered that, years prior, DeGeneres apparently gave Melania Trump a lavish gift for son Barron.
Ellen DeGeneres gave Melania Trump a stroller with a chandelier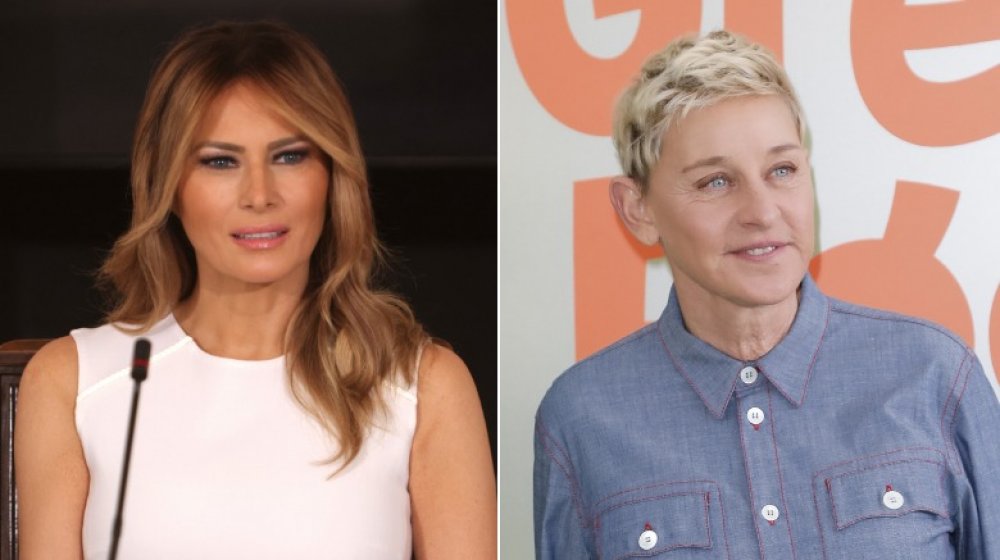 Alex Wong, Tibrina Hobson/Getty Images
While it does need to be mentioned that this happened long before Donald Trump even expressed real political ambitions, when he and Melania had Barron, Ellen DeGeneres sent them a golden stroller that came complete with a chandelier. People managed to snag a picture of the (hopefully) gag gift back in 2006, which Melania called "fun" and said, "It makes you laugh."
Since 2006, however, the relationship seems to have soured. In 2018, a producer for The Ellen DeGeneres Show sparred with a spokesperson for Melania Trump on Twitter. The producer, Andy Lassner, tweeted, "I'm way more afraid of another Melania getting into this country than I am of any caravan of human beings seeking asylum," referencing the caravan of asylum seekers coming from Central America at the time. Melania's spokeswoman, Stephanie Grisham, responded (per Newsweek) with, "Hi @andylassner @flotus is hosting children at the White House today to talk to them about kindness ... should I save you a seat?"
If internet proxy battles weren't enough, DeGeneres said in 2017 that she would not allow Donald Trump to come on her show, telling guest Megyn Kelly, "He is who he is... For me to have someone on the show... I have to at least admire them in some way." While DeGeneres seemingly hasn't spoken about Melania again — she tries to keep her show apolitical — it seems likely that she doesn't admire her much either. She may have friends with different beliefs, but Ellen DeGeneres still draws the line somewhere.