The Transformation Of Rebel Wilson From Child To 40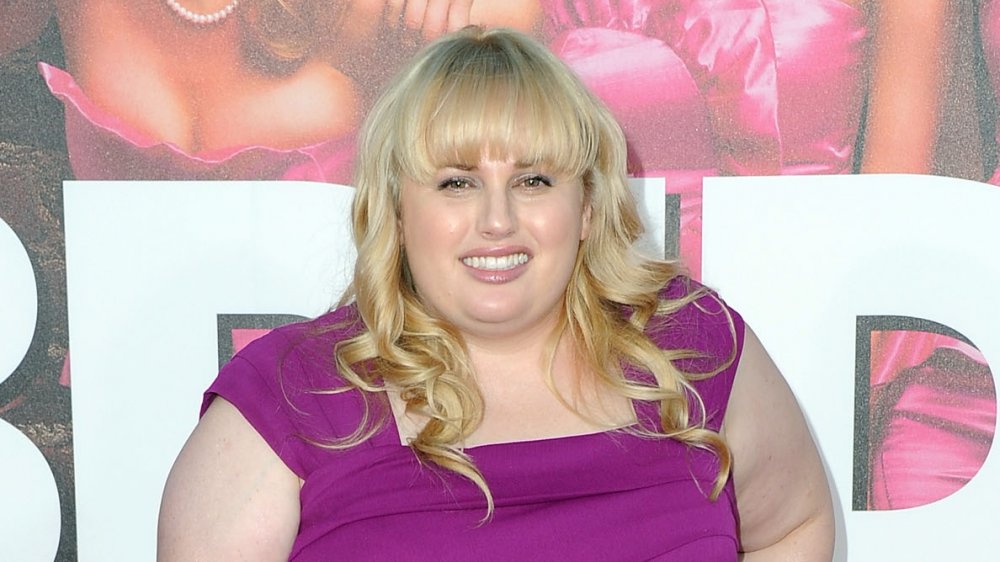 Michael Buckner/Getty Images
There couldn't be a more fitting name for Australian actress Rebel Wilson. From her raunchy jaunts as Fat Amy, to redefining what a leading actress looks like, Wilson has always rebelled against Hollywood norms. In 2011, the Bridesmaids star hit America like a wrecking ball, figuratively and later literally in Pitch Perfect 2. But her comedy queen status came after a malaria scare, years of hard work in the land down under, and some media backlash. 
Wilson hasn't let fame go to her head, though. She may be worth an estimated $22 million, but she still considers herself an every-woman on the big screen. "I am the average size of the American and Australian woman, and yet plus-size actresses have less than one per cent of all leading roles," she told The Daily Telegraph in 2018. "The beauty standards put up there, especially for young women, [they] can be unfair at times ... In the works that I do, I am trying to put those positive messages out there."
Had things gone a bit differently, this Aussie blonde bombshell would be in a courtroom right now. But we're getting ahead of ourselves! From her childhood aspirations to her big a-ha moment and beyond, this is the transformation of Rebel Wilson.
Rebel Wilson came from dog breeding and Disney royalty
Rebel Wilson was born in Sydney, Australia. According to Biography, her parents were "professional dog handlers," which means her childhood was unique, to say the least, as her family traveled the country selling dog products, attending shows, and breeding beagles (via Herald Sun). "I was forced to be a junior handler, which is kind of like Toddlers & Tiaras 'cause you are dressed up in little outfits, and you run around with the dogs," Wilson told Collider in 2012. Per Herald Sun, her mother still breeds "one or two litters a year" and works as "an international dog-show judge." Wilson's only connection to show biz was her great aunt, Lillian Bounds, who was married to Walt Disney, though she's quick to clarify that her family is "not in line for any royalties."
Though she's been known by Rebel Wilson professionally and personally for years, her given name was technically Melanie Elizabeth Bownds until 2002 when she changed it. According to The Guardian, her mother had originally wanted to name her Rebel but succumbed to family pressures to give her daughter a "suitable name." She grew up with three equally eclectically named siblings: Annaleise (affectionately called Annarchi), Liberty, and Ryot, the latter two of whom appeared on The Amazing Race Australia in 2011 and finished last place.
Acting was not Rebel Wilson's first career choice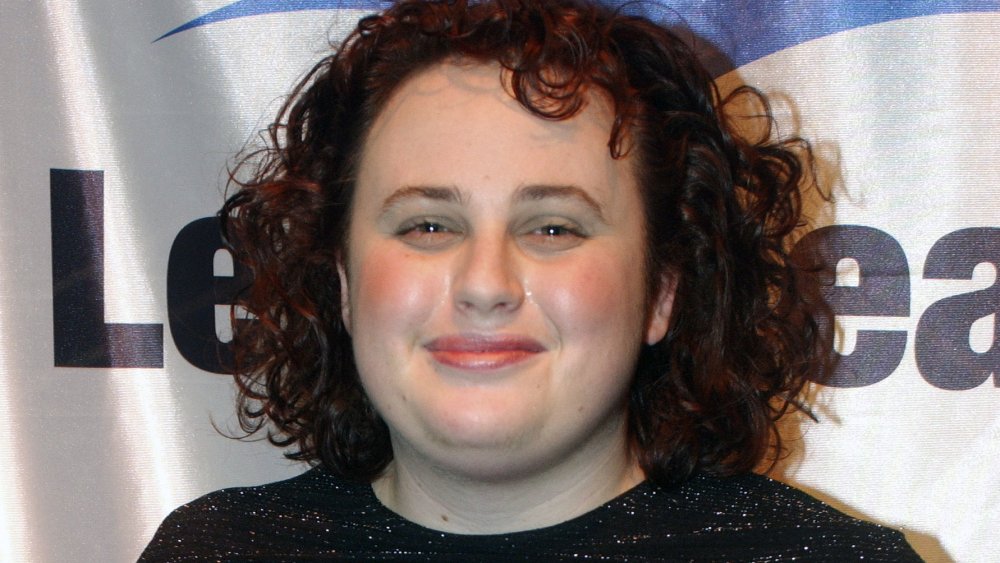 Peter Carrette Archive/Getty Images
Although Rebel Wilson is a scene stealer, she was reserved and quiet growing up (via Biography). According to The Guardian, she came from a "bogan" family — that's Australian slang for "lower-class" — and worked hard to maintain her grades. Wilson (shown above in 2002) tested the waters as a thespian and her high school musicals were certainly memorable — she "fell from the roof, doing Fiddler on the Roof, and almost killed [herself]" in one performance (via Collider) — but she didn't foresee a future in acting. She attended law school and graduated with a degree in 2009, although her heart wasn't in that, either. She told Herald Sun in 2011 that Ally McBeal was "one of the main reasons I went to law school."
Her Hollywood dreams came to actualization in a moment that sounds straight out of a movie. She told Collider that while working as a youth ambassador after high school, she contracted malaria and had to go to intensive care. "I had this hallucination that I was an actress and that I was really, really good," she said. "It was so strong that when I came out of the hospital, I started saying, 'I'm going to be an actress."  
Rebel Wilson was an Australian comedy mainstay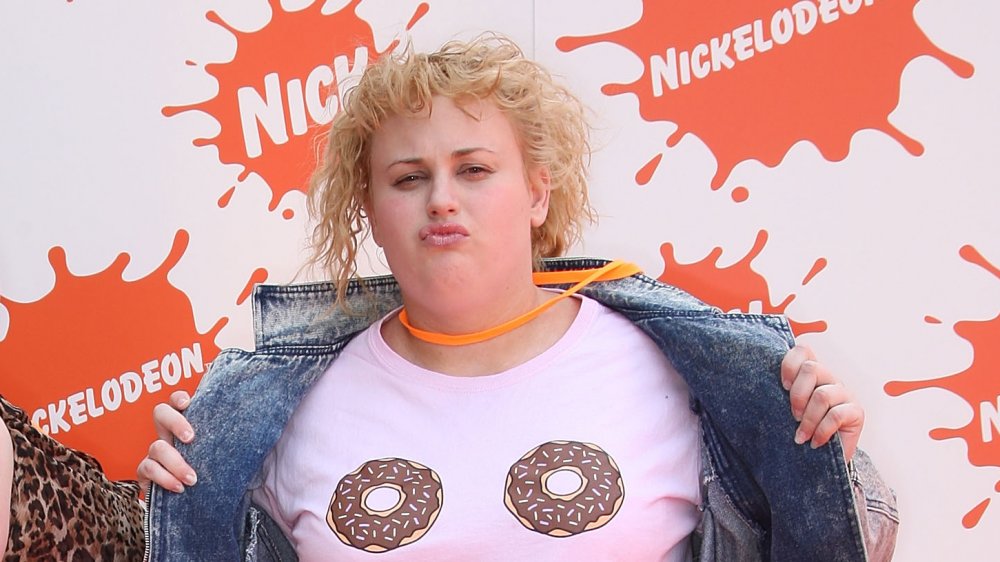 Kristian Dowling/Getty Images
After her stranger than fiction hallucination, Rebel Wilson enrolled in The Australian Theatre for Young People where actresses like Nicole Kidman and Toni Collette had studied, per Collider. She quickly became known in the Australian comedy scene for writing and starring in her own productions. "I've had to create my own plays, television roles, and movie projects in order to play the parts I've wanted," she told People (via Who) in 2017.
In 2002, Wilson continued on her path to Hollywood with stops in Chicago, thanks to a scholarship to the legendary Second City improv school, and New York City where she reportedly once "enrolled at the New York Film Academy" (via The Sydney Morning Herald). This led to her television debut as Toula in 2003's Australian series Pizza, according to Biography, after which her career picked up steam, leading to stints on Australian shows, including The Wedge and Bogan Pride. However, America was always Wilson's goal, and cameos in Rules of Engagement, 2007's Ghost Rider, and the above cheeky appearance at 2008's Nickelodeon Australian Kids' Choice Awards showed she was chomping at the bit to prove herself. 
Bridesmaids was Rebel Wilson's breakthrough in the U.S.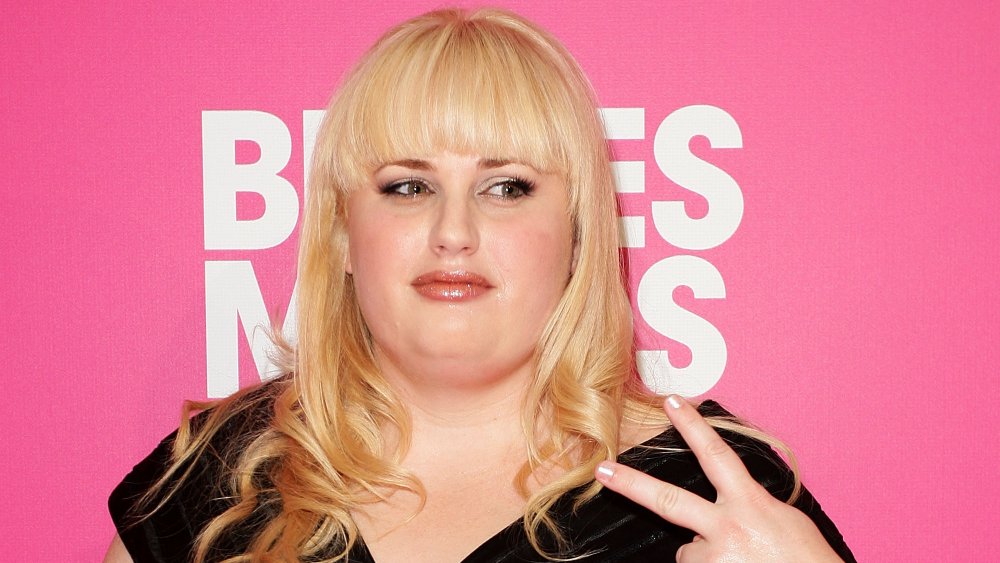 Lisa Maree Williams/Getty Images
Rebel Wilson's big break came with a little film called Bridesmaids. Produced by Judd Apatow and directed by Paul Feig, the 2011 comedy blockbuster featured an ensemble cast of humorous heavyweights, including Kristen Wiig, Maya Rudolph, and Rose Byrne. It was a massive box office hit, eventually becoming the highest-grossing "R-rated female comedy of all time," according to The Hollywood Reporter. While the film introduced audiences across the globe to Melissa McCarthy, it also served as an introduction to Wilson, whose scenes as Wiig's roommate, Brynn, were instantly memorable.
With lines like, "At first I did not know it was your diary, I thought it was a very sad handwritten book," it seems like the Brynn was written for her, partly because it was. Wilson told Collider in 2012 that she originally auditioned for McCarthy's role, however Apatow and Wiig decided she was "a bit too young." They were impressed by her hilarious audition — in which she described her love life for an hour — and added a female roommate character to the script. When the film became a smash, Wilson's career took off and she landed five new roles "within a week or two."
Rebel Wilson lost 26 lbs. with Jenny Craig in Australia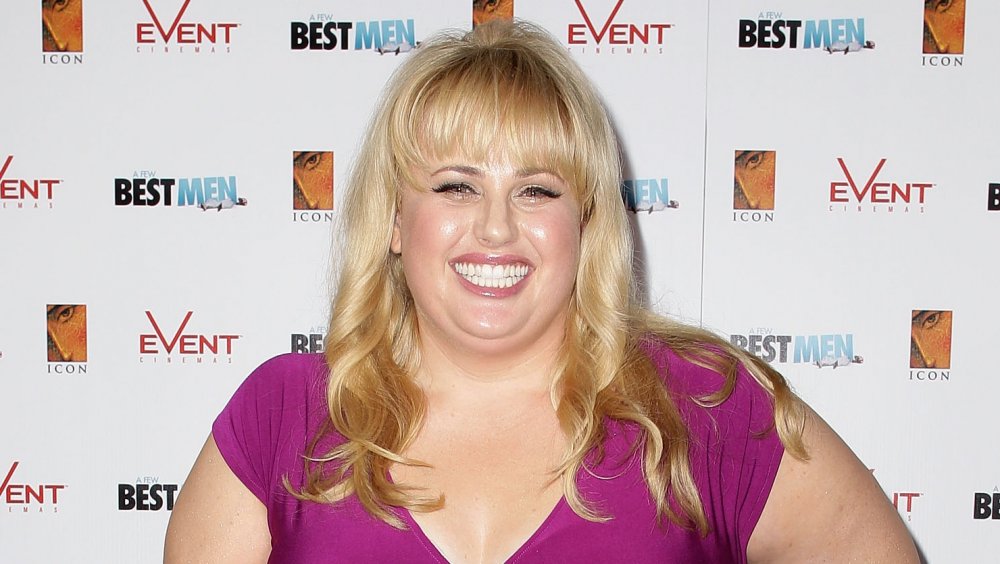 Brendon Thorne/Getty Images
Rebel Wilson became an ambassador for weight-loss company Jenny Craig in 2011. On the heels of Bridesmaids and gearing up for 2012's rom-com Bachelorette, Wilson told the Herald Sun that she had lost approximately 26 lbs. "I was the heaviest I've ever been — [around 235 lbs.] — and I wanted to become a happier, healthier version of myself," Wilson said, adding that she joined to "change the habits of a lifetime."
Wilson's gig with the weight loss program was at an interesting point in her career. While she was finding success slimming down, she was also nabbing roles because of her size — she'd make her first appearance as Pitch Perfect's Fat Amy the next year. In 2013, she told Extra that her stint with Australia's Jenny Craig "didn't quite work out" and dismissed rumors that she'd be signing a "mega-contract" with the company again. "I don't really care what I look like that much, and I think women out there should just be happy with the way they look," Wilson said, adding that her contracts sometimes stipulated her appearance and "stamina" was most important to her. "I don't ever want to be too unhealthy because writing in a show, starring and producing, you need a lot of energy," she said.
Her performance in Pitch Perfect was, well, perfect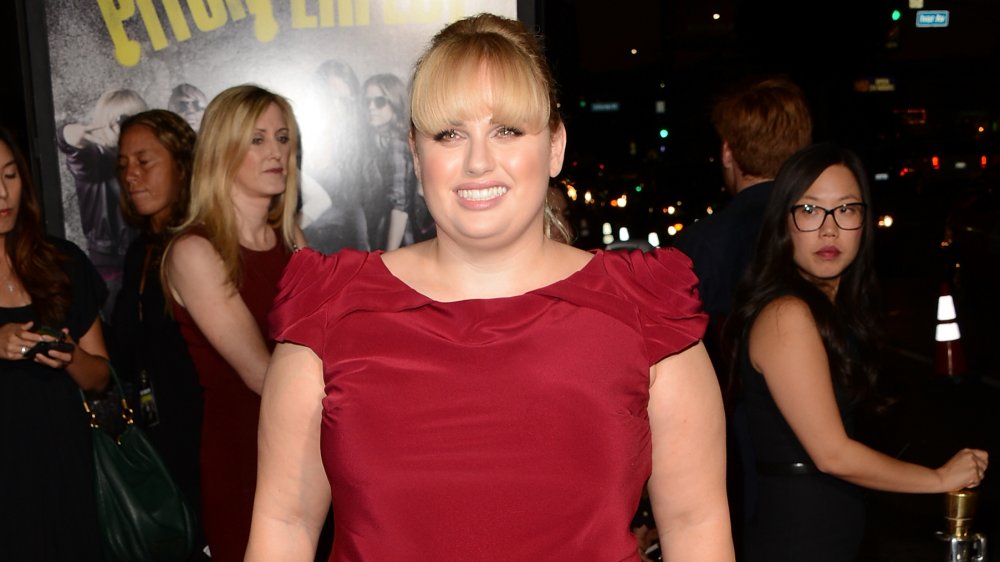 Jason Merritt/Getty Images
If Bridesmaids lit the fire, Rebel Wilson's role as Fat Amy in 2012's Pitch Perfect set the explosion. The film, which also starred Anna Kendrick and Elizabeth Banks, delved into the world of competitive collegiate a cappella groups as Beca (Kendrick) recruits a rag-tag gang of girls to form her own group on campus. According to Collider, Wilson was the first person cast in the movie after screenwriter Kay Cannon reached out to her via Facebook. Wilson sang "Edge of Glory" by Lady Gaga for her audition for the character who calls herself Fat Amy so "twig b****** ... don't do it behind [her] back." The role was later rewritten to be Tasmanian after the director heard Wilson's Australian accent (via Daily Life).
The movie was a surprise hit — grossing over $115 million worldwide on a $17 million budget – but Wilson knew from the start they had something. "I just had a feeling about it," she told Collider. "Even though it technically was a small movie, I just had a feeling it was going to be really popular and super fun."
Rebel Wilson's sitcom was short-lived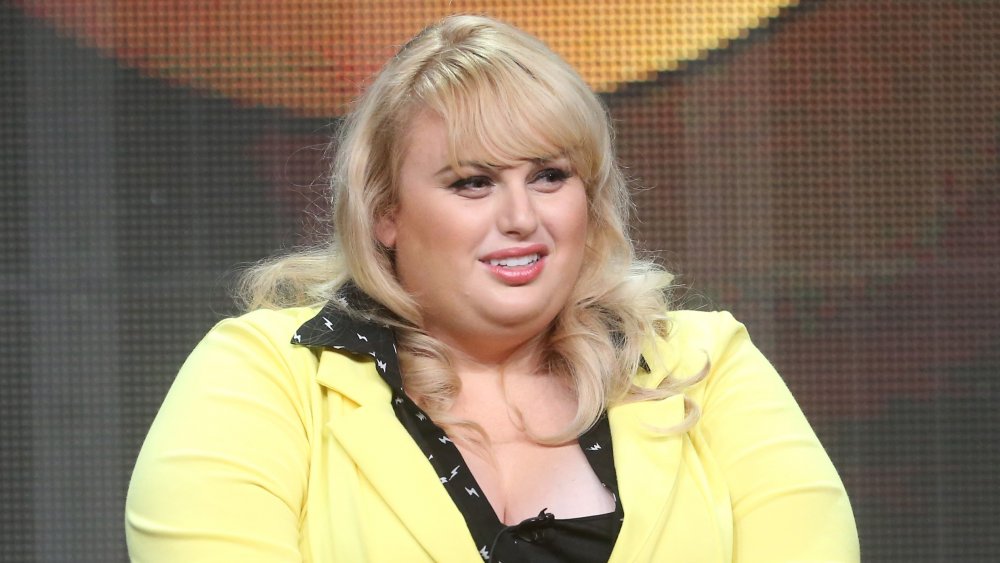 Frederick M. Brown/Getty Images
After the success of Pitch Perfect and roles in films like Bachelorette, What to Expect When You're Expecting, and Ice Age: Continental Drift, Rebel Wilson was ready to take over American television with her ABC sitcom Super Fun Night. The series, which was executive produced by Conan O'Brien and created by Wilson (via Daily Life), followed three geeky ladies trying to spice up their Friday nights in the city. While its premiere in 2013 saw 8 million viewers, it was critically panned and audiences did not stick around, leading to its cancellation after only 17 episodes made it to air.
While it might have been her first misfire, Wilson didn't see it that way. "That one network commissioned 100 pilots," she told Daily Life in 2015. "It was a triumph to even get on." Furthermore, as leading lady, Wilson had to play more of a "straighter character" than the wild screwball type she was known for. "It was a bit odd," she admitted. "I wasn't Fat Amy."
She continued to establish her Hollywood rein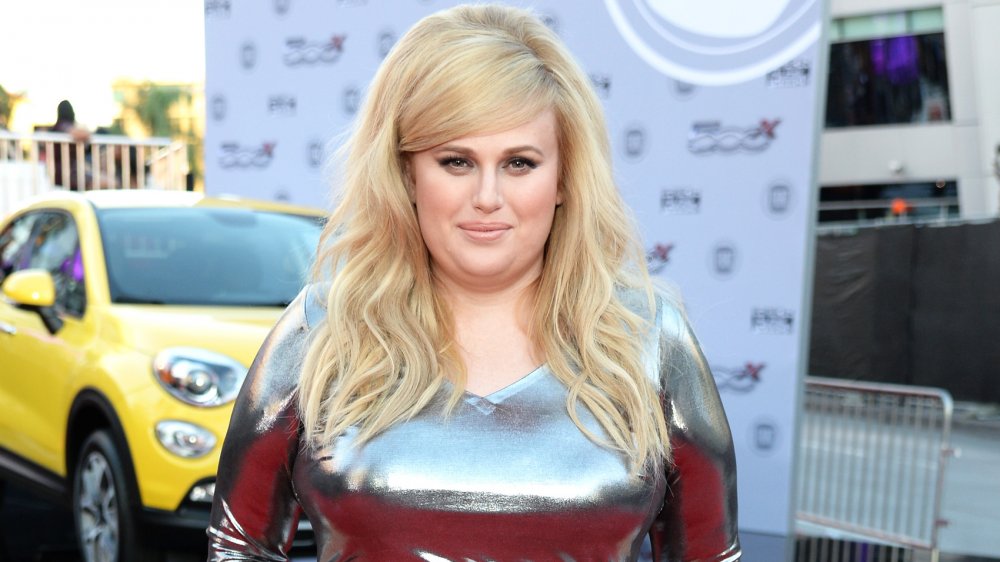 Michael Kovac/ama2015/Getty Images
Rebel Wilson's sitcom may have fallen flat, but her film career blossomed. She played a goofy night guard in 2014's Night at the Museum: Secret of the Tomb and reprised her role as Fat Amy, or should we say Fat Patricia, in 2015's Pitch Perfect 2. The sequel outperformed its predecessor at the box office, taking in more than $287 million worldwide. She played the equally boisterous and sexually adventurous best friend to Dakota Johnson's character in 2016's rom-com How to Be Single.
Both roles found Wilson owning her appearance and playing it up for comedic effect, much like she did in her real life. "I took something that was seen as a disadvantage — no one thinks, if you're fat, that you're going to be an actress and everyone's going to love you — and turned it into a positive," she told Daily Life in 2015. Her hilarious moments were no doubt bolstered by her talents as a writer and improviser. "I think why I get hired is to bring that stuff to the table," she told Refinery29 in 2016, adding, "I spend half the time as a writer, which not a lot of people know."
Rebel Wilson made a splash in musical theater, too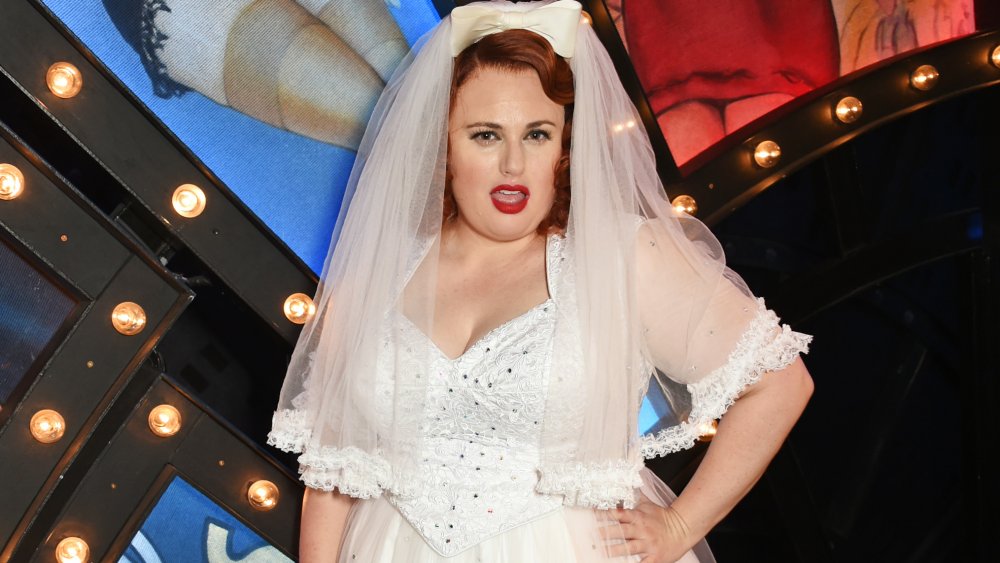 David M. Benett/Getty Images
Rebel Wilson had more than proven herself as a singer – who could forget Fat Amy's hilariously romantic rendition of Pat Benatar's "We Belong" alongside Bumper (Adam Devine) in Pitch Perfect 2? It was only a matter of time until she hit the musical theater circuit. In 2016, she portrayed Ursula in a live performance of The Little Mermaid at the Hollywood Bowl, earning rave reviews (via Entertainment Weekly). 
She took her talent to the next level as Miss Adelaide in Guys and Dolls on London's West End (shown in costume above). The revival, and her performance, were critically acclaimed (via The Guardian) with director Gordon Greenberg telling the outlet that Wilson "connects with the audience in the way the young Bette Midler did." Her show-stopping London excursion lasted eight weeks as she had to begin filming Pitch Perfect 3, though she'd return to the stage in 2018 with a hilarious "gender-bending" spin on LeFou in a live Beauty and the Beast concert (via The Hollywood Reporter).
Disputes about Rebel Wilson's past stirred up some drama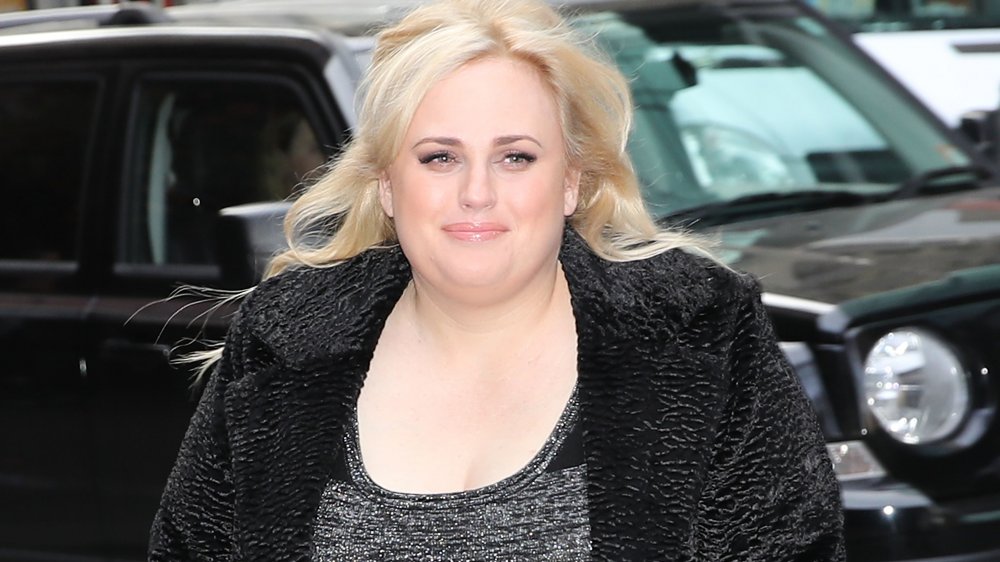 Scott Barbour/Getty Images
According to Biography, 2017 marked the end of Rebel Wilson's years-long battle with Bauer Media. Two years earlier, the Australian publication dug up that her birth year was 1980, which conflicted with Wilson's rather vague statements in the press about her actual age. The publication also claimed "she had lied about her age and other biographical information," including her family's status growing up. While Wilson poked fun at the reports on Twitter, writing, "I'm actually a 100 year old mermaid formerly known as 'CC Chalice,'" behind-the-scenes, she wasn't laughing.
After suing for damages in 2015, Wilson initially won her case, resulting in a $4.7 million payout, the largest for a defamation case in Australian history according to BBC News. She asserted that Bauer had made her out to be a "serial liar," hurting her career. However, the damages were reduced by nearly $4 million after a 2018 appeal from the publication. The actress insisted it was never about the money and planned to donate any payments she received to charity, calling the appeal "bizarre" and "unfair" in a since-deleted tweet (via AdNews).
Rebel Wilson started her own fashion line in 2017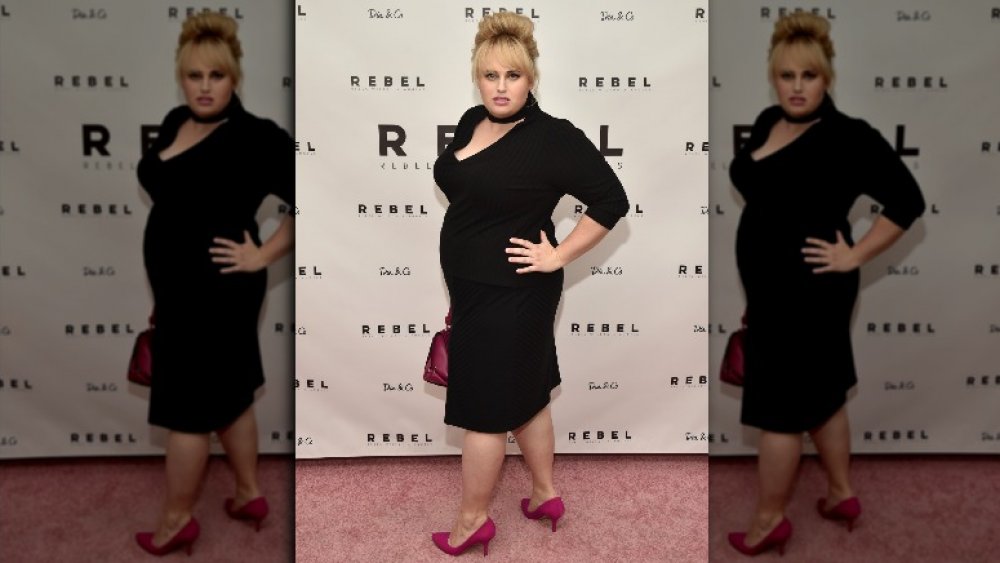 Bryan Bedder/Getty Images
After a successful custom line with plus-size retailer Torrid, Rebel Wilson launched her own department store fashion collection in 2017, according to People (via Who). The inspiration for Rebel Wilson x Angels came from her own poor experience shopping for clothes. "It felt like if you were over a certain size, designers didn't care about you," she told People.
Her first collection, marketed for women sizes 14 to 24, included denim, jackets, tees, and dresses with "more of an edge" than typical plus-sized lines offered, according to Forbes. While she would've never guessed that as a teenager, she'd have her own fashion line, it made sense considering she's always had an "entrepreneurial" spirit. "People don't know that I went to the top law school, basically the Harvard of Australia," she explained to Forbes. "Now, I have all these businesses."
She was a new kind of heroine in Isn't It Romantic and The Hustle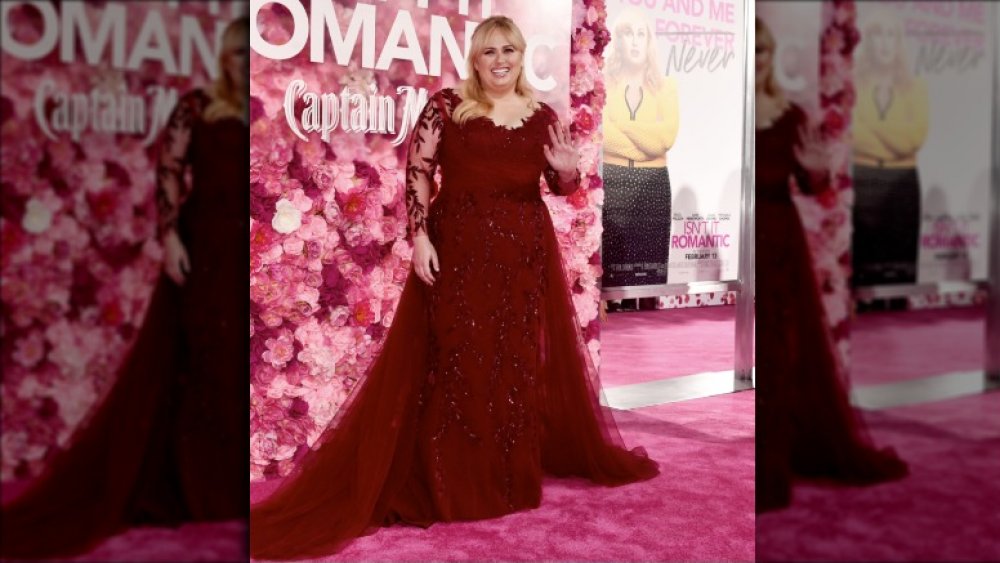 Alberto E. Rodriguez/Getty Images
Rebel Wilson has producer credits stretching all the way back to 2008s Bogan Pride, but in 2019, her dual behind-the-scenes and onscreen roles were instrumental in providing the female representation she wanted to see on the big screen. Isn't It Romantic found her portraying a self-conscious architect who gets stuck inside a romantic comedy, calling out clichés as the hunky Liam Hemsworth falls for her, and the best friend, played by her frequent collaborator Adam DeVine, falls to the wayside. "I love that they were offering me the lead role, because normally a girl like me is marginalized to be the funny friend or the sidekick," Wilson told The Hollywood Reporter.
That same year, Wilson produced and starred in The Hustle, a female spin on Dirty Rotten Scoundrels that cast her alongside Anne Hathaway. According to Heavy, Wilson handpicked Hathaway to be her partner-in-crime in the film, which follows Penny (Wilson) as she learns the tricks of the trade from talented con woman Josephine (Hathaway). "It is just a great romp with a good story," Wilson told Heavy, adding that it was a "honor" to reboot "such a classic comedy."
Her best and worst movies came out at the same time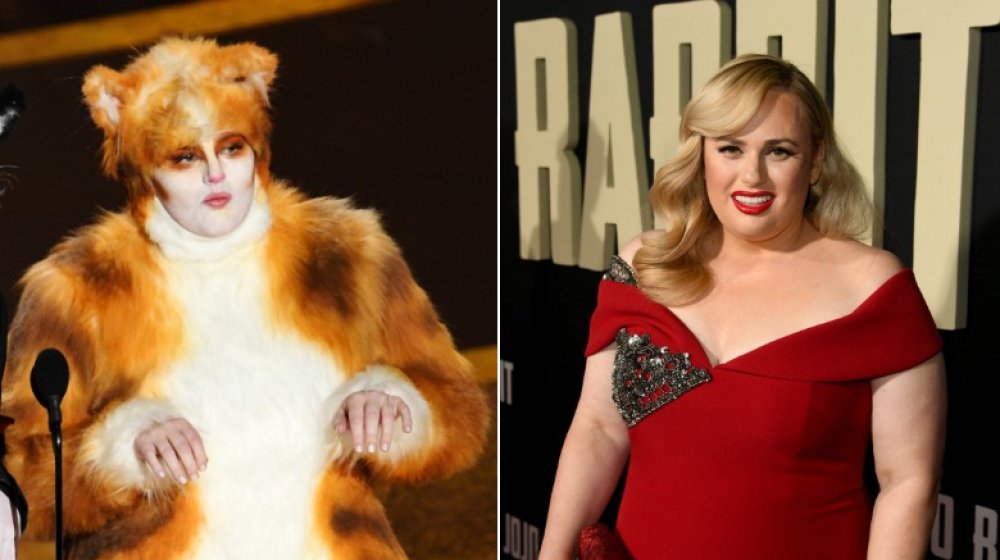 Kevin Winter/Getty Images
In late 2019, Rebel Wilson found herself being the cat butt of the joke when the big screen adaptation of Andrew Lloyd Webber's Cats hit theaters. To say the film — and its uncanny digital fur technology — was poorly received would be an understatement, although the box office flop might already be on the road to cult classic status. Wilson, who sang and danced as the comical feline Jennyanydots, took the backlash in stride. While admitting to Cosmopolitan that it was "a bit polarizing," she raved about working alongside the cast and "brilliant" dancers. Though she later poked fun at the film's visual effects alongside co-star James Corden at the Academy Awards (above left).
Any critiques she may have received were short-lived after her acclaimed performance as a Nazi instructor in Taika Waititi's satirical drama Jojo Rabbit. While Wilson's casting may have seemed out of left field, it was anything but. After all, the actress had not been shy about her awards aspirations and desire for dramatic roles, quipping to The Guardian in 2016, "I can't f*cking win an Oscar for Pitch Perfect 3, can I?" While Wilson may not have nabbed a trophy herself, the film received six Oscar nods, taking home Best Adapted Screenplay in 2020.
Rebel Wilson dubbed 2020 'the year of health'
Rebel Wilson kicked off 2020 with an empowering Instagram post, calling it "The Year of Health." The actress, who has always been candid about her weight and health goals, spent the year documenting her fitness journey — from exercise with new beau Jacob Busch, to showing off her Grey Goose bottle workout, and poking fun at media coverage on her weight loss with the caption, "Just call me: Fit Amy." Over the year, Wilson shed roughly 46 lbs., per Daily Mail, finding success working out with a personal trainer as well as following the Mayr Method (via Women's Health).
However, the actress knows beauty is only skin deep, and she's quick to call out the stigma surrounding people who don't conform to "the thin body image" (via Heat). "Not everyone can be that way and no one should be ashamed of how they look ... because of their shape and size," she told the outlet in 2019. At the same time, she dismissed the notion that "very attractive" women aren't funny, adding that her comedy is "driven by [her] personality" and she "could be just as interesting and funny if [she] lost weight."
If there's anything Rebel has taught us, it's that when she puts her mind to something, she's going to achieve it. We can't wait to see what's next!