Why Joan Rivers Wasn't A Fan Of Ellen DeGeneres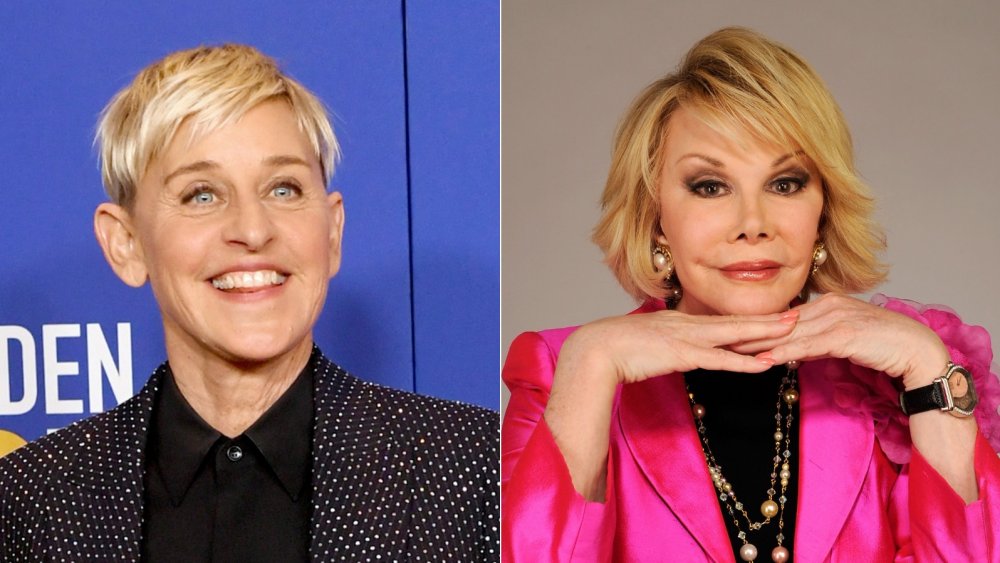 Kevin Winter, Larry Busacca/Getty Images
These days, it seems like everyone has a problem with Ellen DeGeneres. Susan Sarandon was one of the first the people to criticize the comedian for her friendship with former President George W. Bush, while actress Drew Barrymore, now a daytime talk show host in her own right, apparently never really got along with DeGeneres. And now, as claims of a hostile work environment behind the scenes at The Ellen DeGeneres Show continue to cast a shadow over production, despite DeGeneres' numerous high-profile defenders, such as Kevin Hart and Katy Perry, the incident has clearly dented the host's brand of niceness and kindness.
Before any of this happened, though, DeGeneres had another famous hater. Always the trendsetter, Joan Rivers, who died in 2014, reportedly never got along with DeGeneres. According to fellow comedian Kathy Griffin, the feeling was mutual. After Rivers died, Griffin apparently reached out to DeGeneres and told her she should put their differences behind them since Rivers was, you know, dead. Griffin claimed, according to Variety, that DeGeneres was so adamant in her opinion that it led to a fight between the two comedians. So what exactly was the beef between Rivers and DeGeneres?
Joan Rivers felt that Ellen DeGeneres had shunned her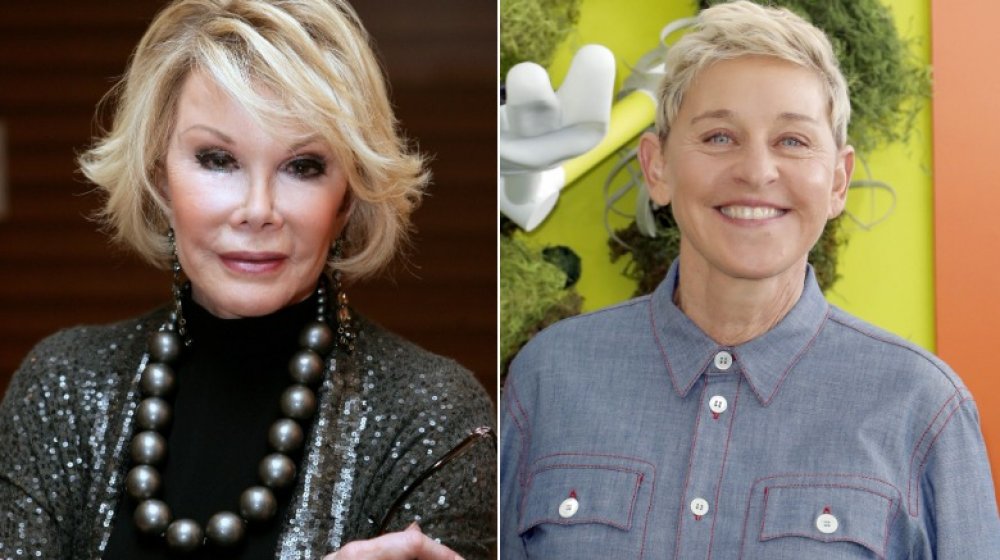 Mike Flokis, Tibrina Hobson/Getty Images
Although Ellen DeGeneres did recognize Joan Rivers on Twitter following her death in 2014, calling her a "pioneer" who "paved the way for a lot of comedians," Kathy Griffin revealed four years later that the two had anything but a good relationship. "One of the things that really hurt Joan, and we talked about it at our last meal together," Griffin began at a show in Los Angeles (per Variety), "was that Ellen always shunned her and Ellen thought she was vulgar and not funny."
Now, it's certainly true that Rivers could be vulgar, and she was definitely known to be blunt. When she was asked in 2012 by PrideSource about the lack of female late-night hosts, Rivers said that was because "there just isn't anyone good enough." She said that Kathy Griffin didn't have the right skills for it and that she thought Chelsea Handler's talk show "sucks." When asked about DeGeneres, Rivers said "Ellen is the most boring white woman in the world."
After Rivers died, Griffin says she reached out to DeGeneres and said, "Look, woman to woman, comic to comic, I think you need to let go of your hatred for Joan Rivers. She's passed away, just do a f***ing tribute, be cool." DeGeneres stuck to her guns, though, and said she felt that there was a difference between being mean and funny, and that Rivers was only the latter, which led to a drawn-out fight between her and Griffin, adding another name to DeGeneres' list of enemies.