Why Susan Sarandon Can't Stand Ellen DeGeneres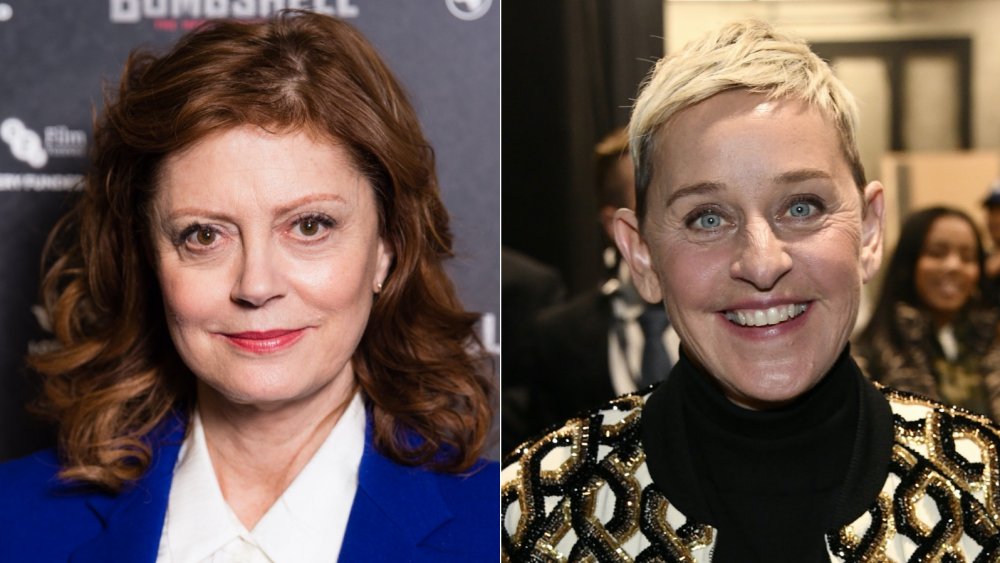 Jeff Spicer, Frazer Harrison/Getty Images
There's no doubt that Ellen DeGeneres is facing a major wave of public scrutiny after news broke that The Ellen DeGeneres Show has been a difficult place for employees due to a toxic work environment.
The news was shocking, especially since the comedian and talk show host has built a massive brand, earning her a considerable fortune, on being kind. DeGeneres has since responded to these accusations, but it doesn't mean audiences have forgotten. In fact, since this news broke, old encounters with DeGeneres are resurfacing on the internet and people are looking at these interactions in a new light.
For example, Celion Dion appeared on the show back in 2007 and it was a less-than-savory encounter. Other celebs have also expressed that they aren't fans of DeGeneres, including Cher, Kathy Griffin, as well as Piers Morgan. But this isn't the end of it.
There was also an event involving Susan Sarandon that might just prove she can't stand DeGeneres either.
Susan Sarandon doesn't approve of one of Ellen DeGeneres' friendships
Rich Polk/Getty Images
The rift between Ellen DeGeneres and Susan Sarandon dates back to October 2019 when DeGeneres was seen at a Dallas Cowboys football game sitting next to former President George W. Bush, according to CNN. DeGeneres was sitting with her wife, Portia de Rossi, while Bush was with his wife, Laura Bush.
People were taken aback by the strange pairing and later, on The Ellen DeGeneres Show, the comedian herself addressed the pushback that came from her unexpected friendship with Bush. "They thought, why is a gay Hollywood liberal sitting next to a conservative Republican president? A lot of people were mad. And they did what people do when they're mad... they tweet," DeGeneres said, via CNN.
People did indeed tweet, including actress Susan Sarandon. Rather than getting confrontational in her own words, Sarandon simply quoted a piece about the troubling nature of DeGeneres and Bush's friendship from Out, a magazine that speaks specifically from an LGBTQ vantage point. Her tweet read: "But missing the point entirely, DeGeneres framed the issue as simply a matter of her hanging out with someone with different opinions, not a man repeatedly accused of being a war criminal."
The article pointed out that DeGeneres, as a lesbian, isn't doing a service to LGBTQ community because Bush "was no friend to the LGBTQ community during his eight years in the White House," per Out. It seems like Sarandon needed to remind DeGeneres that some things shouldn't be forgotten.