Sean Connery's Impersonators React To His Death
Ben Hider/Getty Images
On Oct. 31, 2020, The New York Times reported that actor Sean Connery died at his home in the Bahamas, either late on Oct. 30 or early in the morning of the 31st. He was 90 years old, and no cause of death was confirmed by his family. Connery is most likely best known for his role as James Bond in seven of the Bond movies, including From Russia with Love, Goldfinger, Thunderball, You Only Live Twice, Diamonds Are Forever, and Never Say Never Again.
Tributes poured in from his colleagues, per People. Nicolas Cage, who starred with Connery in The Rock, told the outlet, "I admired Sean so much. I was happiest when I was working with him — his wisdom, humbleness, and extreme honesty has guided me ever since I met him. He was my friend and greatest teacher in cinema. The first movie star to lead the way in combining drama, action adventure, and comedy. He did it all effortlessly and with dignity." Robert De Niro also paid tribute to Connery, telling People, "I'm very sorry to hear about Sean's passing. He seemed much younger than 90; I expected — and hoped — he'd be with us much longer. See you up there, Sean."
Connery was such a memorable actor, with super specific mannerisms and ways of speaking, that many people made careers out of impersonating him. The tributes from those people were also very touching. 
Darrell Hammond paid tribute to Sean Connery's 'charisma'
One of the most well-known Sean Connery impressions was performed by Darrell Hammond on Saturday Night Live. He appeared numerous times on the sketch show to do the bit for Celebrity Jeopardy, in which the Connery character refuses to get any answers right and makes obscene and lewd jokes about Alex Trebek's (played by Will Ferrell) mother. Hammond tweeted the day after Connery's death, "Sorry to hear of the passing of #SeanConnery, my condolences to his family. Always loved doing my silly impressions of him, RIP." He also shared a video of one of the appearances and some memorable lines from the clip. 
Following Connery's death, Hammond told Rolling Stone that the impersonation was one of the most "popular" things he's ever done. He added, "Connery had that thing that [Bill] Clinton had; people just couldn't get enough of him," he said. "There are just very few humans like that that you'll ever play as an actor... [W]e ended up doing Clinton in all different kinds of comedy, from slapstick to drawing room. Connery had the same charisma. People were fascinated by Bond, James Bond. Still are."
There are other less well-known Sean Connery impersonators as well, and some of them also shared tributes to their muse. 
Sean Connery lookalike John Allen shared a pic of the actor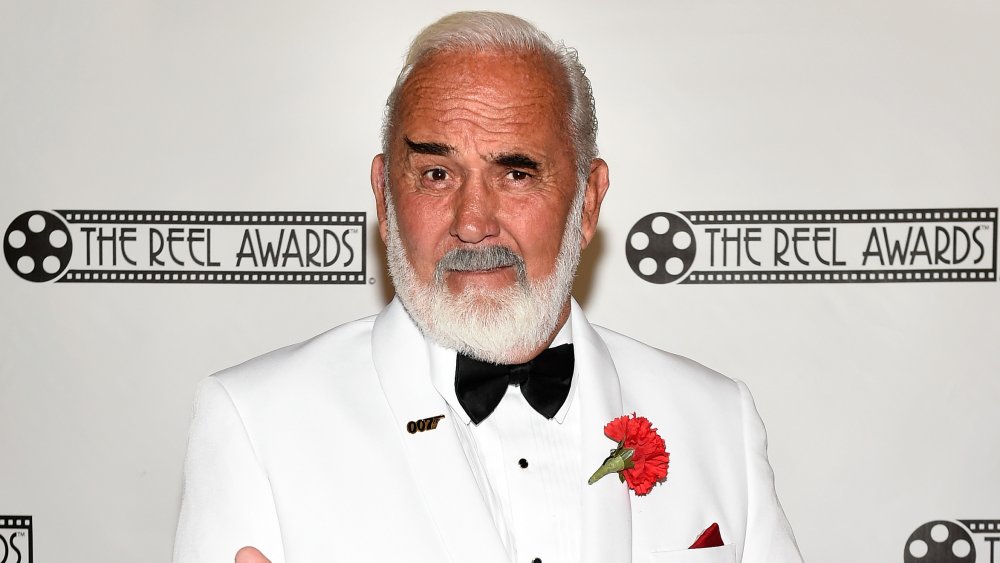 David Becker/Getty Images
One Sean Connery impersonator, John Allen (pictured above), shared a tribute to the actor on his Facebook page. A friend of his posted a picture of him with Connery, writing, "John was his double look alike for a production as well as working hundreds of various events all over the country and internationally!" Allen reposted the picture and caption and added, "Thank you Camille for this post it is a very fond memory."
Other non-actors, like artist Drew Struzan — who made famous movie posters of Connery's films, such as Name of the Rose and Indiana Jones — also expressed their grief. Struzan wrote, "The loss of #SeanConnery hits hard. He was more than an extraordinary actor. He was a delight to paint. Always expressive. He will be missed."
Connery touched so many people throughout his career and inspired the careers of so many others.