Details You Didn't Know About Olivia Culpo's Clothing Line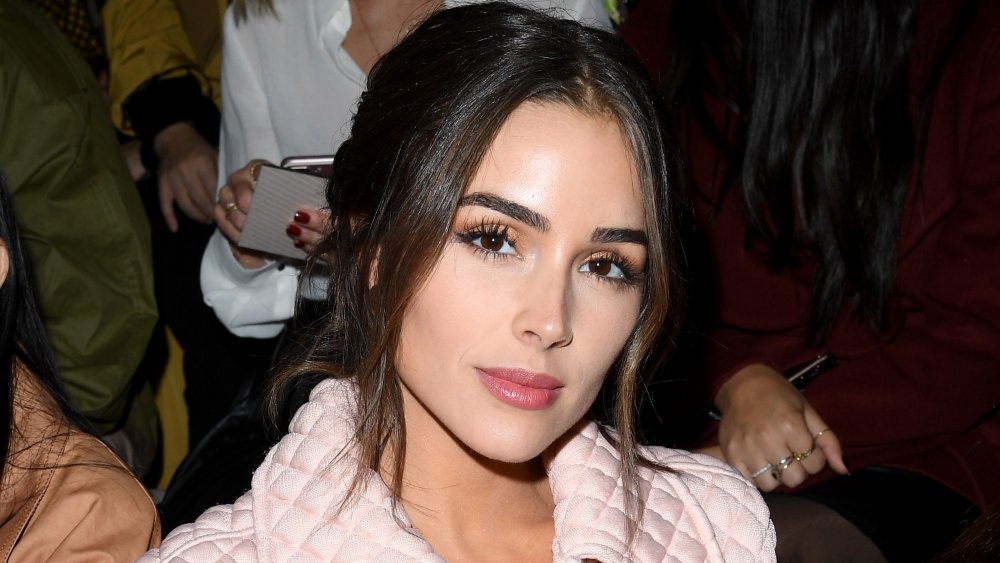 Daniele Venturelli/Getty Images
Model and influencer Olivia Culpo got her start in beauty pageants after she won Miss Rhode Island in 2012 and eventually clinched the "Miss Universe" title later that same year, according to Page Six. But Culpo quickly set out to prove that she was much more than just a pretty face. The multi-talented beauty queen dabbled in acting, with a stint on the reality series Model Squad in 2018 (per Insider), and took her talents to Instagram, where she built up a modeling portfolio with big-name fashion and beauty brands Cartier and L'Oréal, to name a few.
These days, Culpo is "thought of as a style icon," via Insider. In 2017, the model told Glamour UK that she doesn't believe there are any mistakes in fashion. "Fashion for me is self-expression and I will never say that what I was feeling or wearing at a particular time was wrong," Culpo explained. And, with her finger on the pulse of street style, it only seems fitting that Culpo's launching a collaborative line of chic, ready-to-wear pieces at Macy's, along with her two sisters Aurora and Sophia Culpo. Called the Culpos x INC International Concepts label, here are all the details you didn't know about the line.
Culpos x INC is designed for the everyday girl on-the-go
Olivia Culpo might be a force within the entertainment, beauty, and fashion spaces — she boasts a whopping 4.77 million followers on Instagram alone — but it's clear she's tapped into what her audience wants. "I would say the number one reason people follow me is because of fashion, maybe makeup tips," she explained to WWD. "For the most part, my followers are looking for day-to-day outfits. ...At the end of the day, it's definitely geared towards girls who want the big takeaway to implement that into their own fashion and lifestyle."
Inspired by this thinking, the Culpos x INC collection is geared toward the "everyday girl on-the-go" and packed with elevated basics that can be dressed up or down. According to the press release, the collection "adds flair to at-home loungewear with decorative elements and ornamentation, featuring cozy and glamorous matching sets, joggers, biker shorts, hoodies, luxe sweaters and sweater dresses perfect for lounging in style or hitting the town." From striking prints to bold colors, "the collection celebrates female confidence and gives the opportunity to highlight individual and unique personal style."
Culpos x INC features something for everyone
The Culpos x INC line takes a true something-for-everyone approach to showcase each Culpo sister's distinct personality. According to WWD, mom-of-two Aurora Culpo is "eco-minded," while Sophia Culpo "focuses on healthy recipes and wellness tips," and Olivia Culpo is bold and stylish. Their unique styles are consequently reflected in the line and give shoppers more choice in their selections.
"All three of our styles are very different so it was really fun to collaborate together to make pieces that everyone loves," Olivia explained to E! News. "It was challenging at times to agree on design details, but I think we got it right!" When speaking to the outlet about their favorite pieces, Aurora referenced a cozy sweatshirt dress and Sophia mentioned a hoodie jumpsuit set, which feels "comfortable but styled at the same time." Olivia, the self-professed fashionista of the group, talked about her love for bold, cherry-red sets. "My favorite color is red and there are a few sets that come in a bold cherry red color. One set has fringe and another one has an off-the-shoulder detail. ...I think they are perfect to wear for the holidays," she told E!
Consumers looking to incorporate the Culpo sisters' style into their daily wardrobe are in luck! This is only the first drop of three must-have seasonal collections, according to a press release. Per WWD, there's "more street-style with some nightlife-worthy looks mixed in" coming soon!