Billy Bush May Never Come Back To Today After Leaked Trump Audio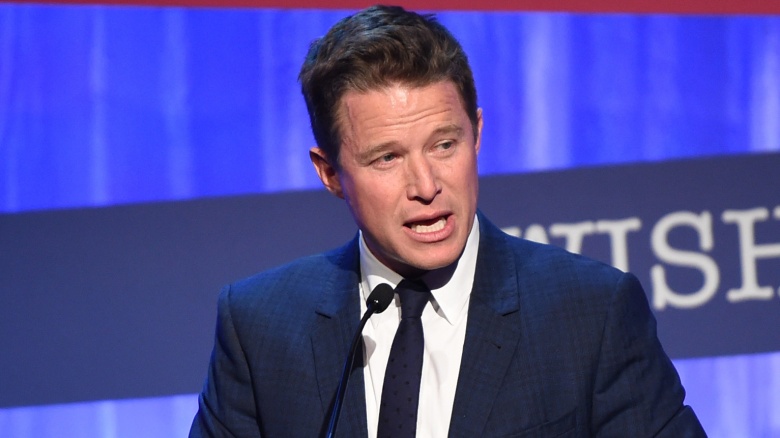 Getty Images
Today show host Billy Bush is still suffering fallout from the leaked audio that featured him and Donald Trump engaging in "locker room talk" in 2005 when he was a co-host of Access Hollywood.
As Nicki Swift previously reported, Bush has been suspended indefinitely from Today. Variety said Carson Daly will fill in as long as Bush is gone, and possibly until a replacement is hired.
"[His] career is radioactive—no one will touch it," a source told Page Six. "He's done. He cannot recover from this." Another insider said, "No one knows if he'll be back. There's a lot of finger-pointing and trying to figure out who's to blame. [NBC has] to protect the brand and Billy had to get suspended because of the backlash from women...He's gone and they're pretending it's under review, but what are you reviewing? A tape you had for four months?"
"People are saying he can't recover," a source echoed to People. "It's so ironic that the place that got him there—his job on Access Hollywood—is now destroying him." The source said there's no confirmation on who actually leaked the footage, but insiders believe it was deliberate. "They could have released the tape and edited him out. That was the plan—they were trying to approve it and then someone leaked it," the insider said.
An NBC rep told People, "There absolutely was never a consideration by NBC News to edit the tape."
It seems Bush may be partly at fault for the drama. "Billy was bragging about the tape to other NBC staff while in Rio," a source told Page Six. "If he knew about the tape, and remembered the full extent of such an explosive conversation with a presidential candidate and didn't disclose that to NBC News, that is a very, very serious problem." Bush reportedly has a morality clause in his contract, and this may be a huge violation of that.
Another source said, "It is not clear if Billy remembered the exact level of vulgarity in the conversation with Trump, or if he instead realized its news value and didn't declare it to protect himself." Female staffers have been encouraged to come forward "with any concerns about Bush, his inappropriate behavior or frat-boy mentality" as part of an internal investigation into Bush's conduct at the network.
"He's surprised he's taking a lot of heat as he isn't really the main subject of the video," a source told Page Six. "NBC isn't thrilled because they've had so much scandal with their news personalities. At this point I think they are all rolling their eyes and saying, 'Another one!'" The insider noted that Bush is looking to hire a "high-power fixer/PR-type person" to dig him out of the hole that the video left him in, but that may not work. "His likeability factor has always been off anyway as a lot of viewers find him annoying," the source said. As far as Bush officially being fired, the source dished, "It hasn't happened yet but looks like it will soon."
Another insider told Us Weekly, "He's definitely gone. A lot of people feel so bad for him. He's a good guy. He made a mistake, but he's a genuinely good guy. They don't see any way he can go back on morning TV after this.."