Here's How Rudy Giuliani Reacted To Joe Biden's Election Victory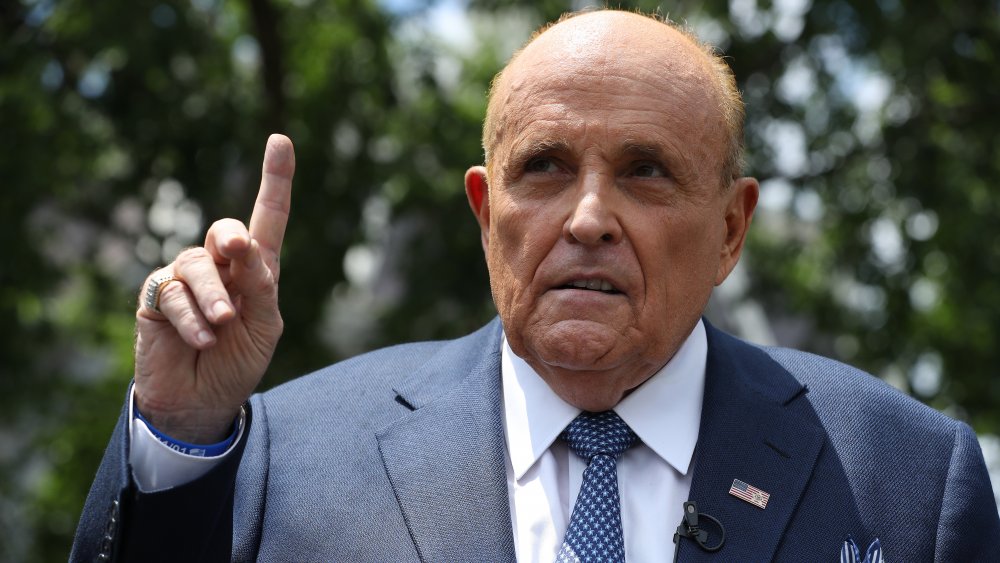 Chip Somodevilla/Getty Images
On Nov. 7, 2020, former New York City mayor Rudy Giuliani held a press conference questioning the legitimacy of the 2020 presidential election, per a video shared by The Guardian. Mid-speech, in front of many reporters, he found out that Democratic nominee Joe Biden had been declared the winner over his close friend, President Donald Trump. Aside from their friendship, Giuliani was Trump's personal attorney (it's not clear whether he'll hold this position going forward).
The New York Post reported on Giuliani's press conference, saying that he "scoffed at the notion" that Biden would be the next president of the United States. The politician said, "Oh my goodness! All the networks. Wow!" Then, he told the crowd, "All the networks. We have to forget about the law. Judges don't count." He emphasized, "Networks don't get to decide elections. Courts do."
Giuliani declared that "courts set aside elections when they're illegal." He continued, "In this particular case, I don't know if there's enough evidence to set aside the entire election, certainly not around the country. Maybe in Pennsylvania. There's certainly enough evidence to disqualify a certain number of ballots." Giuliani gave this speech in Pennsylvania, the state that secured Biden's victory. Here's what else Giuliani had to say about the situation.
Rudy Giuliani says Donald Trump won't concede the election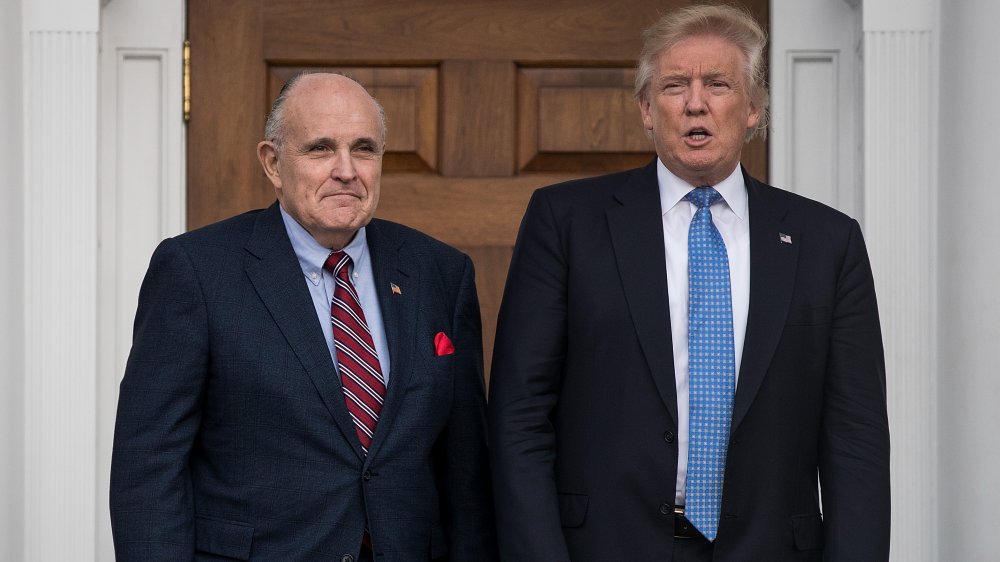 Drew Angerer/Getty Images
CBS News reported that Rudy Giuliani said at the press conference, "Obviously he's not going to concede when at least 600,000 ballots are in question." He claimed (without evidence) that ballots were tampered with in Pennsylvania, giving former Vice President Joe Biden enough electoral college votes to win the election. At this press conference, Giuliani was accompanied by "three poll watchers" who alleged that they were prevented from monitoring the ballot counting, as the outlet noted. He also claimed that he spoke with 50 people who have shared similar stories with him, in addition to 25 statements that he has collected. 
Giuliani blamed the "Democratic machine in Philadelphia" for "[keeping] the votes of dead people secret." Without providing any evidence, Giuliani alleged, "Seems to me somebody from the Democratic National Committee sent out a note that said don't let the Republicans look at those mail-in ballots." Once again, the New York native's claims are unfounded, and there is no proof to suggest there is widespread voter fraud. 
It appears this story is far from over, despite Biden winning the election.