Mark Esper Is Already Planning His Resignation Letter. Here's Why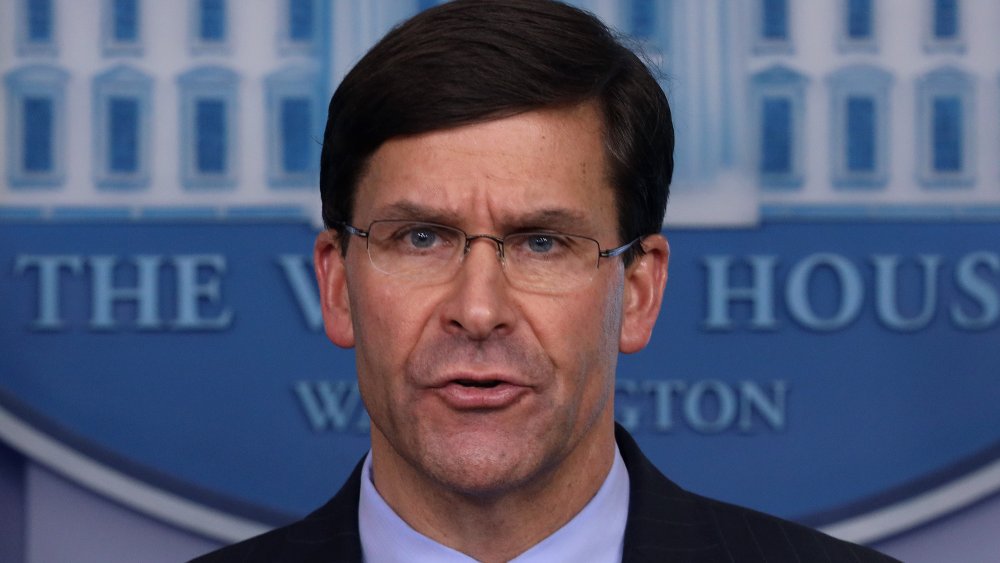 Win Mcnamee/Getty Images
With Joe Biden prevailing over Donald Trump in the 2020 presidential election to become the 46th president-elect, what happens next for Trump and his administration? It seems that Trump will not be conceding to Biden any time soon. Just before the election was called, Trump posted a tweet (which was flagged by Twitter as a "claim about election fraud" that has been disputed) that read, "THE OBSERVERS WERE NOT ALLOWED INTO THE COUNTING ROOMS. I WON THE ELECTION, GOT 71,000,000 LEGAL VOTES. BAD THINGS HAPPENED WHICH OUR OBSERVERS WERE NOT ALLOWED TO SEE. NEVER HAPPENED BEFORE. MILLIONS OF MAIL-IN BALLOTS WERE SENT TO PEOPLE WHO NEVER ASKED FOR THEM!" 
With a little more than two months before Biden is to be sworn in as the President of the United States, there's still quite a bit that Trump can do while he's still in power. This period is referred to as a "lame duck" session of Congress. Per The National Constitution Center, this happens when the legislative branch meets after the November election and before January 3, when the new Congress is seated under the 20th Amendment to the Constitution. That's right: Congressional seats turn over nearly a full three weeks before a new president takes office on inauguration day on January 20. 
One person who seems to have prepared for Trump to make some bold moves and changes during this period is Defense Secretary Mark Esper.
Mark Esper thinks Donald Trump could fire him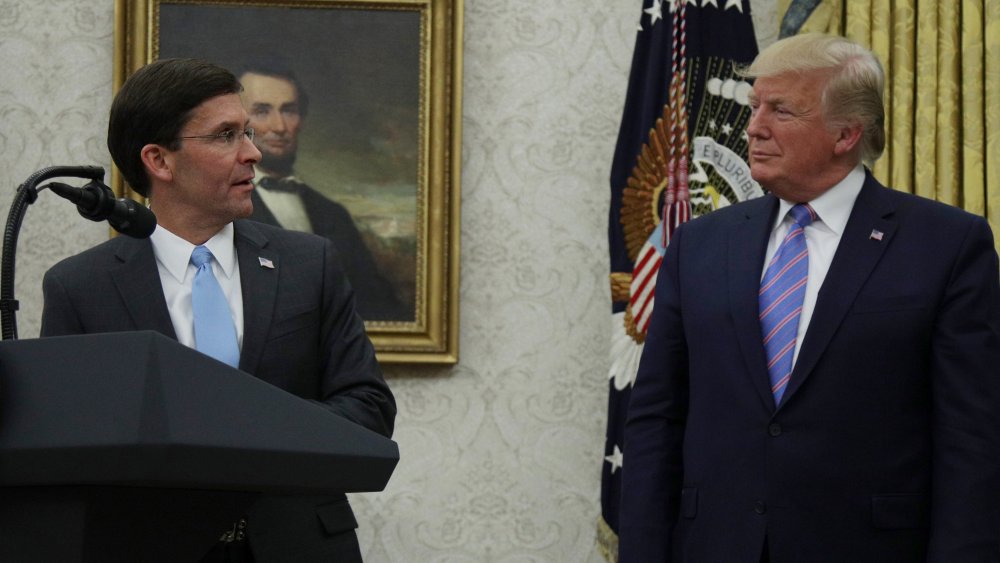 Alex Wong/Getty Images
According to a report NBC News, which cited "three current defense officials," Defense Secretary Mark Esper has prepared a letter of registration. The report claims that while it hasn't been uncommon for Cabinet secretaries to prepare a letter of resignation ahead of an election in case of a change of administration, Esper drafted his because he expected to be fired by President Donald Trump after the election concluded.
The report further claims that Esper has been at odds with Trump for his attempt to rename certain military bases named after confederate leaders, something which Trump strongly opposes. NBC News notes that two current defense officials have shared Esper's belief that Trump will remove him from his position if he does go through with confirming the renaming. For Esper, he isn't looking to be fired. He sincerely believes that the renaming of the bases is an important issue. 
Given that tensions have been brewing for months between Donald Trump and Mark Esper, according to CNN, it wouldn't be surprising if Esper was right to have prepared his resignation letter ahead of time.