What Song Did Joe Biden Run Out To For His Victory Speech?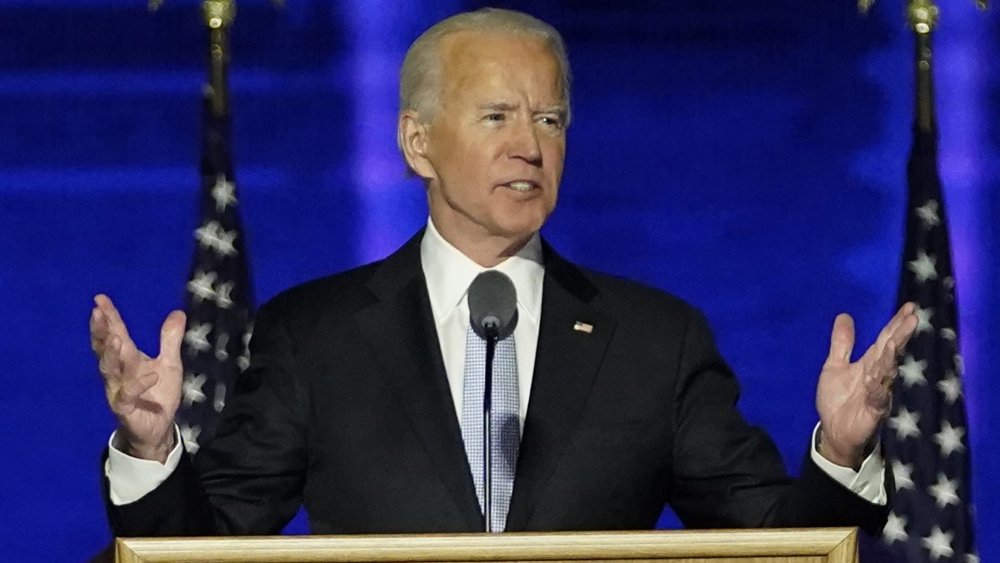 Pool/Getty Images
Before President-elect Joe Biden addressed the nation on Nov. 7, 2020, following his 2020 election victory, he set the tone with his song choice. Biden jogged toward the stage while Bruce Springsteen's song, "We Take Care Of Our Own," played. It might have seemed like a random song choice to some Americans, with one person tweeting, "Biden jogging out to some no name Springsteen song was a wild choice." However, the song is so on-brand for Biden. In October 2020, Springsteen narrated a campaign commercial about Biden and his hometown, Scranton, Pa. He also let Biden use his tune, "My Hometown," for the ad, which was the perfect fit.
The song title "We Take Care of Our Own" aligns with everything Biden has said during his campaign. Case in point: The day before the 2020 election, Biden tweeted, "If I have the honor of being elected president, I will take care of your family like I would my own." In October 2020, he promised, "I'm running as a proud Democrat, but I'm going to be an American president. I'm going to take care of those who voted against me as well as those who voted for me. That's what presidents do."
Biden emphasized being a president for all Americans and promised to "take care of" of the people in this country. But what did his supporters think about the song choice? Keep scrolling to find out.
Twitter had a lot to say about Joe Biden's song pick
Drew Angerer/Getty Images
President-elect Joe Biden has come through for his supporters yet again, this time via his song choice. In short, Twitter was hyped up and impressed by the former vice president jogging out to a Bruce Springsteen song, with one person tweeting, "Biden comes out to We Take Care of Our Own by Springsteen. Great song."
One person pointed out, "And another stark contrast, the music for the two campaigns. From the narcissistic hype themes, stoking the ego of Trump, to Biden walking out to 'We Take Care of Our Own' by Bruce Springsteen. A song more about unity and compassion than trying to inflate a masochistic ego." Another person gushed, "How can this get better .... oh, use a Bruce Springsteen song to introduce Joe Biden to the stage." A Twitter user threw a bit of shade at President Donald Trump sharing, "holy crap Joe Biden just jogged (a president who can move normally, what the heck) on the stage to a Springsteen song. Art in the White House? whatttt."
Based on Twitter's response, Biden's presidency has started on a great note, literally.