The Most Powerful Quotes From Kamala Harris' Victory Speech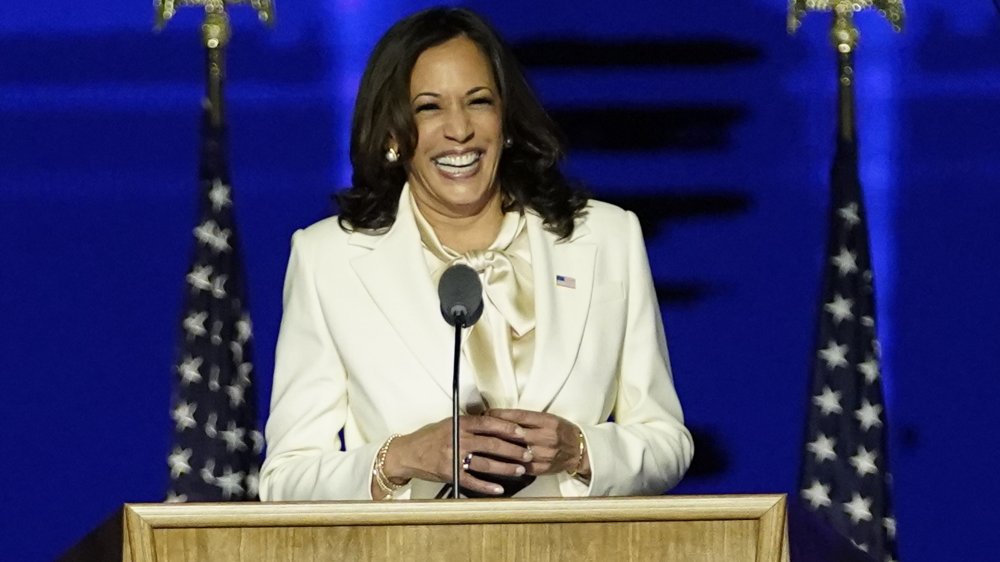 Pool/Getty Images
The nation witnessed history as Kamala Harris took to the stage on Nov. 7, 2020 to give her victory speech as vice president-elect, becoming the first woman, first Black woman, and first person of Indian descent to win the office. Walking out on stage at Biden headquarters at the Chase Center in Wilmington, Del. to Mary J. Blige's "Work That," Harris delivered a powerful speech. She did not mention sitting President Donald Trump by name in her roughly 10-minute victory speech. Instead, she focused on the historic nature of her win and underscoring President-Elect Joe Biden's overarching message of unity.
Wearing white –  a likely nod to the suffragettes of the 20th century who worked to secure the right to vote for women — Harris communicated a desire to implement changes to combat the hardships of the coronavirus pandemic and the longstanding problems of racial inequality. She signaled a vision for the future of the United States in her historic speech. "You delivered a clear message. You chose hope and unity, decency, science, and the truth," she said (via CNN). "You chose Joe Biden as the next president." 
Continue reading for more on one of the most powerful moments from her speech.
Kamala Harris put her historic moment in perspective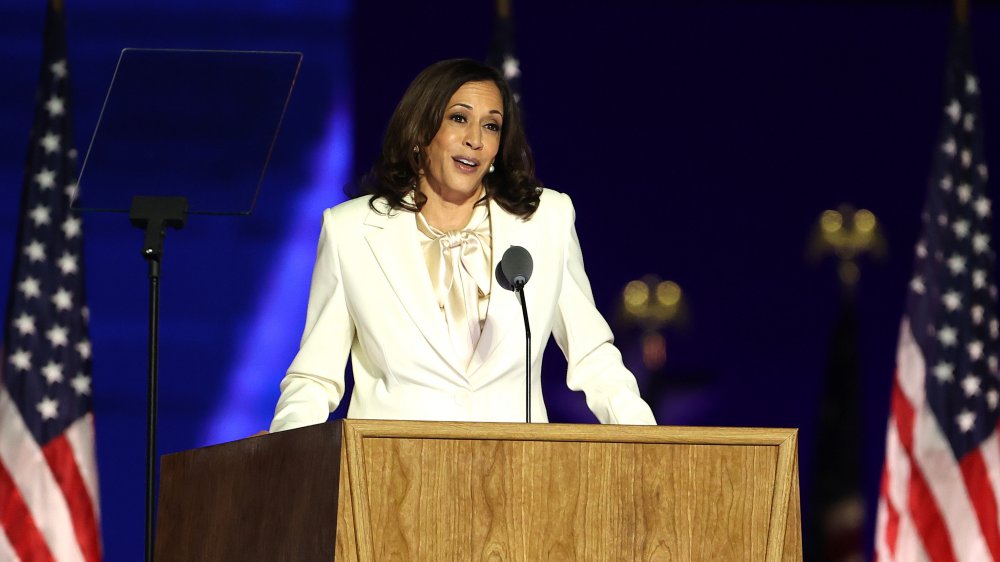 Tasos Katopodis/Getty Images
Vice President-Elect Kamala Harris' speech started out with a quote from the late great Sen. John Lewis, one of the country's most revered leaders within the civil rights movement. "Democracy is not a state. It is an act," she said (per USA Today), explaining that those words were written by Lewis before his passing. "What [Congressman Lewis] meant was that America's democracy is not guaranteed. It is only as strong as our willingness to fight for it; to guard it — and that's exactly what you did."
Harris also paid tribute to the women of color who "have paved the way for this moment tonight — women who fought and sacrificed so much for equality, liberty and justice for all, including the Black women who are often — too often overlooked. ... While I may be the first woman in this office, I will not be the last," she said (via CNN), "because every little girl that's watching tonight sees that this is a country of possibilities." 
Harris continued to recognize the advocacy and energy of the American people. "For four years, you marched and organized for equality and justice, for our lives, and for our planet," she said. "And then, you voted. You voted for hope, unity, decency, science, and truth when you chose Joe Biden as the next President of the United States of America."