One Of The Most Viral Moments From Biden's Speech Isn't What You'd Expect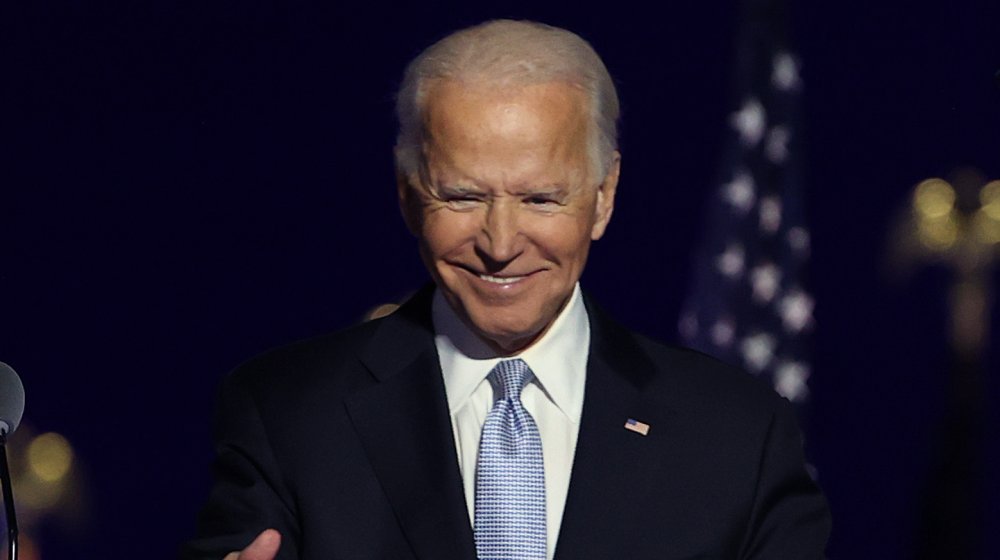 Tasos Katopodis/Getty Images
Former Vice President Joe Biden once again etched his name in the history books as, on Nov. 7, 2020, he secured the 270 electoral votes necessary to unseat current President Donald Trump, making him the next holder of the highest office in the land. Eager to speak with the American people, the now-President-elect broadcast his and Vice President-elect, Kamala Harris', victory speech across the country and the world. Considering it was a pivotal moment in history, the event expectedly trended across social media. However, their words alone didn't achieve viral status — there was another moment that had people talking.
But first, there was Harris' moving monologue, which covered topics from women's rights to the record-setting voter turnout for this presidential race. As she finished up — possibly taking a quick shot at Trump — she segued perfectly into Biden's portion of the broadcast, prompting her running mate to enter with a bang. The 77-year old Democrat arrived on stage via a brisk jog in an attempt to show the world that he's in as good a shape as ever (or that he couldn't contain himself over how exciting the moment was). Sufficed to say, the internet ate it up, thus turning Biden into a meme for the second time in his political career.
Curious to see the jog for yourself? Keep on scrolling.
Celebrities love the "Joe Jog"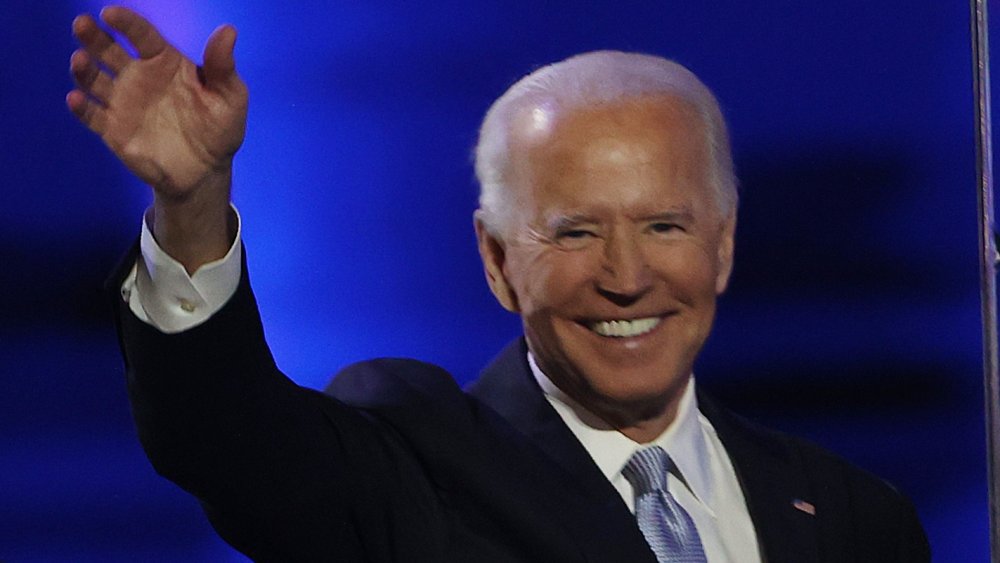 Tasos Katopodis/Getty Images
Dubbed the "Joe Jog," President-elect Joe Biden's energetic entrance took the world by storm from the moment it happened. As reported by Just Jared, celebrities, voters, and fans from all corners of Twitter chimed in to express their adoration for the tenured politician and his quick footwork.
Brooklyn 99 star Chelsea Peretti was one of the first to post about Biden's cardio, tweeting out, "NOT THE JOG" alongside five loving laughing/crying emojis. Comedian Billy Eichner, known for his roles in 2019's The Lion King and the NBC series Parks and Recreation, also voiced his support, posting "ICONIC RUN." Later on, Queer Eye's Jonathan Van Ness enthusiastically applauded Biden, saying "Yasss jog on that stage honey!!!!" Additionally, CNN's Don Lemon found great joy in the moment, expressing that "This @JoeBiden jog put a huge smile on my face. #EndRacism #GodBlessAmerica."
He hit the joe jog 😂😂😂🏃‍♂️🏃‍♂️ pic.twitter.com/wg8wdopfJE

— BlackCultureEntertainment🗣 (@4TheCulture____) November 8, 2020
Of course, the posts about the "Joe Jog" weren't limited to only actors and television personalities, as retired NFL wide-receiver Chad Johnson gave him props as well telling the Twitter world that "Joe Biden & that light jog was smooth." Even a handful of folks from the music industry shared their thoughts, with Bas Tweeting, "my son came out with the jog lets get it" and songwriter Benj Pasek finding a deeper meaning behind Biden's light run, exclaiming "Joe is running! Running!!! He is literally doing cardio FOR OUR COUNTRY!"
After a hard-fought campaign to earn the presidency, it's understandable Joe Biden took the time for a leisurely victory lap.