The Tear-Jerking Moment From One Of Alex Trebek's Final Jeopardy! Episodes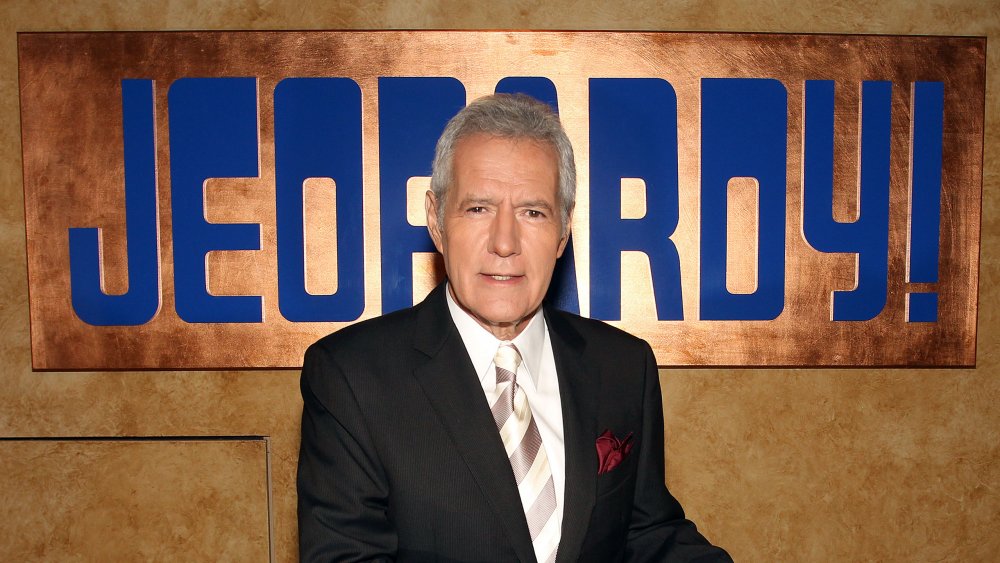 Frederick M. Brown/Getty Images
On Nov. 8, 2020, the world mourned the loss of beloved Jeopardy! host Alex Trebek, who passed away following his battle with pancreatic cancer. Even though he struggled with his health, Trebek continued his hosting duties. In fact, there are still some Jeopardy! episodes that have already been filmed, featuring Trebek, that have yet to air. On Nov. 5, 2020, an episode aired featuring a very emotional moment. According to People, contestant Burt Thakur got very emotional after winning $20,400.
After his big win, Trebek asked Thakur, "Any family members back home cheering you on?" That's when the new Jeopardy! champion revealed, "You know, here's a true story. I learned English because of you." Thakur explained, "My grandfather who raised me, I'm gonna get tears right now. I used to sit on his lap and watch you every day." He told Trebek, "It's a pretty special moment. Thank you very much."
The Jeopardy! Twitter account shared a clip from that moment, writing, "Alex's impact is immeasurable. Thank you for sharing, Burt!" As of Nov. 8, 2020, the video has surpassed 4.5 million views with people responding to the heartfelt reveal.
Burt Thakur was 'overwhelmed with emotion' upon learning about Alex Trebek's death
After his Jeopardy! episode aired on Nov. 5, 2020, Burt Thakur tweeted, "I am incredibly grateful to have competed. Thank you @Jeopardy." He also shared, "To win something money can't buy was an indescribable experience. To be in such a diverse contest makes me proud to be an immigrant and an #American. If you watched me, will you take a bit of my smile and joy & share that with someone? We could all use a @Jeopardy #Jeopardy."
When a Jeopardy! viewer told Thakur, "That was a great gift you gave Alex," he responded, "It was all I could give to someone who also [gave] me so much." Days later, Thakur found out about Alex Trebek's passing and he tweeted, "When with proud joy we lift Life's red wine up/ To drink deep of the mystic shining cup/ And ecstasy through all our being leaps— Death bows his head and weeps. I am overwhelmed with emotion right now and my heart goes out to the Trebek family."
A fan tweeted the clip of Thakur on Jeopardy!, writing, "Alex Trebek has passed-away at the age of 80 after a long battle with pancreatic cancer. This clip is everything. Rest, Alex. Rest, sir..." In response, the Jeopardy! champion tweeted, "I can attest, he was a good man," which is a sentiment that many people can attest to, including friends, family, and fans.