The Real Reason Fans Are Concerned About The Future Of Florida Georgia Line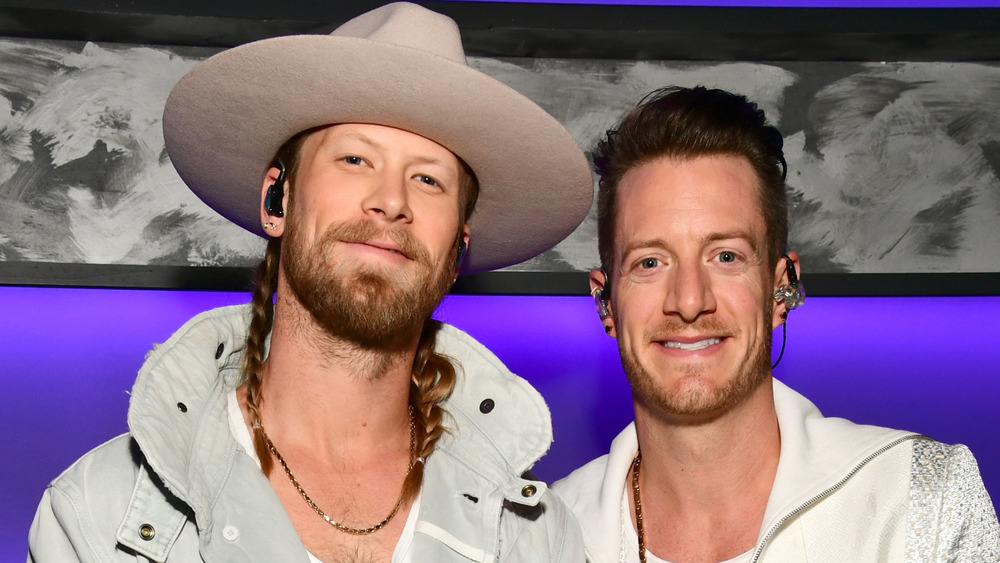 Emma Mcintyre/ama2017/Getty Images
Brian Kelley and Tyler Hubbard — who make up the band Florida Georgia Line – took the country music industry by storm with their first studio album, Here's to the Good Times, in 2012, which was quickly followed up by other chart-topping albums like 2014's Anything Goes and 2019's Can't Say I Ain't Country. 
Kelley and Hubbard owe part of their popularity to being in the right place at the right time. Take one of their most popular songs, "This Is How We Roll," for example. Thematically, it's pretty on par with a lot of country music — it's about driving trucks and going to parties. Still, the music that accompanies the lyrics veers more rock with heavy percussion and electric guitars than cowboy and banjo. There's even a brief interlude where Hubbard rhythmically raps a few lines, which is definitely a rarity in country music. Florida Georgia Line's blend of classic country with modern musical taste made them an instant hit and seemed to promise a long and successful career.
Well, it turns out everything is not as it seems because in 2020, a mere six years after the release of their first studio album, rumors began to spread that Florida Georgia Line was breaking up. Here's why fans are worried about the country group.
Did politics come between Florida Georgia Line?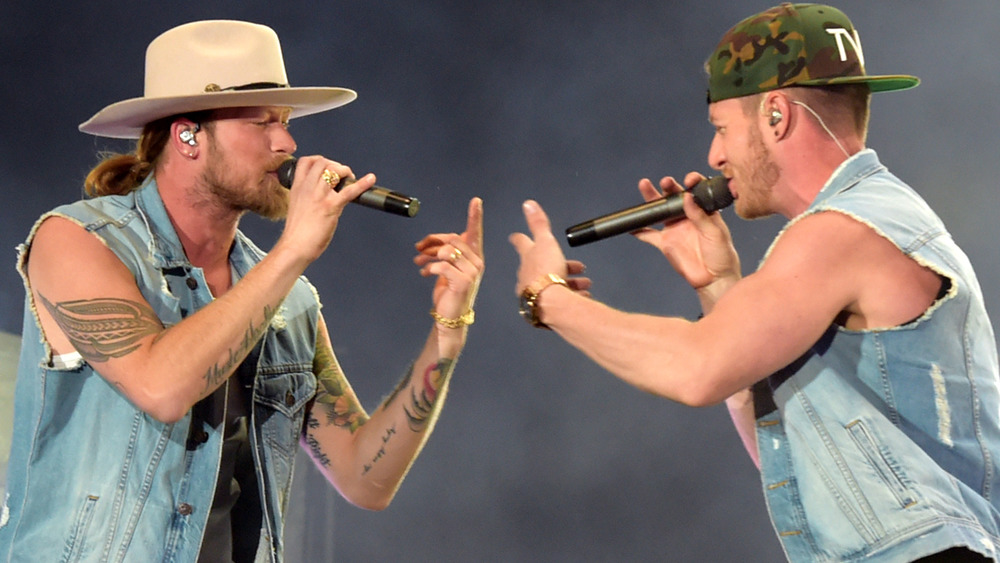 Kevin Winter/Getty Images
For a minute, it seemed like Tyler Hubbard and Brian Kelley of Florida Georgia Line might have joined Simon and Garfunkel on the long list of bandmates that can't stand each other. Fans started to think that something was wrong when they noticed that Hubbard and his wife had unfollowed Kelley on Instagram in November 2020. Kelley and Hubbard may like to roll the windows down and cruise, but that might be where the similarities stop. 
When it comes to politics, the duo couldn't be more different. Hubbard has publicly criticized President Donald Trump, while Kelley seems to support Trump. On Nov. 8, 2020, the day after it was projected that Joe Biden had won the 2020 presidential election, Kelley reportedly "slammed supporters of President-elect Biden ... on his Instagram Story, calling their post-election celebrations a 's**t show,'" per US Weekly. According to the outlet, the same day, Hubbard's wife posted a photo celebrating Biden and Vice President-elect Kamala Harris.
All that being said, a source assured US Weekly that Hubbard and Kelley's "friendship is as strong as ever" – Instagram beef aside. Hubbard even re-followed Kelley after outlets started speculating about a rift.
Florida Georgia Line was scheduled to perform at the Country Music Awards on Nov. 11, 2020, but dropped out after Hubbard contracted Covid-19. While fans surely wish him a speedy recovery, maybe its for the best that they won't be performing. It sounds like the country duo could use a little time apart.