The Masked Singer Revealed The Snow Owls Were This Famous Couple
The Snow Owls have flown away from The Masked Singer. Fans finally got to see the couple behind the adorable owl costumes during the Group A Finals on Nov. 11, 2020. The cute couple previously charmed the judges with their rendition of A Great Big World's "Say Something" and Meghan Trainor's "Like I'm Gonna Lose You," but were forced to leave the nest after a performance of "The Prayer" by Andrea Bocelli.
Actress Niecy Nash joined judges Ken Jeong, Jenny McCarthy, Nicole Scherzinger and Robin Thicke for the seventh elimination of season four of The Masked Singer. All but one of the judges were stumped, as Nicole Scherzinger was the only panelist to guess the correct identity of the Snow Owls, per Variety. The duo's clues for the night described them as "two total opposites," but quite complementary of each other, per USA Today. "Sir Owl always pushes Lady Owl to believe in herself. And Lady Owl, well, she's finally gotten him to settle down a bit with all that horsin' around," said the couple's "Branchy Buddy." Their clue package featured a rocket ship and a rocking horse.
So who were the talented singers behind the Snow Owls costume? Keep scrolling to find out.
The Snow Owls were a famous country couple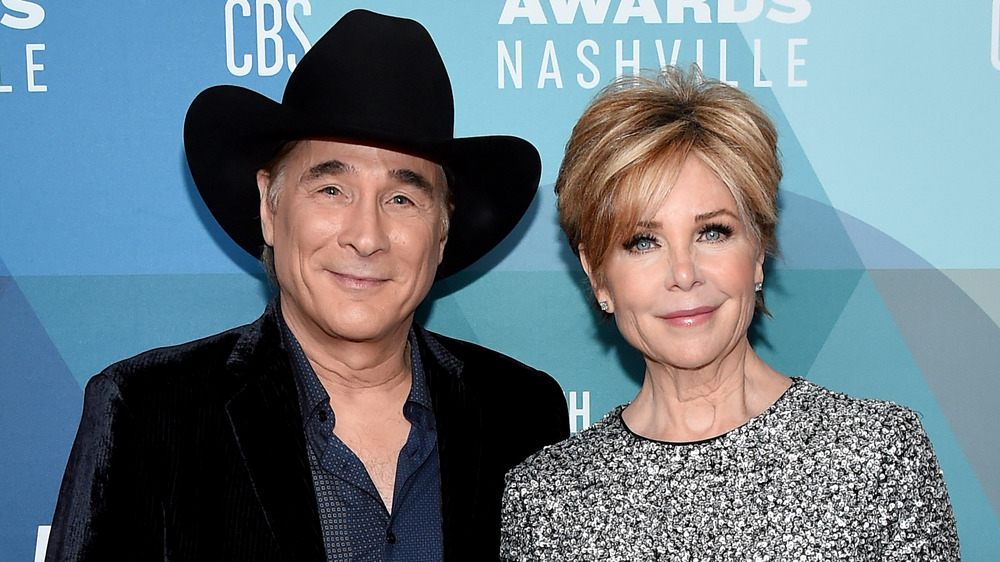 John Shearer/acma2020/Getty Images
The Masker Singer's Snow Owls were none other than super successful country couple Clint Black and Lisa Hartman Black. They made Masked Singer history as the first couple to ever be unveiled on the show. In an interview with Entertainment Weekly following their elimination, the duo gushed about their time on the show. "We were just glad to be involved as long as we could," Lisa said. "We wanted to come out of the egg and do a little more, but that's just the way it goes ... It's just that as you go into this [show], it's a different world, and The Masked Singer's creative process is really quite extraordinary."
However, now that the pair's wings have been clipped, they are free to partake in other creative processes, like an album. When asked about doing a full Snow Owls duet album, Black was seemingly on board with the idea. "A Snow Owlbum," he joked. "You know, I think we got about half an album of duets now that we've recorded, but that's a good idea. We actually thought about doing those songs that we did on the show, so that would be a possibility maybe down the road."
In the meantime, the duo is releasing a single called "Till the End of Time" which will be available for pre-order on Nov. 12, 2020.