The Bizarre Comment On Tiffany Trump's Post That Has The Internet Buzzing
Chip Somodevilla/Getty Images
Republican congressman Matt Gaetz is the internet's latest target after he was spotted seemingly thirsting over President Donald Trump's youngest daughter, Tiffany Trump. The Florida politician retweeted a photo of Tiffany in a sultry red pantsuit with some flirty emojis, including flames, a red heart, a heart-eyes smiley, and Donald's signature thumbs up. While Gaetz didn't exactly smooth-talk the Trump heiress, the emojis definitely told a story —an eyebrow-raising one at that.
While millennials may be used to this modern love letter, Twitter users found it a little icky that Gaetz was crushing on Tiffany, who is 11 years younger than him and just graduated from Georgetown Law School in May 2020. In fact, Gaetz praised the grad after she accepted her diploma. "Tiffany is a beautiful person inside and out! It's so great to see her success. Big things coming," he wrote at the time, retweeting her father's congratulatory remarks to his daughter.
Despite Gaetz's seemingly flirtatious remarks to the president's daughter, he previously revealed he refuses to mix business with pleasure in his book, Firebrand. "In Washington, safe sex means in part: no dating lobbyists, no dating your staff members, and I should have added no dating reporters, but I didn't at first," he wrote, per Vanity Fair. "It's risky to date in a town where there's potentially a thin line between love and blackmail, or at least love and bad PR."
Keep scrolling to see what people are saying about Gaetz's telling emojis to the first daughter.
People found Matt Gaetz's advances 'creepy'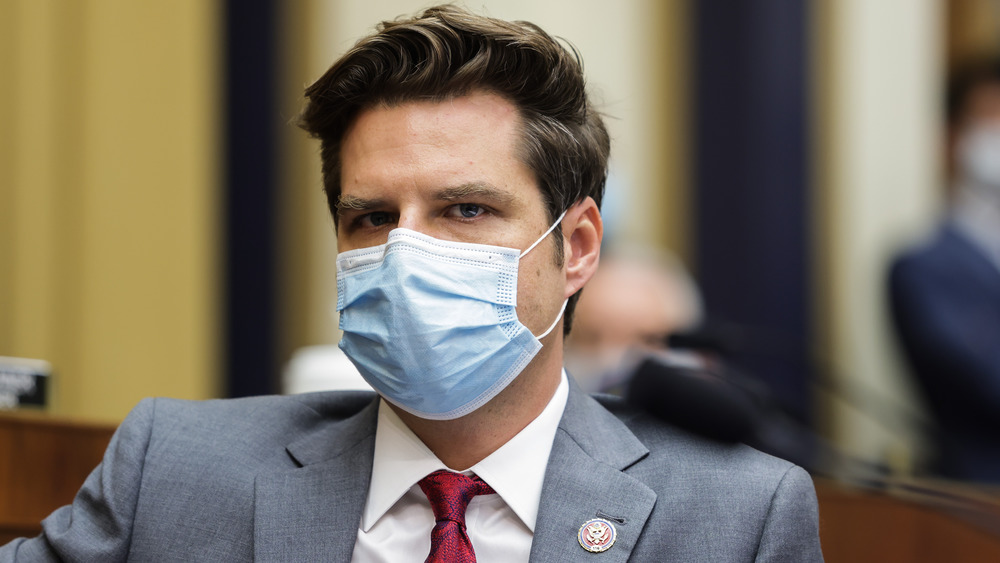 Pool/Getty Images
It didn't take long for the Twitterverse to roast Matt Gaetz for shooting his shot with Tiffany Trump. "I just cringed so hard I think I had a small stroke," one user replied to Gaetz's tweet, while another called attention to their 11-year age difference, writing, "Dude, please. She's old enough to be your adopted daughter."
While some were fixated on their age gap, others though the tweet was downright inappropriate. "Ewwwww! This is so unprofessional and creepy! Yikes!," one Twitter user replied. "Did you just call the president's daughter hot on your official account?" another asked, as a third person added, "Hitting on the boss' daughter. Yeah, that's not creepy AF."
Several users also noted how the Trump daughter would be a slightly more appropriate match for Gaetz's son, Nestor Galban. In June 2020, Gaetz revealed via Twitter that he's been raising the 19-year-old for the past six years, although he didn't father the child himself. At the time, Gaetz was dating Galban's older sister when their mother passed away from cancer, according to People. Since then, Galban has been living under Gaetz's roof, even when his relationship fizzled with the boy's sister. Although Gaetz never formally adopted Galban, he told the outlet, "Our relationship as a family is defined by our love for each other, not by any paperwork."
Despite remarks suggesting Tiffany should link up with the politician's son, it seems like she was appreciate of the emojis from Gaetz.
Tiffany Trump may have found herself in a love triangle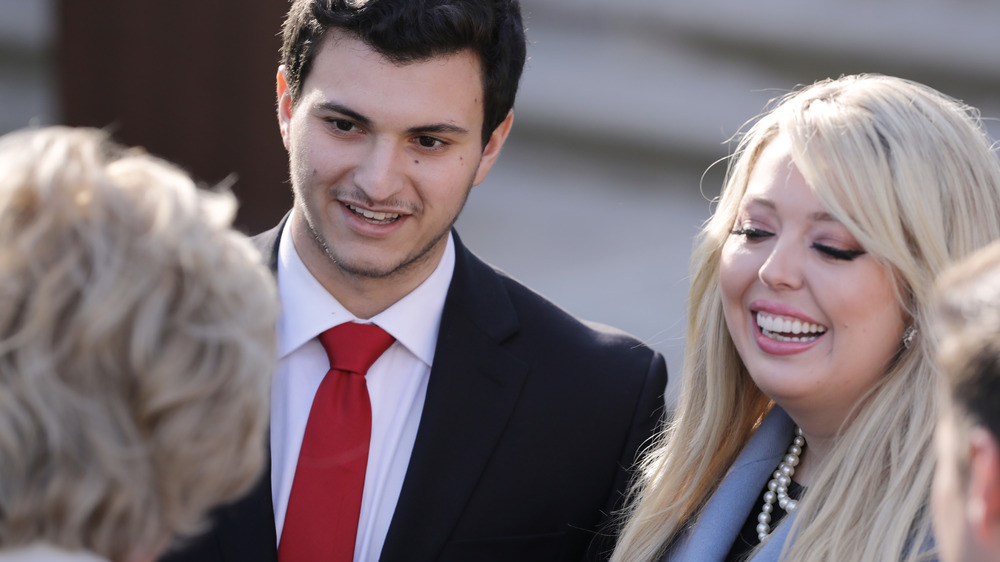 Chip Somodevilla/Getty Images
Following Matt Gaetz's surprisingly suggestive response to Tiffany Trump's stunning photo, the beauty retweeted his telling emojis and added a few of her own, including a blushing face, an American flag, and a red heart. Of course, Gaetz was quick to retweet Trump's response, leaving us to wonder how long this game of "you hang up, no, you hang up!" will go on for.
While we imagine the two are smiling at their phone screens, the California native is actually in a committed relationship. Last we heard, the first daughter was believed to still be with boyfriend Michael Boulos, as per the New York Post. Although the couple hasn't posted photos together in weeks, everything between them seemed steady in November 2020, as Corey R. Lewandowski tweeted a picture with the pair while aboard Air Force One on Nov. 2, 2020. "Just arrived in Wisconsin for @realDonaldTrump rally in Kenosha. Honor to travel with @Reince, @David_Bossie, @TiffanyATrump, @MichaelZBoulos! Four More Years!" the president's campaign manager captioned the photo, seemingly revealing that Boulos had joined his girlfriend on the campaign trail ahead of the 2020 presidential election.
With an even further deep dive into the couple's social media activity, it appears Boulos may actually be a fan of Gaetz as well. The first boyfriend has been spotted "liking" several of the politician's tweets in support of the sitting president. Sounds like we could possibly have a love triangle on our hands.