The Truth About Jill Biden And Prince Harry's Friendship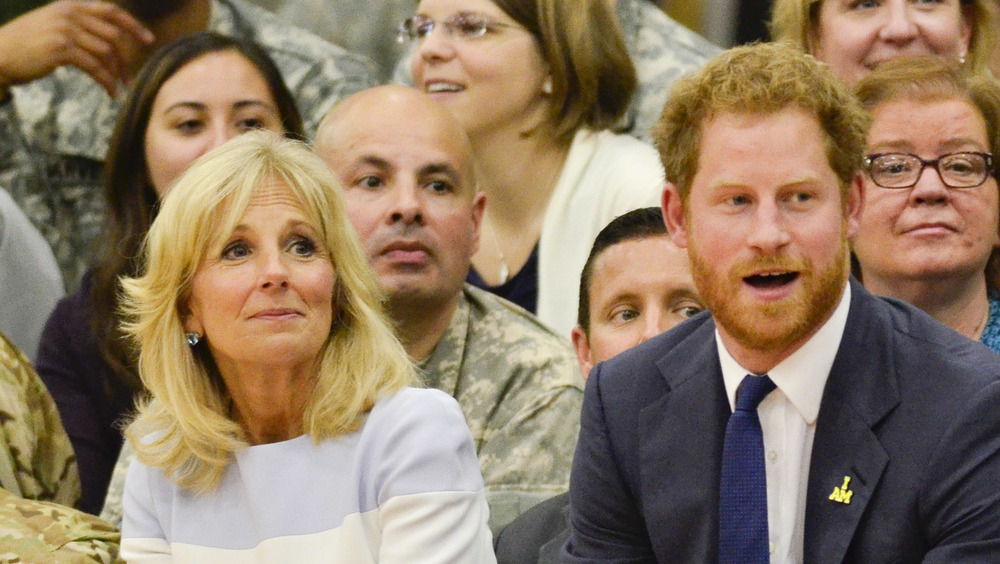 Kris Connor/Getty Images
Dr. Jill Biden will become the first lady of the United States in January 2021, but she's already spent eight years in the role of the second lady. In that role, she traveled the world and met all kinds of people. One of those people is Prince Harry of the United Kingdom.
Although Harry moved stateside in 2020, stepping away from royal duties and settling in Southern California with his wife, Meghan Markle, his relationship with the soon-to-be first lady Jill Biden dates back before the marriage. The pair apparently get along so well, that after a 2014 visit to London, then-Vice President Joe Biden jokingly quipped, according to Mirror, "She spent too much damn time with Prince Harry!"
Harry may not be a bachelor anymore, but that doesn't mean that the friendship between him and Jill has cooled. Let's take a look back at the trajectory of this friendship, which dates back to 2013.
Jill Biden and Prince Harry bonded over the military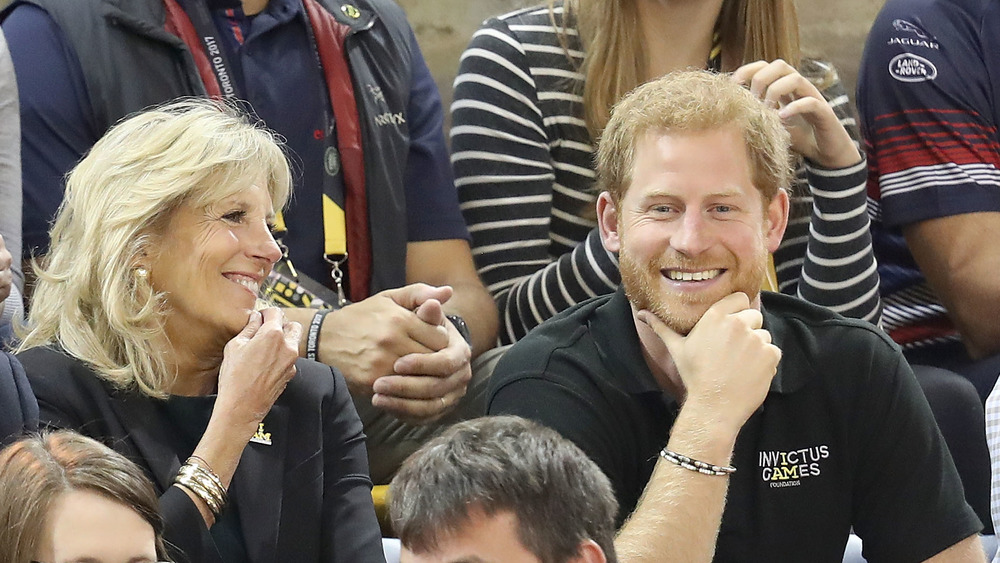 Chris Jackson/Getty Images
It seems that Prince Harry and Jill Biden first crossed paths in 2013 at a reception in Washington, D.C., according to the Daily Mail. The event was honoring both American and British wounded soldiers, an issue resonant for both Harry and Jill. Harry served in the British military, while Joe and Jill Biden's late son, Beau, was also a veteran.
They cemented their friendship further in 2014 when Jill traveled to the United Kingdom without Joe. According to Mirror, Harry's 2013 visit to the United States inspired him to launch the Invictus Games, and Jill went to support both Joe and Harry. The 2016 Games took place in Orlando, Fla., which brought the two friends together once again. Joe Biden quipped to The Guardian, "I read in the Guardian, or one of them, and it says — I'm paraphrasing — everywhere Prince Harry went, he had this blonde woman on his arm. The vice-president's wife!"
Their friendship attracted more scrutiny in the lead-up to the 2020 U.S. presidential election, however. Speaking to TIME, Harry and Meghan Markle encouraged U.S. citizens to get out and vote and to "reject hate speech, misinformation, and online negativity," which President Trump took as a dig against him. Whether that's what they meant, given Harry's friendship with the Bidens, it wouldn't be all that surprising if that was the candidate he privately supported.